There is a LOT to be thankful for.
true dat.
At the top of my list are the following:
and in random order so as not to hurt those desperately vying for #1 in the heart of
little
ol'
me.
This guy. I call him husband.
These lovelies. I call them sisters and mother.
This little lady. I call her estrogen in a mostly testosterone household.
THANKS BE TO GOD for her.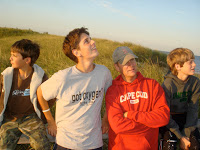 The testosterone I was speaking of. Despite their smelliness, I still love them.
This one… she's called naughtiness covered in fur. Serious naughtiness.
This guy. He goes by many names, but for times' sake, we'll call him father.
They all make my world go round.