It really is high-time to write chapter 4. It's been about two months since the last chapter. I just don't think chapter 4 is as exciting as chapter 3 was. It also has no semi-inappropriate video (what's that? You were hoping for one? Get your mind out of the gutter!) to accompany it and everyone loves a semi-inappropriate video now, don't they?
Anyway, where did I leave off? Ah yes, the film was "running out of tape." Alas, we found ourselves perched on the most gorgeous mountaintop in Flumserberg, Switzerland. I had a shiny new diamond doning my left hand, and a very happy man sitting next to me. We had cheeses, and breads, and fruit for our picnic and we were taking pictures, and a video (as you all well know at this point) as to not miss a beat. I tend to miss beats, many beats, during the times when you especially hope not to. It's like life gets so big, so important, so significant that my brain just shuts off. Maybe I would miss the feeling if I were so concerned with remembering. Maybe.
As I was saying, we were engaged.
It was July 16.
We returned to Massachusetts for a lovely summer complete with boating on the lake, bbqs, and friends. Not only was I dating that once-professor of mine, but now I was actually engaged to him. Wowza.
Wedding planning arrived quickly. We were planning for the following June. In St. John, U.S. Virgin Islands. Yes. It would be perfect. I had been there once before and fell in love with the place. And for some reason a destination wedding felt right. That way the papparazzi would have a harder time finding us and getting their pictures for the magazines. Of course.
June was far off though. It was particularly far off for a man who really needed me. (And, in a different way, I needed him too. I suppose that's just the way love is though.) It's like the grieving process would be near completion (not complete, it's never complete) if normal life could finally resume. And of course, all the unromantic details like dinners and laundry and butt-wiping… doing them by yourself for another whole year, being a single dad for another whole year, going to bed alone for another whole year… he'd found me. I'd found him. Why the wait?

So, it was October when we decided to get married in December. Ladies, it is altogether possible to plan a lovely wedding in that short a time. Never did I picture myself having a Christmas wedding. But, never did I picture myself being a stepmom at 22 either. Life threw me a few loops, so what's a few more? We planned and purchased and primped. And on December 22nd, I married the love of my life. The ceremony was perfect. In this small chapel that we filled to the brim. There were holly sprigs tied to candle sticks that were lined up the aisle. There was a lot of red in the room–red dresses and lips–and he sang to me! He sang Kenny Chesney's "Me and You." His friend played guitar. And he sang. And that man is a good singer. I was told only recently that my cousin thought it was streaming out of a stereo and that Steve was lip-synching. Hilarious. Can you imagine lip-synching at your own wedding?
(this is me giving a thumbs-up after the singing)
Then, of course, the reception and the pictures and trying to scarf some food down in your rarely free moments, and dancing to Sara Evans "I Could Not Ask For More," and floating through the room locking eyes with the Mr. that just made you a Mrs. from time to time and realizing that while there is all this fanfare bustling about you, you just got married and you're going to be with this man forever.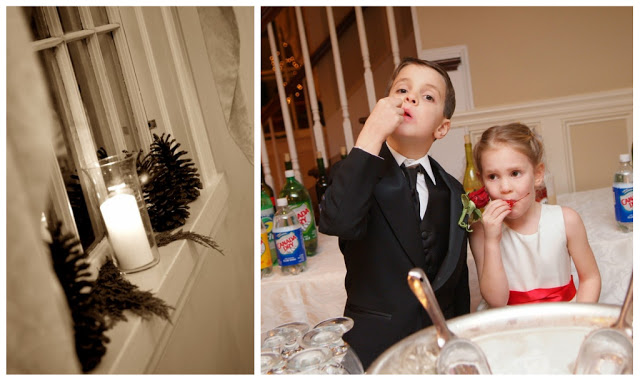 Like I said, I forget a lot of things when life gets big. So as I look back, I remember moments, many moments, but they are hazy as though I'm seeing them through a fog. I think subconsciously the idea that I not only became a Mrs. but also became a Mom was so large and so difficult for me to grasp. As you might know, I have a hard time with change. And it's not like I wanted to change anything–no, I loved this man… that was certain–but blending my life with his was not going to be easy and was going to be perhaps the biggest thing I've ever done. And right then, as I think of it now, I had not a clue how hard it would be. My Mom asked me, months after the wedding, if I felt sort of unprepared for what my new life was like. I would say 100% yes. But, how do you prepare someone to be a Mom? How do you tell someone that it won't always be easy and expect them to actually get and feel what it is you're talking about? Sure, people could've told me, "Sometimes it's really not fun. They whine and they cry. They sometimes throw up in the middle of the night. It will be tougher for you because you didn't actually birth them." It wouldn't have made any difference. Until I experienced it, I wouldn't know the emotions that would accompany those tasks. I wouldn't know the absolute breaking point that a Mom can reach when she can't be pushed any further. I wouldn't know the anger a Mom can feel when a child just will not listen. I wouldn't know the worry a Mom can feel when a kid is having a tough time in school. I also wouldn't know the delight a Mom would feel when everyone is well and it is a beautiful day and you are all together. And of course, I don't yet know the difference in feeling these things for kids who share your DNA and kids who don't. I imagine there is a difference, but I don't know yet. To really know, you have to go through it.
Now I do know (most of those things). And I am still standing. Our road has not been an easy one. It has had its share of stress and heartache and tears. But we have our health, our laughter, a roof over our heads, our family, our memories, our joy, our friends. We have a big God on our side. You take the good with the bad. And though, I can honestly say (and have said) that I did not know what I was getting myself into, I wouldn't change a thing. Because I still have my best friend to do it with.
And a heck of a lot of life lessons under my belt.