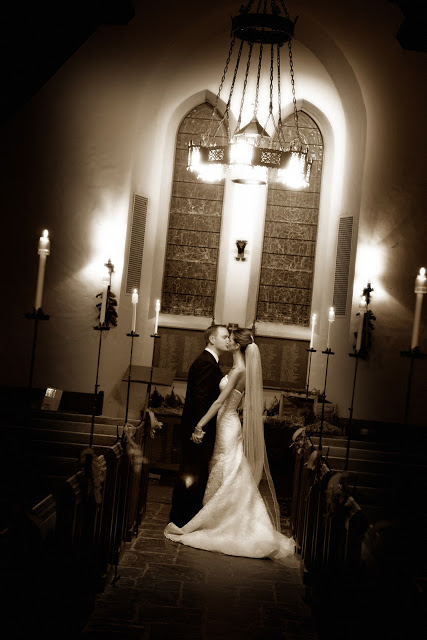 Today is my fifth anniversary.  I know I've said this (ad nauseam, no doubt) but I have come a long way.  Steve and I together have come a long way.  The kids have come a long way.  In both maturity and literal growth–I mean, Lindsey was such a little one!  Hardly out of nighttime diapers.  When I look at pictures from our wedding and see my grinny, red-lipped self, I think, "She had no idea what this was all about."   I talk about this in chapter 4 of the love story, but it's worth touching on again.  When I say I had no idea what it was all about, it doesn't mean I'd change it.  It just means… I had no idea what my future held.  What it'd feel like.  And yes, how hard it would be.
Blogs (most of them, anyway) show the beautiful side of life.  Rarely does a blogger post pictures of herself in her pajamas, with spinach in her teeth, hair a mess, pissed at the world cause she and her husband just got in a fight.  We don't always talk about how our kitchen sink is full of soggy food, how a healthy dinner hasn't really been cooked in a week, how we're just plain sick of our kids fighting and sort of wish the school day was longer.  We portray what we want.  Even though I am a blogger, I am the girl behind this whole thing and very well know that I put what I want out there, I look at other blogs and think, "Damn, she's got it together.  How does she do it?"  I should realize, seeing as I do this myself, that it can very well all be a ruse.  A good one, no doubt, because who wants to look at crappy images?  Who wants to be uninspired?  But a ruse, nevertheless.
There've been posts on this blog that try to stray from that perfection.  To talk about the difficulties of life, raising kids, being in a marriage, getting no sleep (I know I can be all, "It was fun! 
We went to Wendy's!
  Parker should always keep me up all night so we can have such fun dates all the time!"  But, at 3 am, you can trust that I want my sleep just as much as you do.).  Judging by the comments on those real-life posts, it seems we need more of them in the blog-world.  More people willing to air their dirty laundry.  It makes us all relate on some common level.  I can't say I'm hiding too much.  I am genuinely content most of the time.  I often look at my life and think, "I'm in want of very little and I am grateful."  I have the people I love most close to me (or just a phone call away), a roof over my head, and limbs that take me to and fro.  But, that's beside the point… as I said, there's enough of that already.  So, on anniversary number 5 I thought I'd open a couple cans of worms and talk about marriage: the good, the bad, the ugly.
I seriously like being married (not a promising start to dirty-laundry-airing.  Don't worry, the underwears are comin' out!).  There are times when a certain song comes on the radio and I pick up the phone to call Steve and tell him, "I love you so much and I love being married to you."  And guess what?  Sometimes he answers the phone and is all, "I have to go, I have a lot of work to do, stop calling me."  Alright, he's only done that a few times, and this is not Steve-bashing time, so we'll cut him some slack (plus, he's never said, "Stop calling me."  That'd just be mean.).  But, you get the picture.  It's not always sunshine-and-roses.  When the love song begins, sometimes, it ends.  Abruptly.  I think there are too many people these days who think marriage is a cake-walk.  And then, excuse me, shit hits the fan, and they're wondering what they did, why they did it, how they can get out of it, and oh-my-gosh-I-hate-this-person-I-married.  To love someone, Steve told me once (this, too, might have been over a
Baja Fresh burrito
), is a decision.  The feelings come and go.  When you're in the middle of a brawl, you're not
feeling
especially lovey (you don't say!).  You're feeling more, oh, like punching someone (Him! Spare the kids!  Spare the dog!) in the face.  That's when the choice is key.  You choose to love.  And choose to stay.  It's key.
We've had some wicked fights in our five years together.  I remember crying in our bathroom once thinking ever-so-dramatically, "NO OTHER MARRIED COUPLE FIGHTS THIS BAD.  WE FIGHT MORE THAN ANY OTHER COUPLE IN THE HISTORY OF COUPLES."  This particular fight took place on the way to a grocery store.  He disciplined the oldest one way, I thought it should go another, he disagreed, I felt undermined, so on and so forth.  We reached the grocery store but had reached no conclusion.  He got out of the car to go into the store and I sat there.  I was not going to go shop with the man!  He was horrible!  How could he just mosey on into the grocery store like we were pleased as punch to be wed?!  I'd be darned to just sit there stewing while he was in the store and then drive home with him.  It was raining and we were over a mile from the house.  I got out of the car and started walking.  I walked all the way home, along major roads, cussing at him in my head the whole way (sad picture, isn't it?).  "That'll teach him!"  I thought.  "Leaving a fight before we've reached a conclusion!  Who does he think he is!"  I eventually reached home and we eventually got over our fight. But for a long time,  I was ashamed to even talk about it… that fight, and all the other fights.  Then, when I let my guard down, I found out from a friend that she too had wicked fights with her husband!  Yay!  That there were times when she wanted to kill him.  Double-yay!  It was like a breath of fresh air.  "Other couples have ugly fights too."  I needed to know that.  It freed me.  So, in case you're in that place right now, let me free you.  It's normal.  Fighting is good and important.  Equally important is making up, apologizing, feeling the love again.  Letting your kids see you fight and make up is as important as teaching them to share, to be compassionate, to love one another (of course, some fights are better behind closed doors, but you get the picture.).
So, why am I saying all this?  So you know that it's okay to fight, life is not perfect, you've got to choose to love (choose your love and love your choice), choose to stay, and work to keep a healthy marriage.   And I'm not saying this works for all marriages.  Some marriages shouldn't be in the first place and their endings are good things.  But I'm not talking about those.  I'm talking about the rest of them.  Despite some wretched fights in the past, I am totally into my husband.  He's hilarious and sweet and we genuinely enjoy each other.  I know his needs better than I used to and he knows mine.  We complement one another and encourage each other and… you get it.  He's great and I'm glad he's mine.  But, it didn't come without its work and difficulties.  And it didn't come overnight.  But it gets better with age, I think.
Not that you already didn't know all that.  But just in case you didn't, I'm glad to have told you.
Love you, Steve.  Happy fifth anniversary!