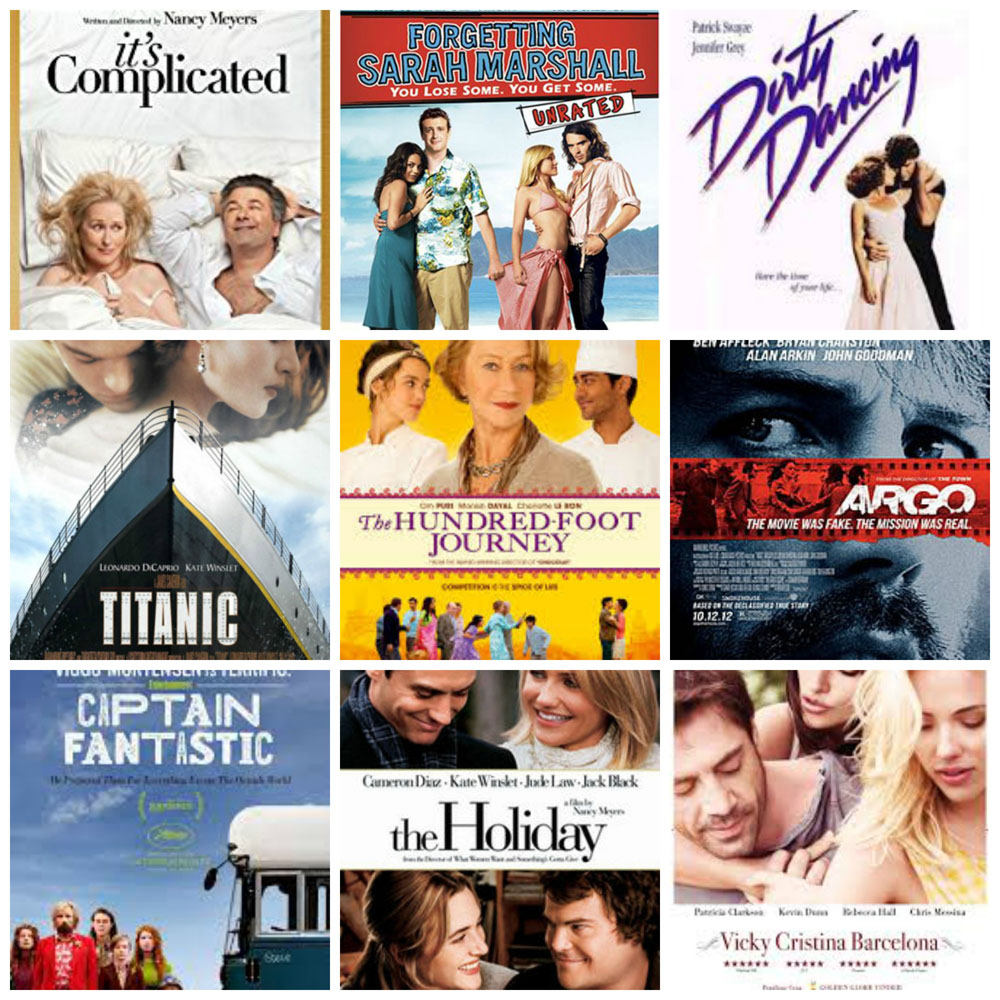 This is no easy task. I love a good movie, especially one that I can watch over and over without feeling like I'm totally wasting my time (wishful thinking? Rewatching anything may be a waste of time… on that note, Steve and I just started rewatching Game of Thrones for the first time. Going to retain ALL THE DETAILS this time.). Anyway, here's some of mine and/or the Hunt favorites. I would love to hear yours. 
no. 1: It's Complicated. This is one of Nancy Meyers' best to my mind. When I first watched it I fell in love with… all of it. And could not for the life of me figure out why Meryl Streep needed a freaking kitchen renovation when her "old" kitchen was the kitchen of my dreams. I guess they needed to introduce Steve Martin somehow. Anyway, there's no movie sets I'd rather live inside than that of a Nancy Meyers' film, and this one was no exception. It's perfect. It's funny (the scene where Alec Baldwin comes out, "I don't speak Pedro." or when Meryl Streep and Steve Martin are smoking), it's endearing, it's just such a feel good. Plus, great soundtrack too. Tom Petty! Fine Young Cannibals! Beach Boys! Have you seen this movie yet? Please watch if not. And then just binge all of her films.
no. 2: Forgetting Sarah Marshall. One of the funniest movies ever aside from Bridesmaids. Steve and I love this movie. It's just so funny. Russell Brand! He's the best in it. There are so many favorite scenes, but the tops are probably anytime Jonah Hill is talking to Russell Brand, the "Inside of You" song, and who could forget the surfing lesson with Paul Rudd. "You're doing too much, do less." Steve and I routinely do the "bullshit, bullshit, bullshit" scene when it's appropriate too. I don't feel like it got the recognition it deserved as one of the funnier movies in the last ten years. Also, I can do a killer impersonation of "Inside of You" and if you pay me enough, I'll do it on my IG stories.
no. 3: Dirty Dancing. Nobody puts this movie in a corner. So good. So many scenes that, as a young girl of about 10 when I watched it for the first time (my Mom was out; it was on and that was that; I absolutely knew I was doing something I shouldn't be doing though!), made me pretty certain Patrick Swayze was the most handsome man that ever lived. When he dances up the aisle?! GET OUT.
no. 4: Titanic. One of the best movies I've ever seen, especially in a theatre. I saw it four times and don't regret any of the money spent. And I was a poor middle schooler at the time who only had enough money for a $3 hoagie (South Jersey, what!) once a week. One of those times was with my Dad, who also loved it, and I like that we saw it together. I pretty much dramatically wept through over half of it every single time.
no. 5: The Hundred Foot Journey. Family friendly! And just such a quality movie. Also good soundtrack. We really love this movie, and it's another one that didn't get the recognition it deserved. On a rainy Saturday if people are in town and you've got nothing to do, put this movie on. Everyone will love it. The Indian father! The scenery! The cooking!!!!! (I love a movie with a lot of kitchen/cooking scenes. Even if it's a cartoon. Take Ratatouille for instance.)
no. 6: Argo. SUCH a good action movie. Edge of your seat but in a good way. Oh I love this movie. And true story?! Even better. This is a must-see.
no. 7: Captain Fantastic. If you've been paying attention at all for the past month, you know that I fell hard for this movie and virtually everything about it. Mind-blowing and such a commentary on our lifestyle today and how we use our time. Goodness gracious, watch this, show your teenagers (brief nudity; some language), and let's all smash our iPhones?
no. 8: The Holiday. See no. 1 about my love of a Nancy Meyer's movie. Decor alone (lol, I realize I've written about this before) sells this movie (I think Cameron Diaz's house might be my nirvana.), but beyond that it's so full of good characters (Diaz is a little bit tiresome, but I'll still take her.) and sweet relationships, and more good music. Hans Zimmer! The master!
no. 9: Vicky Cristina Barcelona. Steve and I loved this movie from first viewing but, funny story, we showed my parents assuming they'd share the same affinity and it just fell flat for them. So this is not for everyone, apparently, but it is so good. Javier Bardem steals the show. And Penelope Cruz might be the most beautiful woman in the world in this movie especially. It's quirky and unexpected and has some great European scenery.
Honorable mention: Disney's Beauty and the Beast (original), Pretty in Pink, Shawshank Redemption, Pride and Prejudice (Keira Knightley version, I'm sorry!), The Notebook, We Were Soldiers, Catch Me If You Can, Avatar, How To Lose a Guy in Ten Days, Bridesmaids… and many more that I am forgetting.
What are your favorites?