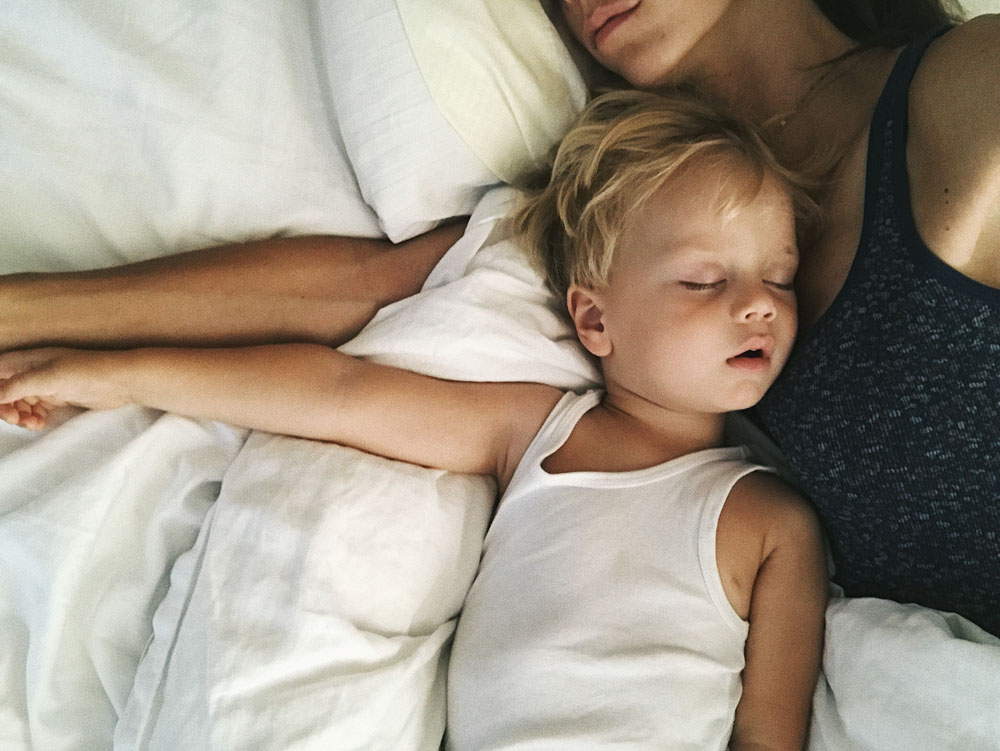 Anders,
You don't get nearly the amount of weekly, monthly, daily, hourly updates as your brother Parker did when he was the newest Hunt. I hope you don't try to measure my love for you that way, though. Instead let me tell you how much, in a few different ways.
I'm going to guess, based on the number of days you've been alive–a few days shy of one thousand!–that I've probably kissed you somewhere around 10,000 times. And that's a very conservative estimate based on ten a day. On second thought, it might be double that. Hugs? Pretty close to that number too. Hours spent cuddling? Sleeping next to one another? Feeling like my heart may simply explode with love as I watch you do the most everyday thing like flip through a book while it's sprawled open on your lap which, when you're only 2, is really from your hips to your feet which, again, is the cutest most endearing thing in the world? Immeasurable.
There are so many things I love about you and it would be downright impossible to both remember all of them and explain it in such a way that conveys the depth of this love. There just aren't words created to do it justice. I wonder if, when you're a dad one day, you'll understand it then. There is nothing in the world like watching a piece of your heart move about outside of your body. Here's some of the things, sweet boy: the way you sort of wait in this half-grumpy-hair-a-mess state for me at the top of the stairs after a nap. You need at least two minutes of cuddle time with me before you're ready to take on the world and I'm always here to give you that. The way, especially lately, you immediately feel for a mole I have on my left shoulder as soon as I've picked you up. It's almost like you don't check to see if it's me that's picked you up, you'll know because you'll feel for that distinguishing feature. It always makes me laugh. The way you say, "Come! You!" when I'm leaving and you want to come with me. How your pudgy hands work play-dough. They're not big enough yet to do things like use scissors smoothly, so they look so cute as they try their darnedest to work big hunks of it. The way you dance in the kitchen–usually to Moana (which you call "Te-ka!") or Trolls. The way whenever I come home from some place, even if I've been gone for a few minutes, you greet me with the happiest, "Mamaaaa!" at the back door. Please remember this: I feel like the luckiest person in the world to be the person you love this much. And the feeling is so mutual, buddy. The way you are such a good early intervention student. The speech therapists are always so happy to come to our house as you greet them, yelling their names so excitedly out the window before they've even opened their car door. They're always remarking at how sweet you are, and how eager you are to learn, and mimic the sounds we're trying to help you make. On that note, your language is exploding lately! I'm sure it's hard work, and we're really proud of you. The way last week when Dad got home from a trip and he sat down and said, "who wants to cuddle?!" you and Parker jumped up in a flash and were on both sides of his lap immediately. It was adorable. The way you still fall asleep on me for nap time. I know these days are numbered, and I love those few minutes of your body heavy with sleep on my chest until I move you off and quietly creep out of the room. The way I can tell you genuinely love to make people laugh. You love it, and you'll keep doing whatever it was that got the laughs in the first place. The way you want to play with Parker always, and would probably follow him to the ends of the earth. I've explained how important this role is to him, and how he's such an example for you. I pray that your relationship is long and deep forever. You still call him Joljeh, and we're not sure why, but we love it just the same. The way you smile. Goodness gracious you're handsome with your bright blue eyes and blonde hair and pudgy cheeks, and you smile at me basically every time I look at you and I sort of want to eat you all the livelong day.
Anders, there are about a million other things I could say here. I could say something new every day and not run out of things! So just know, above all else and better than anything else you know to be true, you are so loved.
{just for fun: Anders' birth story, first birthday, 21 months of Anders}