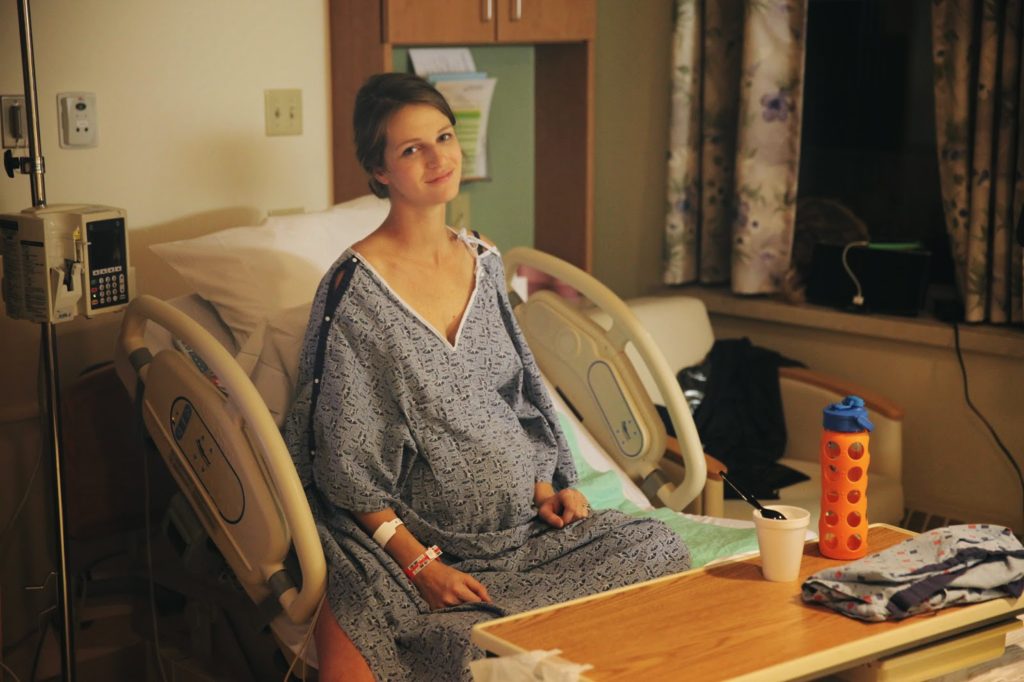 Here I sit typing out another birth story and feeling really, really blessed. I have another sweet baby boy that I absolutely adore and who has quickly become an incredibly loved and cherished part of our family (and yes, even by his next older brother, Parker!). Number six Hunt child, number eight Hunt, and we wouldn't want it any other way. I think he's the last piece to our somewhat large puzzle and I can't imagine my life without him now. We're totally smitten with our Anders.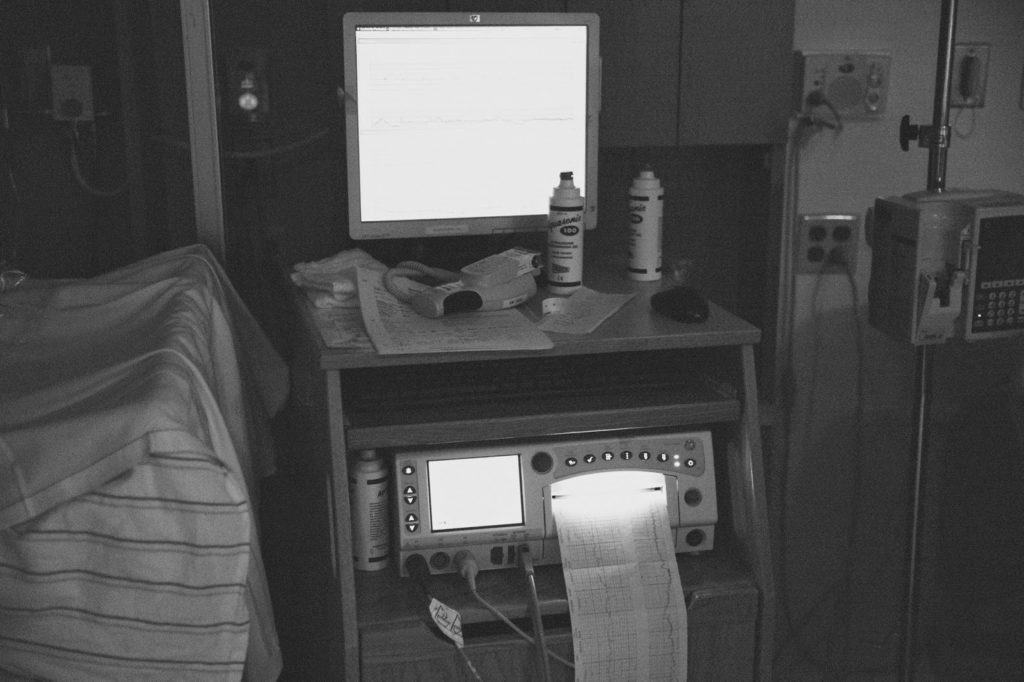 My due date was December 6th. My Mom and Dad had come early, while Steve was in California, as a just-in-case. Luckily there was no need, but they planned to stay on through Thanksgiving and the baby's arrival. It was so nice having them. They gave us such a precious gift–their time, and so much of it. My Mom and I nested together while my Dad worked alongside William and Steve doing his own tinkering in the garage and a few odd jobs for us. We celebrated Thanksgiving with a delicious meal, and continued getting things done, as we eagerly awaited a baby.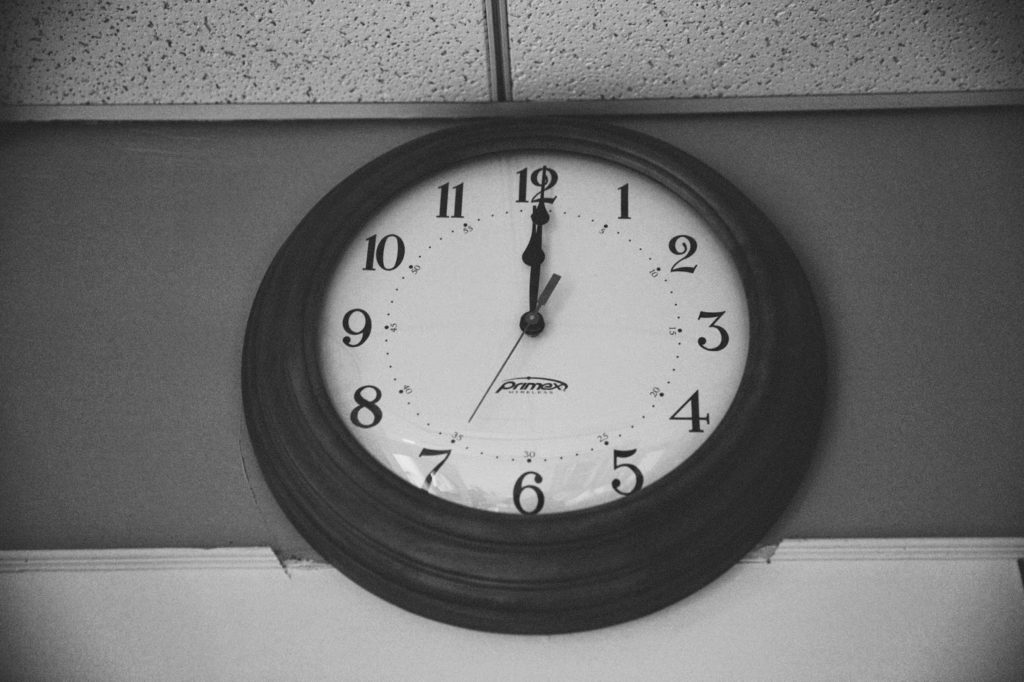 Parker came two days early, so I wasn't sure what to expect with this one. My due date was nearing and I decided to do a few things to encourage labor. Some dance parties (we had one a few days before I was due that lasted at least an hour in the living room to
this playlist
), some bouncing on one of those big exercise balls, drinking red raspberry leaf tea, a brisk walk. To say I was feeling conflicted about this birth would be an understatement. Even as I did these things to encourage labor, the moment I'd have an intense Braxton Hicks contraction, my thoughts would go, "Yes! Maybe it's time! But no! Wait! Not yet!" I couldn't entirely get my mind and heart on board for what I knew my body was inevitably going to do.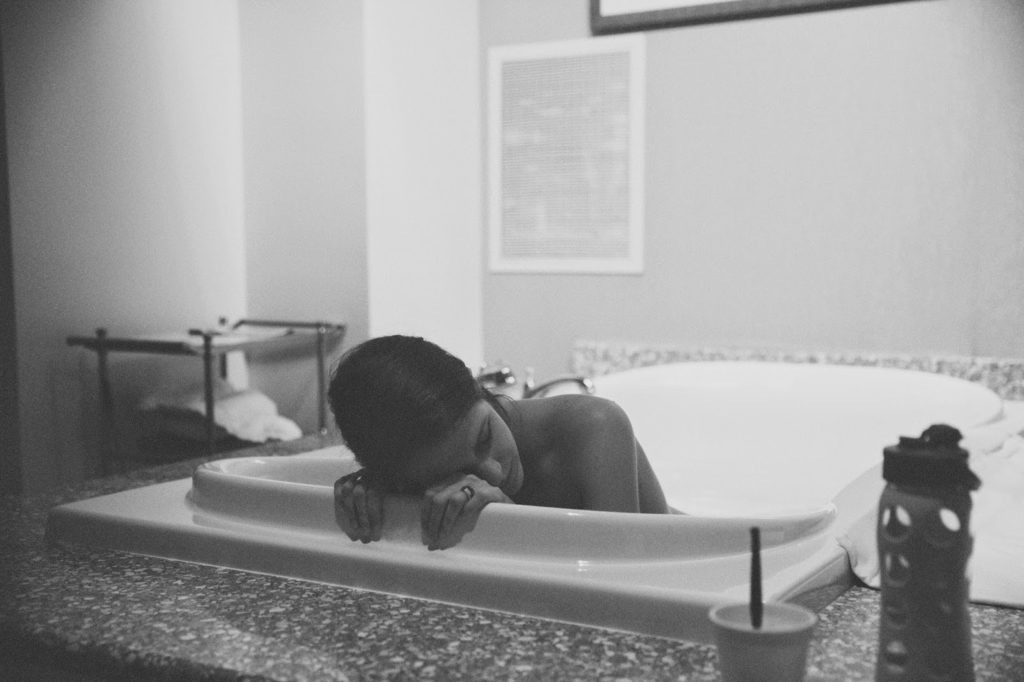 It was strange and different from the thoughts I had anticipating my labor with Parker. I know why, but it was foreign to me just the same. So here we were, December 6th. My Mom made a chicken caesar salad and during dinner I had some Braxton Hicks that were a little more distracting than the ones I'd been having for weeks. We finished dinner and I started to get Parker ready for bed. Brushed his teeth, got in bed with him. We read a story together and I had another while in his bed. We finished the story and I cuddled with him until he fell asleep. It was probably 7:00.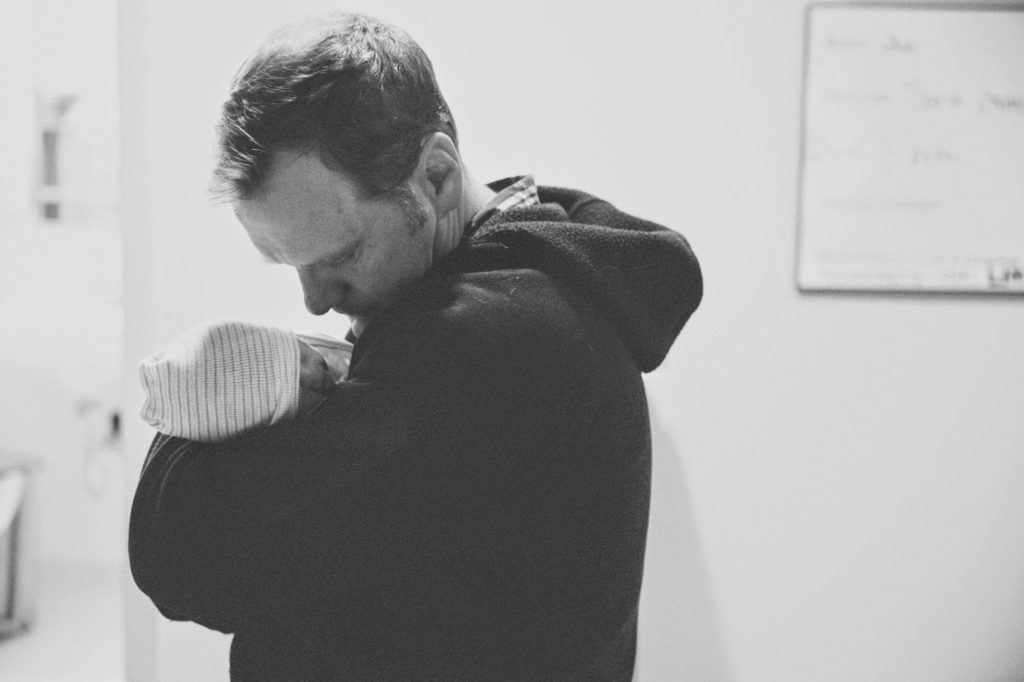 I went up and told my Mom that it might be happening tonight. I made sure I had everything I needed in my hospital bag, told Steve to get anything he'd want ready. We put It's a Wonderful Life on and everyone but me sat to watch it. I paced around the house as things became more regular. I peeked in on Parker, kissed his hands, imagined him as a big brother which both made me ecstatic and a little bit heartbroken. Him no longer my baby? How could this be? Around 8 or 8:30 we started timing my contractions (
this app
that I downloaded once they started–better late than never??–came in very handy!). I was bouncing on the exercise ball through many of them, but as they got more intense I went into the kitchen and would lean on the kitchen counter and breathe through each one. No water had broken, no mucous plug had been lost, but I was still sure that this was happening.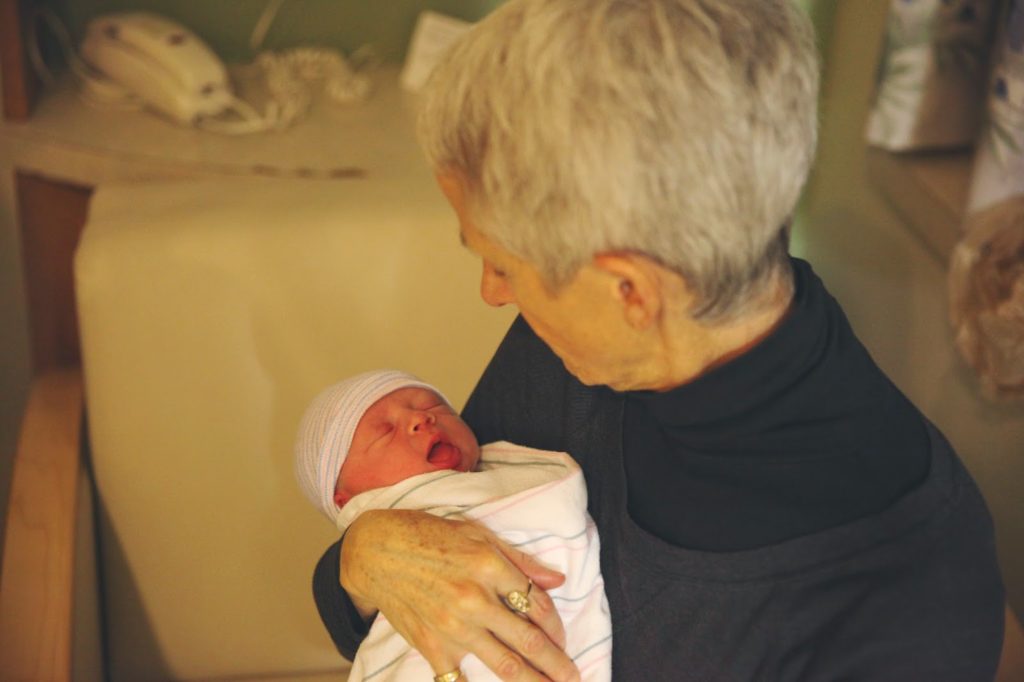 They were coming every three to four minutes and lasting roughly a minute and a half for awhile. We live close to the hospital, and I didn't want to get there too early, so we remained at the house till I had one that I moaned through (you know that labor moaning that sounds almost like an animal?? That's the one!). That was about 11 pm. My Mom has been with her daughters for many of our births and that was a signal to her that we should go. I was more than happy to be on the way too. I had one more as we entered the hospital (arriving at the doors that were locked for the evening! Luckily someone was able to let us in.) and one more as I checked in. It was about 11:20pm.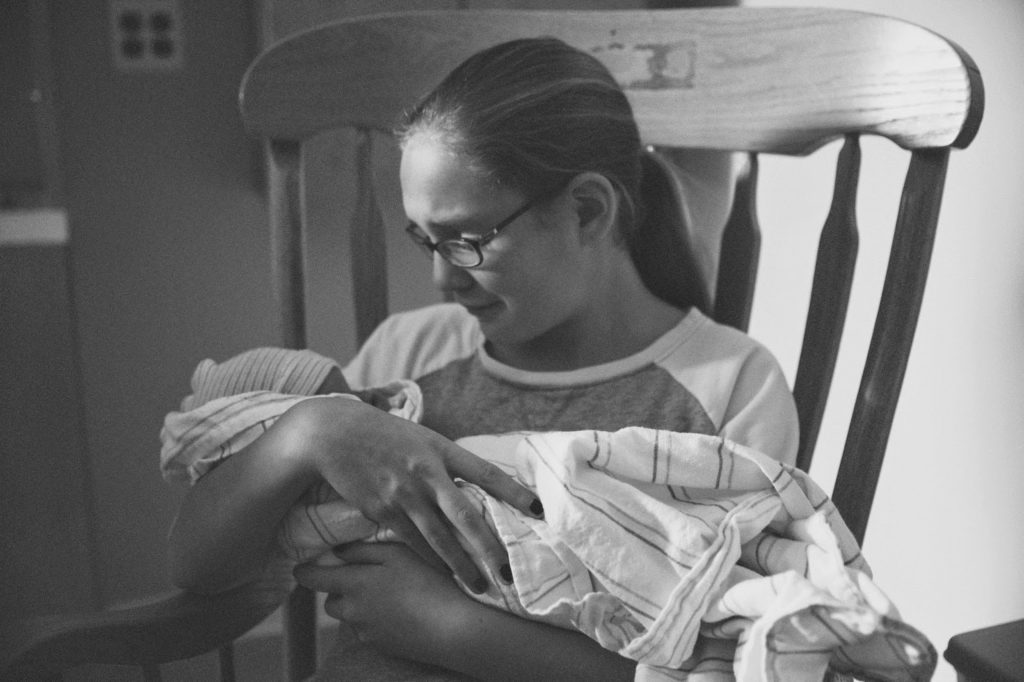 Once in the room they asked me a few of the necessary questions, and had me on a monitor for twenty minutes so they could see how the baby was doing through them. My midwife came in and checked me and I was 6 cm. I remember being disappointed, hoping I was 8 or more! I told her that I'd like to try the tub for some of the labor and they began to fill it up while I was on the monitor. The contractions were really intense, I remember being relieved when each one would end and being entirely in the zone when I was in the midst of one. I had
my playlist
going, having told Steve during a break from one to plug it in. Most of the contractions I took while standing up and rocking with my head down breathing deeply. After twenty minutes, they said the tub was ready and I could get off the monitor. I went next door to the room with the tub and got in. The warm water felt so nice on my body, almost like it was taking some of the contraction from my belly and back, and I was really happy to be in there.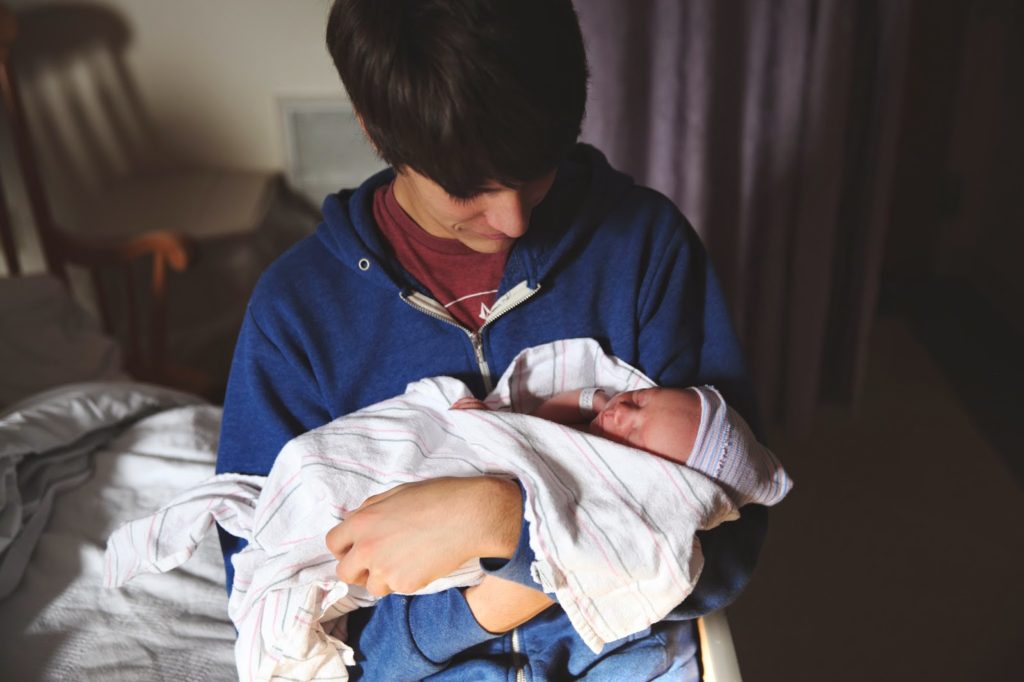 I was reminded by the midwife that I couldn't give birth in the tub which I knew. (Massachusetts passed a law–I believe–that at a hospital you cannot have a water birth but you can labor in water.) By about 12:10 am I was in the tub and had one contraction there that was quickly followed by another with a serious need to push. The midwife and nurse had left the room, thinking I'd be in the tub for awhile and it was just Steve, my Mom, and I. I couldn't believe I already felt myself bearing down and it made me panic a little bit. I was 6 cm 40 minutes ago! I signaled as best I could for my Mom to get the midwife and when that contraction slowed I told her I felt myself bearing down. She asked if I wanted to get out of the tub but thinking it was a fluke, and that I couldn't possibly be pushing yet (with Parker I arrived at 5 cm and was at the hospital for five hours before I had him, and that was after pushing for almost an hour.), I decided to stay for another contraction (the water was so nice!). I was gripping the sides of the tub when another came and again the absolute need to push. I flipped over into a sitting position as I pushed out his head, pointed down to signal to them, and then the midwife said, "Stop breathing, just push!" And then I pushed out the rest of him. Between her and I, we brought him to my chest where he immediately began to cry.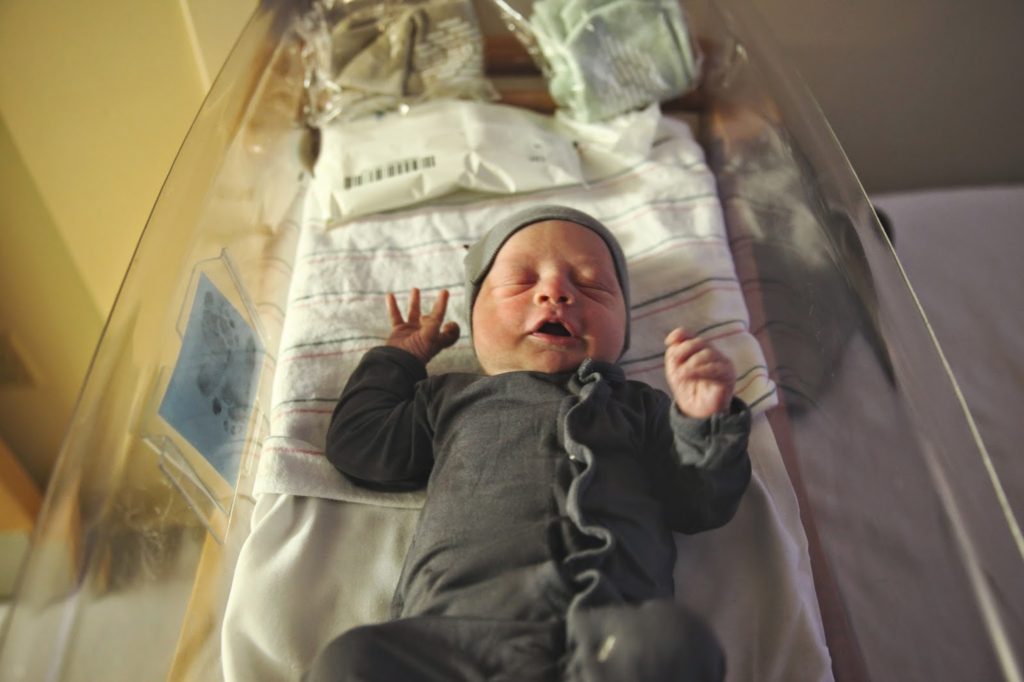 I was in disbelief. How did I get to this point so soon?? I had no pain upon pushing him out (a far cry from the experience I had when Parker crowned which was a second-degree tear. This time? None!). I was thrilled to be done, shocked to be done. We all were, from the midwife to the nurse to my Mom and Steve (to the other nurses I vaguely recall gathering outside the room asking, "She already had the baby?"). They helped me out of the bed where I remained until the placenta came out and the cord stopped pulsing. The midwife asked, "Do you want to cut it?!" I did. He immediately began nursing and didn't stop for a good 45 minutes. It's hard to capture what I was feeling. Such surprise at having already given birth, such immediate love for this little boy, such wonder that he was perfect. Steve and my Mom and I just kept making eye contact and laughing. I recall Steve saying, "Gosh, I feel like we dodged a bullet." (Because a long labor is so intense for him, you know.) Anders was here! He missed his due date by a mere 20 minutes.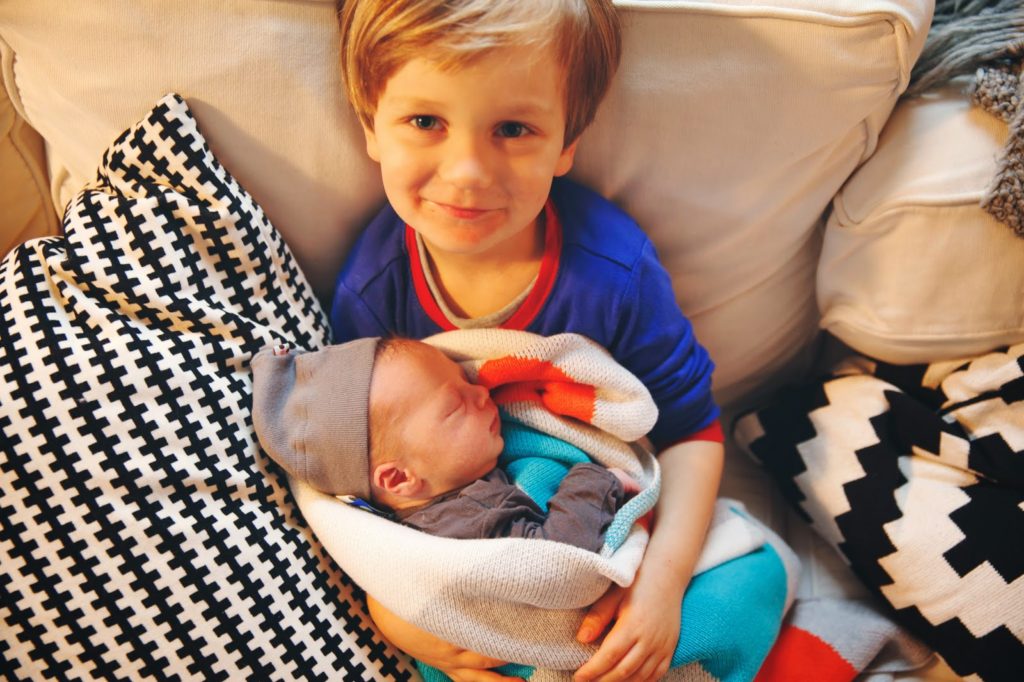 The next day, William and Lindsey came to meet him, as well as my sister and brother in law. My Mom came back to visit with my Dad (Anders and my Dad share the middle name, Emmett!). That night Steve came and watched the game in our room until late, and then I sent him home for some good sleep. I pushed to be discharged early, and this incredibly kind nurse did her absolute best to have all of his testing done (hearing, bilirubin, etc.) so that I could leave first chance I got. By Monday morning at around 9 am, we were on our way home. That's when Parker got to meet him and… guys! I am so happy to announce that it went well and has been going well ever since. No doubt we have trying times still to come, but I'm already so pleasantly surprised at the sweet tenderness Parker shows Anders. That night Jordan came home for dinner and to meet the baby (Nathaniel hasn't had a chance to yet!).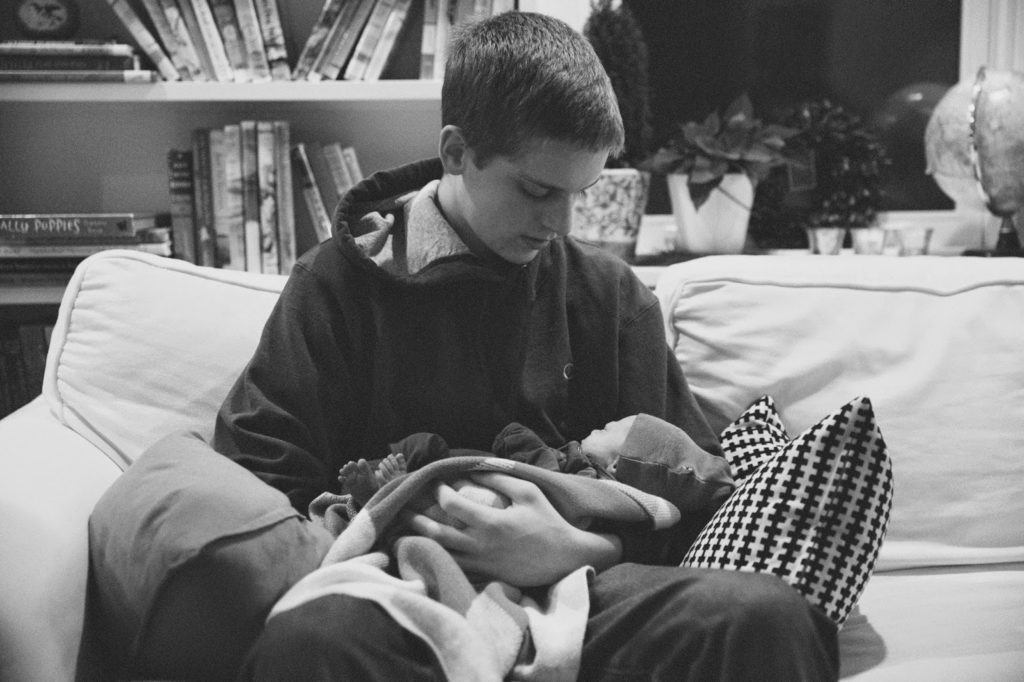 We're exactly one week in right now and it's going so well. He's a dreamy little thing. He sleeps and nurses and as of Thursday was already back to birth weight. He'll be packing on the pounds in no time. I want every moment to go slow and steady. I smell him a lot, I look at his little fingers and toes and I kiss his lips. I watch his spastic little movements and swaddle him so he feels safe and whisper in his ear, "I'm here! It's Mama!" as we sit down to nurse. I am completely in love with him, just as I knew I would be but couldn't believe I would be. He's perfect and he's ours and there are times when I literally cannot believe how blessed I am. It all just feels so miraculous. Forgive me. Between the hormones and the baby bliss, I'm a big pile of mush over here.