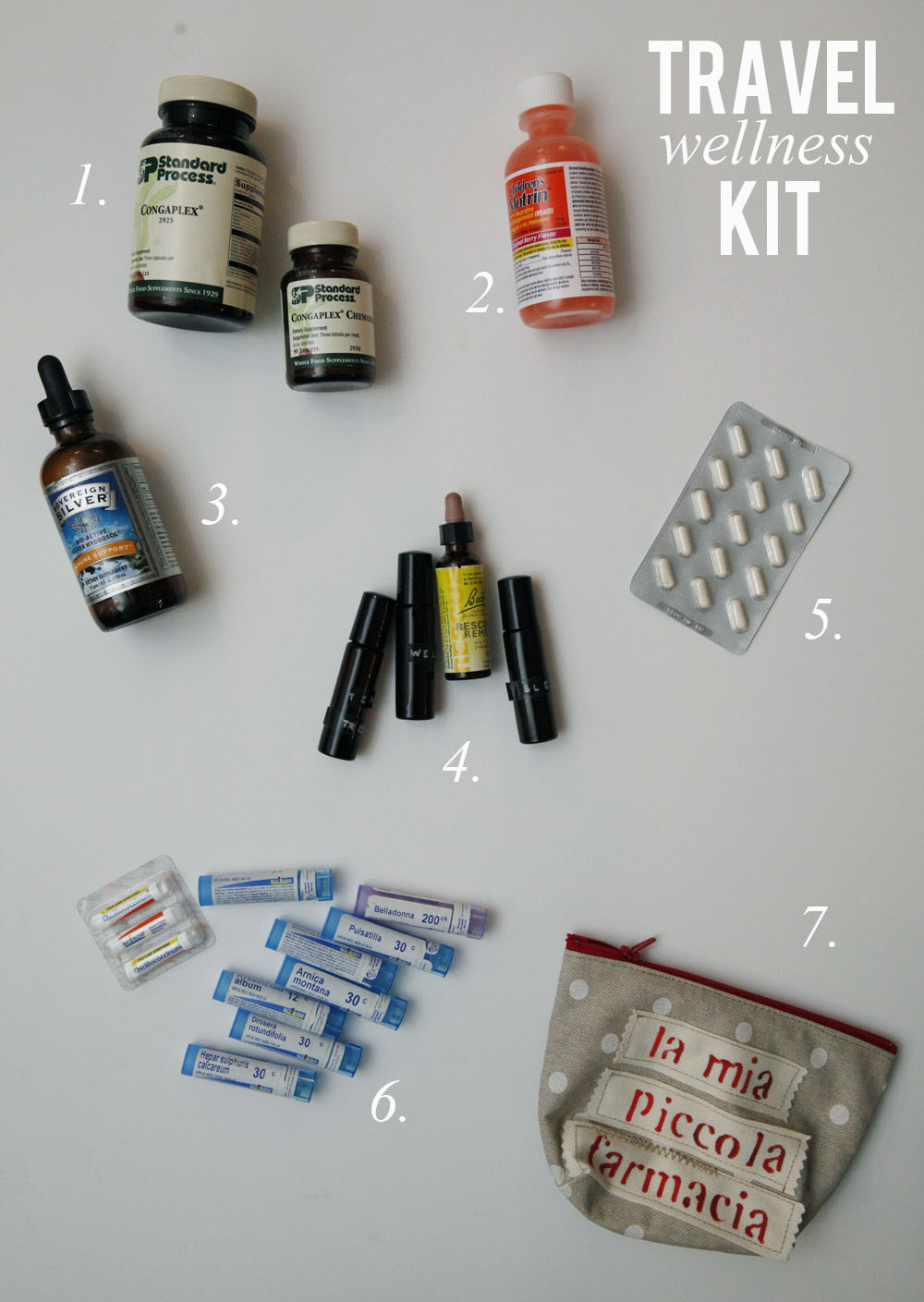 A few weeks back I was packing for our trip, or, more to the point, avoiding packing for our trip so I clicked onto IG stories and did a breakdown of what I bring along on trips as a sort of stay healthy or get back to good health kit. I had so many of you asking to link to these things in a bigger blog post, so here it is!I'm not always the best at utilizing all the things I bring, but I feel better knowing they're there. A lot of them I could probably buy abroad, but who wants to have to figure that out instead of just packing it from the get-go. Not I.
Congaplex: If I have a cold (or any sort of something that could be helped by an immune boost) and this is out of stock it's probably not an exaggeration to say I'll get a little anxious. With regular Congaplex, I'm looking at a two-day cold (max). Without, four? Five? I'm not even sure, but I've heard people talk about colds that have dragged on for a week-plus. I've just never experienced it because I do all the things, and the most important of them is this one. The smaller bottle is chewable Congaplex that Anders takes no problem. You can only find Standard Process products at licensed health care places though, so often your chiropractor, etc. would have it, but not a natural food store. I believe in this company and would stand behind virtually any product they sell. Adrenal support, allergy support, inflammation, etc. They are amazing.
Children's Motrin: Always wise to have a fever-reducer with you as a just in case. I almost never use this (about once a year), but if fevers get scary high, I absolutely would (or if the fever is making them so uncomfortable that they can't sleep). I'm really keen on letting fevers run their course (you probably already know this, but a fever is the body's response to the infection and the higher temps help fight the infection). That said, fevers make me nervous, and I pretty much feel their heads and bellies every three minutes whenever they have one. But, Motrin, and other over-the-counter fever reducers are a sort of last resort for me.
Colloidal silver: This is just an overall wellness supplement. Almost think of it as a natural antibiotic. I've used it on pinkeye with William and Lindsey (gone in 24 hours), topically, internally, etc. Can also be bought in spray form for nasal passages, for boo-boos, etc. Doesn't sting. So many more benefits, I'm barely scratching the surface.
Bach's Rescue Remedy + homemade essential oil roller balls: These shouldn't be in the same category, but that's how I set the picture up! So, Bach's is sort of a stress-reliever, anxiety-reliever. I give it to Parker before things like a dentist appointment, a first day of school–things that could make him a little anxious (more when he was little than now), and I think it really works. Read some of the reviews. I also gave them both a few drops under the tongue before flying and, who knows if this is why, but they both slept well on our flight over! There's three roller balls here which are all made up of essential oils and fractionated coconut oil–tea tree for around ears in case of ear infection, wellness for spines and bottom of feet (made up of this immune strength oil), and a sleep one that's a mix of lavender and a bit of frankincense.
Probiotics: a good brand that can help keep everyone regular, which is important when traveling and eating different foods than normal (pasta! croissants! pizza!). You know.
Boiron homeopathies: I wish I knew more about these to be able to give a really detailed description of exactly what they do and how. My Mom has used them off and on forever (they've actually been around a very long time; and I think I said they're from Germany but in fact it's France!). Highly suggest reading about the company and about the various homeopathies they offer–there are many. Each one lists about 2-3 reasons you'd need to use it but the uses actually go well beyond just those listed. I'm going to list a few of my favorites, and why, but seriously do some of your own reading. It's so interesting. Most are available on Amazon, but natural health food stores often have a section full of the little blue bottles (and often a pamphlet there with descriptions). Bonus: they're very inexpensive, and have no side-effects. Also, the bottles are tiny and easy to pack or even put in your pocket. Some favorites–Oscillococcinum is one of our favorites for flu-season. Arnica for muscle pain, stiffness, swelling. Ledum for infections related to insect bites, cuts, wounds, etc. as well as insect bite itching. Pulsatilla for colds with mucous discharge. Chamomilla for teething pain and irritability. Hepar sulphuris calcareum for coughs (but this is a good one to explain what I mean by the different uses; so it's listed as a cough/croup treatment, but it's also been used for tooth/gum infections, acne, ear infections, strep; sort of a powerhouse remedy). Belladonna for fevers. When you actually take these, you twist the cap, and the little pellets fall into the cap one by one, and then you uncap it (there's a safety so that no more can fall out unless the cap is on and being twisted) and take them straight into your mouth from the cap without touching them. Then you let them dissolve under your tongue. They are so easy to take (taste like sugar pellets; the boys practically ask for them when they see them). Look into them more, and decide if adding these to your repertoire works for you.
A bag to hold it all! Sylvia saw this bag in Orvieto and gave it to me as a gift knowing it'd be perfect. "My little pharmacy!" It is perfect and I love it.
A few add-ons: I forgot to add the greens powder to this list, but I bought this one. I can't say I loved it mixed alone with water (or that the boys ever had any, which was definitely my hope). But I think I could mix some into a smoothie and not mind it. Also, a thermometer. And Emergen-C! We usually take Emergen-C just before we fly, too.
That's it! Be sure to check with your medical provider before taking any of these, and remember that I am definitely not one. Just a Mom who's into natural health and believes in the power of our own bodies for healing (with the occasional medical intervention, of course).