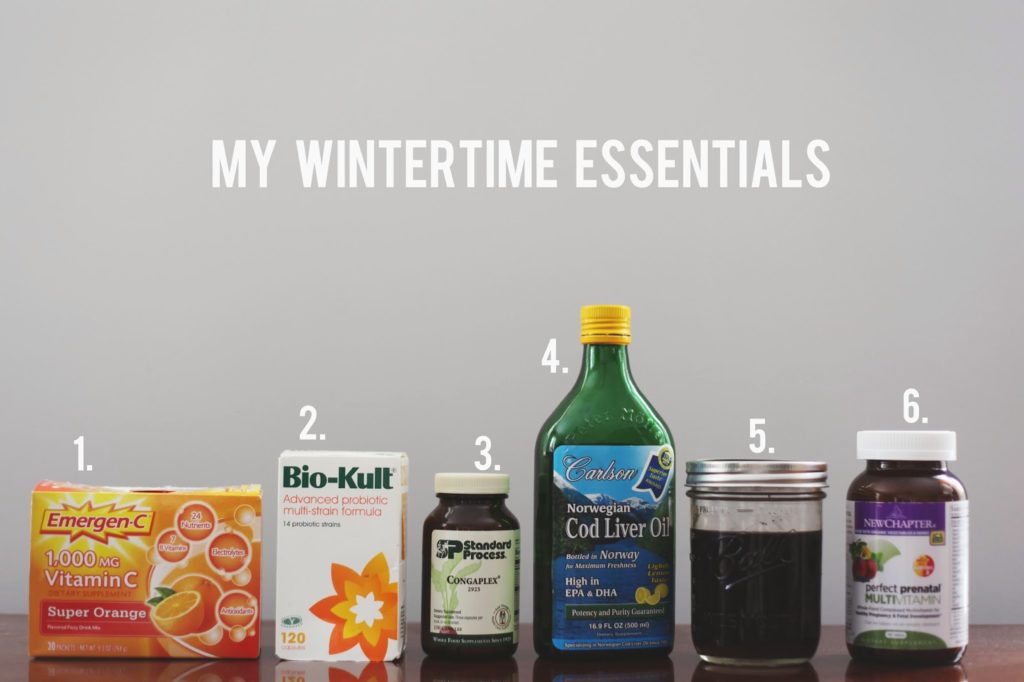 i currently have a cold (a really, really snotty and sneezy one at that–it's really gross.  the floor on my side of the bed this morning was like a tissue graveyard.) and thus am doing all of the above.  mostly.  sometimes i get lazy and let a thing or two drop off (but never number 3).  some of these are my daily routine practically year round while others are more preventative during certain times of year and still others are when i feel something already coming on.  i'll try not to let this be toooo much of a novella.
and, important note: i am not (not not not not) a health care practitioner.  i'm just a woman who likes herself some homeopathy and tries to stay away from over the counter meds and such.  all have their place, but the above (and then some) is what i prefer, this is what we do!  i'm not linking you to all the articles and research that say the above is great (or not so great) so definitely do your research.  and with that, we carry on.
1// emergen-c: this is a no-brainer.  and yes, it does have some sugar content but is also packed with vitamin c and i hear from many that they really think it knocks the cold out if taken as soon as you feel it coming on.  after that, all bets are off, but vitamin c isn't a bad thing anyway.  (parker will also take this in a sippy cup; i usually give him half a packet if he has a cold or if someone else in the house has one.)
2// 
probiotic
.  365 days a year.  the whole family takes these as long as i remind them/they remember.  they're really small pills, easy to swallow.  i have recommended a different brand in the past, but after some GAPS-education (this is the one recommended by them), my sister takes 
this one
 so i just took her recommendation.  also, it doesn't need refrigeration which is nice for when you travel.  and i know!  eating my words.  i have always thought a good probiotic must be refrigerated but apparently not.  each pill is vacuum sealed separately so that must be why.  gut health is huge and, to many (
dr. marianne included
), the very start to good overall health.  everyone should be on one.
3//
standard process congaplex
.  i've been taking this longer than any of the above.  for as long as i can remember.  never have i seen something work so well on a cold (or general sickness) than this.  sometimes i feel like i get too many colds (two to three per winter?), but what i will say is that they last about two days.  i pound the congaplex.  when parker's sick, i give him two about three times a day and he chews the capsules and swallows them.  he strangely doesn't mind taking much of what i give him (what a weirdo).  disclosure: i also eat no dairy or sugar and very little flour when i have a cold.  i'm a miserable person with a cold so i basically attack it.  some chiropractors or naturopaths carry their products (that's how i usually get mine) but it's also available on 
amazon
.
4// 
carlson's cod liver oil
 (lemon).  vitamin d!  we're on month three of no sun (sort of) so we need this.  a spoonful a day.  there is information out there about how much vitamin d you need or do not need in the summer when you're in the sun (still the best way to get it!) but basically, as a general population, we're all very vitamin d deficient, so this is an important one.  i do believe this helps my mood in the wintertime too (not that you'd always notice… sorry family, but imagine what i'd look like without it!).  some switch to fish oil in the summertime.  we don't.  i just don't take this nearly as often as i do in the darker months.5// elderberry syrup.  i used to buy this, a fairly small bottle of it, for around $15.  but it was a serious lightbulb moment when i discovered i could make my own for a fraction of the cost.  i buy these 
elderberries
 and have made five jars (i give a lot away–we haven't gone through
that
much ourselves) about the same size as the above.  i still have plenty of elderberries left.  way, way, way cheaper.  spoonful a day preventative, and one or two spoonfuls once you're actually sick.  i follow
this recipe
.
6// new chapter prenatals
. not pregnant (would this not be theee stupidest way to announce it?!)!  i've taken prenatals a long time now, for prepping for pregnancy and then for pregnancy and nursing.  and even though i stopped nursing a little while ago, i still take them because i think they pack more punch than other multivitamins.  i've taken the twin labs brand, and this one.  i can't say i notice a huge difference but i prefer the ingredients in this one (a lot of greens).
this is by no means an inclusive list of the things to do while sick or to prevent sick.  that probably didn't need stating.  i'd love to hear more about what you do.  some of ours not pictured are essential oils, tea, and colloidal silver.  does anyone take manuka honey?  favorite kids' multivitamin?  and i'd love to hear how you use essential oils too.  anyone already take some of the above?
stay healthy!