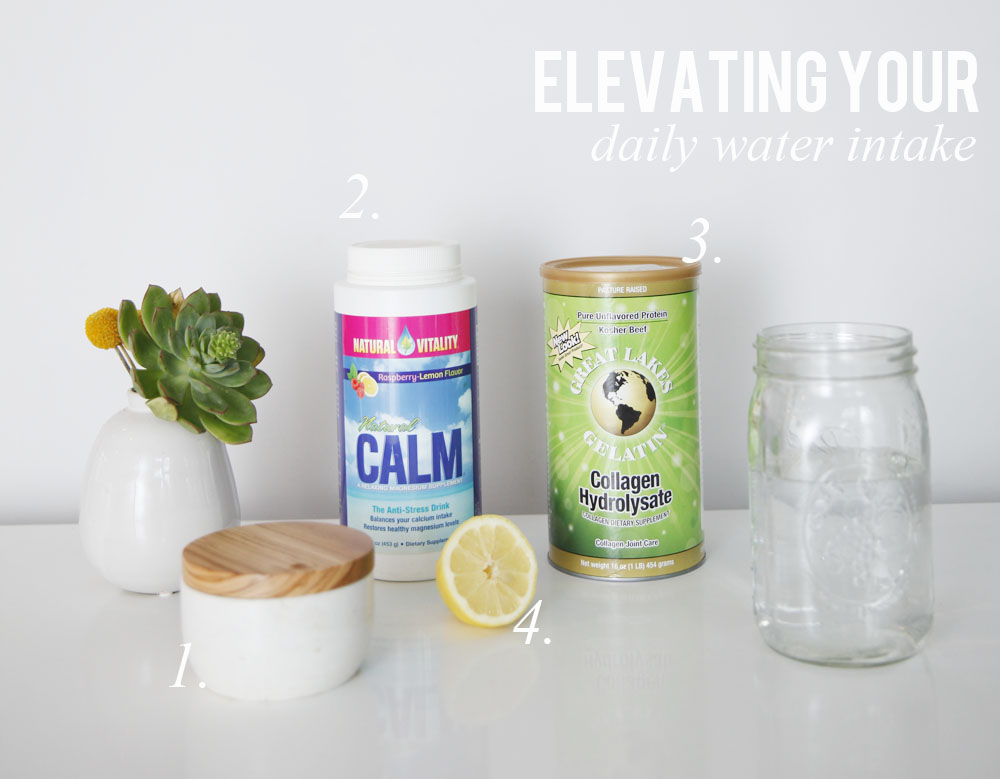 water! no doubt we all need more than we're getting. my mom's pretty certain that health begins here (and ends with no sugar–which is the devil himself if you're her) as water is constantly cleansing your body aiming to prevent various ailments that can get you down. for about two months, i've been way more aware of my water intake, keeping my giant mason jar on me as i move throughout the house, or carrying water with me when i leave. i've sort of always done the latter, but constant sipping throughout the day isn't something i've been as good at. so, here's some of my tips, and then some of the things i've been adding to my water to make it pack an even greater punch.
first things first. figure out what your daily water intake should be. they used to just say a sweeping 8 8-oz. glasses a day, but that's seems to be the old adage that no one subscribes to anymore. (however, if you're sticking with that, you're probably ahead of the game. 64 oz. is more than most of us drink, i'd imagine!)

this calculator isn't taking into account exercise, pregnancy, weather, amount of sweat, breastfeeding, etc. near impossible to come up with the perfect one for you, but let's see the one for exercise.

for me, depending on my exercise level/the weather/nursing/all the factors, i need to drink somewhere between 58.5 oz. and 90 oz. right now, i'm just attempting three of the large mason jars per day. depending on where i fill it to, that's about 72 oz. a day. rest assured, i'm usually failing, but it's just my benchmark. i like the large one, because i don't have to fill it as often, and i love that the measurements are right on the glass. i daresay, i actually notice my skin is less uneven and a bit brighter the morning after a day of a lot of water. plus, i don't find myself feeling really lethargic or sluggish most of the time (that can be attributed to many things–i don't eat much sugar/flour, get enough sleep (most days), etc.–but the water is certainly helping.) side note: i'm always getting on steve about drinking more water and he's all, "this is my third cup of coffee! i'm getting plenty!" they are not the same thing!! which is really too bad. i'd be happy to go straight from coffee to wine and call it a healthy lifestyle 😉
now, since we're all going to be drowning in water after this post, we might as well get more bang for our buck, right? let's talk about ways of elevating your basic, boring water.
number one.
celtic sea salt. this is good for all sorts of things. the specific one i linked to (not just any table salt) has trace minerals that are virtually nonexistent in our daily diets because of a lack of nutrient-rich soil (up to 84 of them!). those trace minerals can be found in our oceans and thus sea salt provides them. it also helps balance your sodium-potassium ratios. they're full of natural electrolytes (and not glow-in-the-dark dye like gatorade). next time your child has a stomach bug, drop a pinch in their water for the electrolyte-factor. they help you digest food. they can prevent muscle cramps, promote thyroid health. the list is endless. do a google search! it's pretty amazing.
number two.
natural calm. this restores healthy magnesium levels which are responsible for all sorts of things from stress, to sleep, to regulating blood sugar levels, to immune support. straight from the description on the site: when we are under stress, our cells—which in their resting state contain magnesium—go through a change. calcium, normally outside the cells, enters the cells and the calcium level becomes high. this is the action state in which a muscle cell, for example, will contract and tense the muscle. the magnesium then pushes the calcium out of the cell and the cell is again in its resting, relaxed state. think of it as an on-off switch. The "off" is magnesium and the "on" is calcium. without sufficient magnesium, this off-switch doesn't exist. i've taken this off and on for about ten years. some people swear by it! it flavors the water really lightly (raspberry). it can also help with constipation (take too much, though, and you could have the opposite problem). and check out these reviews. people love this stuff.
number three.
gelatin/collagen. i read recently that after the age of 25, your body loses its natural ability to repair connective tissue, bones, tendons, hair, nails, and skin. sad emoji face. i actually got this this past winter (recommended by my sister kate!) when i broke my arm–but if it also made me look like a teenager? i'd accept. collagen is good for so many things. some of the benefits straight from the site: high protein content, maintains mobile and healthy joints, restores bone density, 19 specific amino acids, glossy hair and healthy fingernails, promotes feeling of alertness, improves concentration, creates balanced mood, increased sense of well-being, plus a benjamin button effect (just kidding; i added the last one). i did get carded twice in the last month. maybe i should credit this collagen. another note: steve wakes with back pain always. he's got a herniated disc. he hasn't been complaining as much of this (though, he's also been working out more, so it's hard to know what's responsible). it's cold and hot water soluble. i sneak it in his coffee. it doesn't have a taste at all.
number four.
lemon. digestion, a natural cleanser, vitamin C, immune boost, mood boost, weight-regulator, better skin! this is an easy sell, no doubt. give a squeeze in all of your water. it tastes better that way too!
disclaimer: i'm not a medical professional! do your own research before adding these things to your own routine.
{p.s. my wintertime essentials}