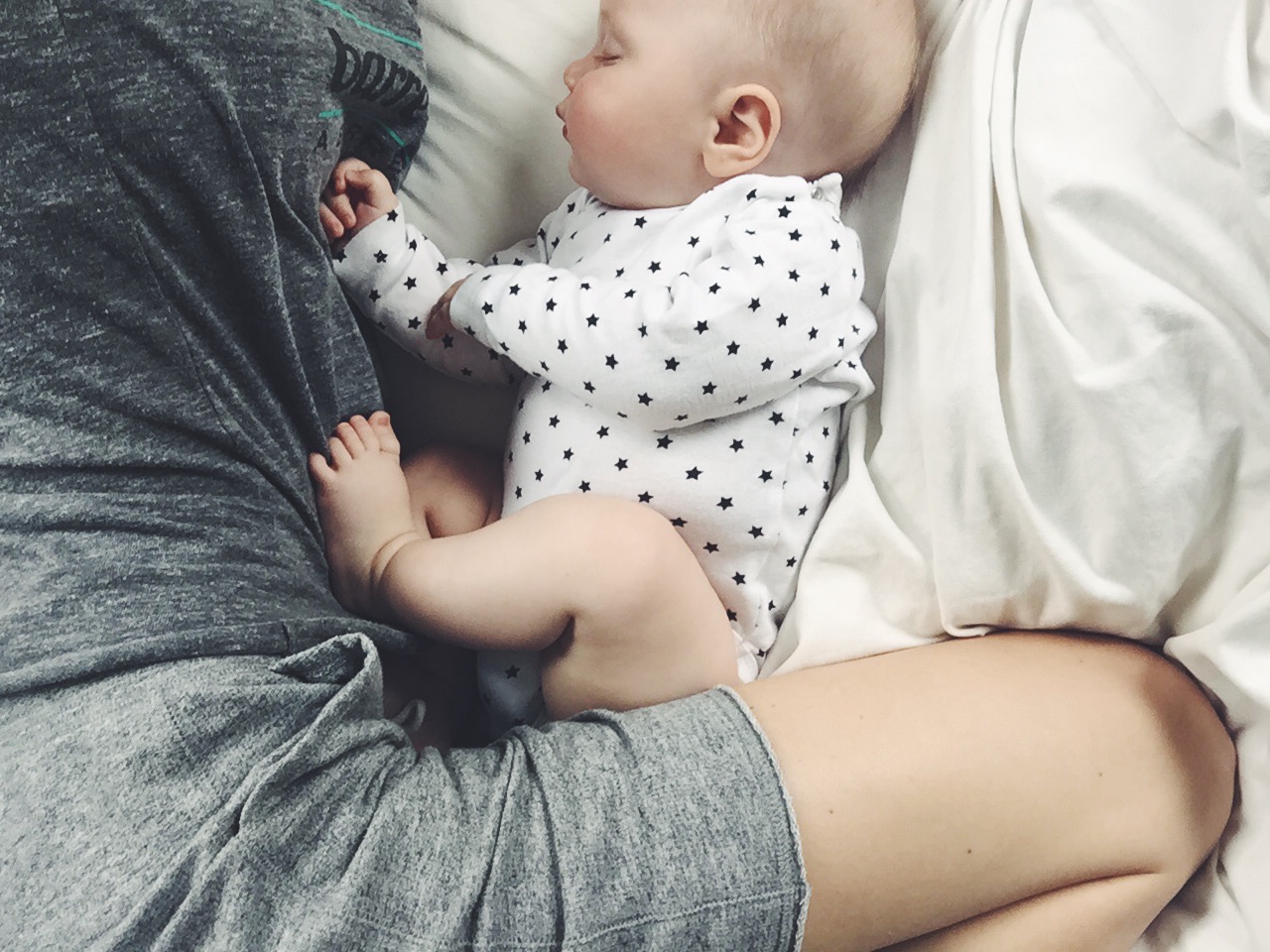 more than perhaps any other question i've gotten is this one: how did you transition your babies from co-sleeping to their own room?? i'm sure many of you who've asked the question have long since figured it out on your own (never mind that–said child may be off to first grade by this point!) but for those who are approaching that transition, this post is for you (or it's not! as you'll soon discover!). i think i've mostly avoided it because it's so loosey-goosey in this household that i don't feel like i have any hard and fast rules to follow to get you to the other side. i'll take a crack at it anyway.
if memory serves me correctly, parker was in our bed exclusively until he could begin rolling. at that point, he'd take naps in his crib (in his own room) a lot of the time, or, if i was staying with him for the nap, then he'd be in bed with me. from about 18 months on, he'd begin his night's sleep in the crib, and then pretty routinely wake at some point (2 am? 4 am?) at which point we'd go get him and bring him into our bed for the rest of the night. as you can see, it was never a cold turkey sort of cut off. (if we were traveling, it was a shared bed situation again a lot of the times as we often traveled without a pack and play.)
when we moved (two years ago–so when he was almost 3), things changed again. oh! worth mentioning: i've always nursed my babies to sleep and i haven't done any sleep-training. neither are the most convenient, no, but it worked for us. parker was always pretty transferrable (from rocker to crib–and if he wasn't, there were many times i'd get in the crib with him), and he's now a champion sleeper. so back to things changing again when we moved. he was 2, and we had him in a crib in our room with us. we wanted to ease him into the transition and not put him in his own room right away. he started there, only for a bit, before we gave him a big boy bed a couple months before anders' arrival. at that point, he was pretty exclusively in his own room by himself. this always had a lot of leeway for steve and i though. if there was a night when he fell asleep with us in our bed, was scared, whatever, he could come and sleep in our bed. nevertheless, this didn't happen very often.
then when anders was born, everything changed again! in the interest of everyone getting the most sleep possible, steve moved into another bed in parker's room for awhile while anders and i shared the big bed. husbands (bless them) are pretty worthless to a nursing mother in the middle of the night. anders was super low-maintenance. nurse, back to sleep, nurse, back to sleep. i remember remarking a few months in that i never had to actually sit or stand up in the middle of the night with him. he didn't need to burp, to be rocked back to sleep, he'd just nurse and go back to sleep (this wasn't the case with parker; he wasn't super difficult but there were definitely bouts of crying in the middle of the night that required more of us to soothe him back to sleep.). even so, it would wake steve, or his snoring would wake me or keep me awake after nursing anders back to sleep, so we both felt like the best way to get the most sleep (the main goal with a new baby!) was for us to split up. plus, parker and he actually enjoyed sleeping in the same room and i enjoyed knowing they were together so, to parker, it didn't feel like new baby, mom, and dad were always snuggling in bed without him. it quickly became a habit for parker to wake up and climb into bed with steve. i loved finding them snuggled up together the next morning. with that said, parker was 3 years old, and he could understand things. "parker, you need to stay in your bed (or room, or whatever)."
to this day, anders still isn't sleeping through the night, and there's been yet another room switch (they're in the room that steve and i were initially in). so, parker is in the top bunk and anders and i are in the bottom bunk, and steve is in the queen bed in another room. parker was excited to have a bunk bed, and a shared room, so telling him he needed to stay in his own bed the whole night wasn't a problem.
are you even following this anymore? are you surprised we haven't thrown our hands up in the air and declared a family bed our new strategy? (i've thought about it.)
next, when anders is sleeping through the night more regularly, i'll move into bed with steve, and anders and parker will be in their own room. there's a chance if i did it now, anders would be just fine and sleep through the night without me there, but honestly i'm not quite ready for that. co-sleeping with my babies has been some of my most cherished hours so here we are. luckily, steve believes in all of this too (right, steve?! right?). and yes, you can still make time for each other whether or not you're sharing a bed to sleep (i feel like someone will ask that question so there it is!).
and that's the long and short of it. as you can see i'm really not the best to give advice. what i will say, however, is that the personality of the child plays a huge role. there were people that would say with co-sleeping and without sleep-training, you're setting yourself up to have a horrible sleeper. lies. parker is the best sleeper. he's super low maintenance, will sleep in if he was up late, and can go to bed on his own if need be. and i don't think it has anything to do with what we did or did not do as much as it does just who he is. i will also say that it's important to be flexible. lean into it, and i think your child will respond so much better than an abrupt change. i know that's the way i'd like it, so why wouldn't our kids like it that way too? and finally, trust yourself. you know your kid better than anyone else. you also know your own needs better than anyone else. find what works for your family and do it. good luck!
family beds forever! (jk… sort of.)