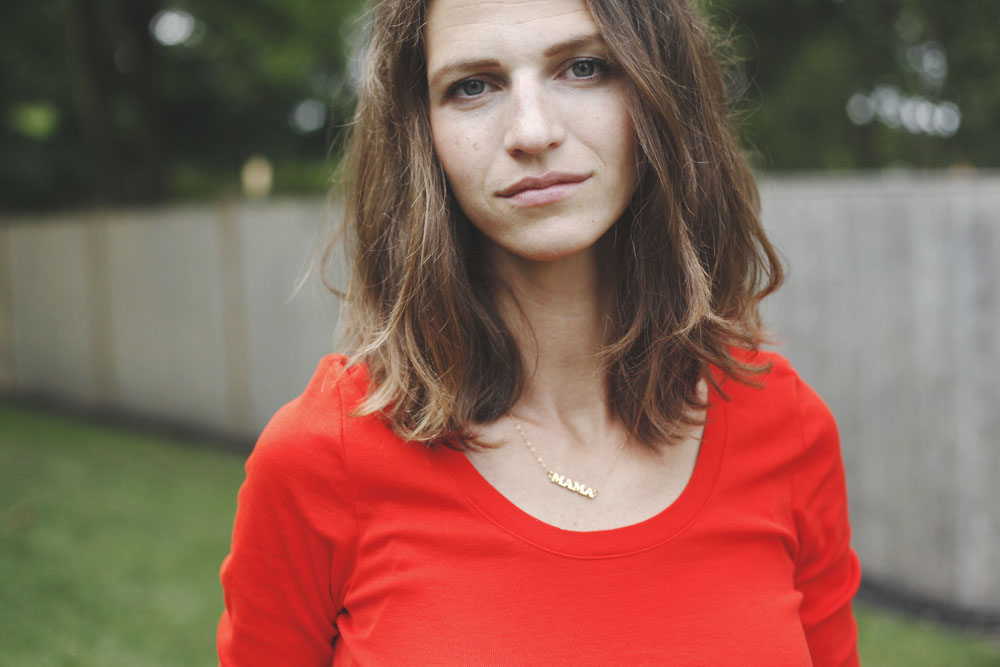 Here's a picture of me looking super grumpy to share with you my favorite skincare products these days, and my everyday routine. As I'm now 31, I'm feeling the need to take better care of my skin. For a long time, I'd sort of just wing it. I also loved getting a tan in the summer (and still do!) but now I'm like, "It is NOT worth the damage it is doing long-term to my skin." I'm trying to convince Lindsey of this every time she skips sunscreen when we're at the beach!! This latest trip to the Jersey shore, I covered up with a hat, or sunscreen more deliberately than ever before. I was like, "Yep. I'm really old now." But you see those spots on my right cheek? (I'm not wearing any foundation here. Just a little bit of this cover-up on the top of my nose where I have permanent redness, almost like broken blood vessels.) They're permanent sun spots, and they sort of drive me crazy. Not a big deal in the grand scheme, I know, but if I had my way, they'd be gone and knowing they're there because of sun–extra frustrating!
I just read something that says your face begins at the top of your breasts. I thought it was so telling, because there's nothing that shows age and sun more than your neck and chest. And, at least for me, I usually completely ignore that area. Now it's one of the areas I concentrate on when I use sunscreen, and I'm trying to be better about putting my everyday face moisturizer on it too.
To make a long story short, here's my favorites lately that are working for my skin. All of them are good products too, full of ingredients you can pronounce! It's worth adding that my skin tends to be on the dry side. If I have a breakout it's usually in the T-zone area, and I also have blackheads on my forehead. With hormones and nursing and babies, I feel like my skin isn't even sure what it's been doing for the last few years, but my dryness has pretty much always been with me.
Damn Good Face Wash // You knew I'd include this one, didn't you? I wrote about it here at length, but to sum it up again: I love that it leaves my skin moisturized instead of that tight, hard-to-stretch feeling you get from some face washes. I also love that I could probably eat it and be the better for it. (Sidenote: don't eat it, but it's good to know that your face wash has things you can pronounce and could probably find in your kitchen.) It just leaves my skin feeling glowy and dewy. I think it's earned a permanent spot in my routine.
Osea Anti-Aging Balm // This is a new one for me and one of my serious favorites. I try to put it all over my body as soon as I'm out of the shower so it really soaks in. It feels so nice going on, smells refreshing, and I feel like a queen when I use it. Seriously, I'm like, "Steve! I'm using my balm, so please come give me a massage and bring me my mimosa!" I don't use it on my face, though I am sure you could. Using it makes me feel like I'm given due attention to my whole body in the skin-care arena. Legs and arms deserve love too, people!
Osea Atmosphere Protection Cream // Isn't that name a hoot? Anyway, I've been using this on my face this summer underneath my makeup. It's lightweight and soaks in immediately. It might not cut it for me in the wintertime when my skin is really dry, but I like it a lot right now. It travels well too. Is your skin being protected from the atmosphere? IS IT?!
Damn Good Oil // This is the newest in the DG oils family and it smells like a flower garden–plus those ingredients!! Another one of those "Steve! My bon bons, now!" moments. I use it occasionally right now, but will be more of my go to when wintertime hits. (Anyone have any heavy hitters for dry skin in the winter? I tried this a few months ago and did not like it at all. The consistency was like a jelly and it stung a bit.)
SW Basics Exfoliant // I was never a regular user of exfoliator until the last year. And now I'm like, "What took me so long?" I keep this in the shower and use it probably once a week, maybe a little more in the winter when my skin is drier. I focus on the spots where I see the most dryness. It's made of like… flour and salt too, which is awesome.
That's it for now. And now for my typical crowd-sourcing: any moisturizing masks that you guys love? Or your favorite skincare products in general?? (And do any of you seriously use this and is it actually worth that money?!? I feel like it's a cult-favorite–of celebrities anyway!)