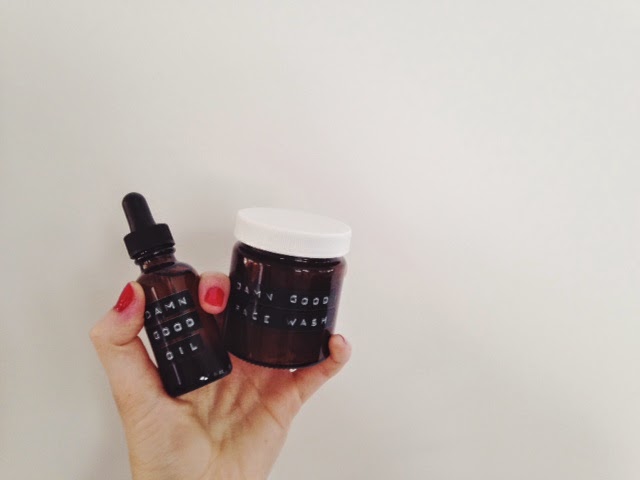 so, i'm 30 now. whomp whomp. what's that even mean? i don't know, i don't know! but it feels like some imaginary threshold has been crossed in which i can't just grab any old bottle of face wash or moisturizer that looks pretty at cvs. rather, i should actually crowd-source, use google, read your blogs, read the labels to come up with the solution. figure out what the women who know better than me (so all of you) are doing. when my sister kate (a woman who definitely knows better than me, and four years my senior) told me she was making her own face wash and getting all sorts of compliments on her skin i thought, "you're so crunchy," promptly followed by, "give me some." i got it early february when my skin was super dry and looking blah. between the post-birth hormones and the dry winter air, my hair and face needed a change up and a serious drink of water. prior to this, i was using the burt's bees royal jelly face wash with coconut oil at night but my cheeks were still rough with dry patches, so that wasn't cutting it. i needed something damn good! (chuckle chuckle.)
so my sister sent me her face wash and i started using it right away. it was in a baby food jar and she had a little white stuck on label that said damn good face wash. the prototype if you will. after month one, i told her she needed to be selling it. the girls at her work (who she was giving it out too) had been saying the same thing. now, i've been using it for two months and
love
it. it's coconut oil based (so, unless it's extremely warm, it's a solid.) thus it's totally
different than other face washes i've used but that's probably my favorite part. it removes all my makeup and, because it has so much coconut oil in it, doesn't leave my skin feeling dry at all. in fact, it basically moisturizes at the same time. after washing, i lightly pat my face dry with a towel to keep the oil on my face. it's got baking soda in it which slightly exfoliates too. it's got a lot more than that too (raw honey, bentonite clay, etc.), all of which kate knows a lot about and i just take her word for it and keep asking for moooore. it's not drying my face out at all. and what's more? i feel like around my eyes and the tops of my cheeks looks… refreshed? dewy? like i'm drinking enough water without actually drinking enough water? i don't know. i never really saw big variations in my facial skin (aside from breakouts and what not). i thought skin was just skin, but i think this makes me look healthier. my target argan oil by acure ran out so now i'm using her oil too (which includes argan, plus some other awesome things). and her toner (which she makes on her stove–rose water, calendula, chamomile infusions. see? she just
knows
things.). all made with the highest quality ingredients you could basically eat though, why would you? (don't eat it.) all the ladies in my family are using it now and loving it.
it's all really damn good. i'd be blogging about it whether or not she was my sister. (in fact, she's a total pain in the ass and i really don't even like her so you know i'm telling the truth.)
that was a joke.
lucky for you, she decided to open up shop and sell it. you can read more about exactly what's in each product and what it's good for under item descriptions too. now go and have yourselves a damn good day!
she's being generous and giving a 20% off code through the 22nd: DAMNGOODTALES20.
p.s. i'll tell her to check in on the comments today if anyone has any questions, so feel free to ask.