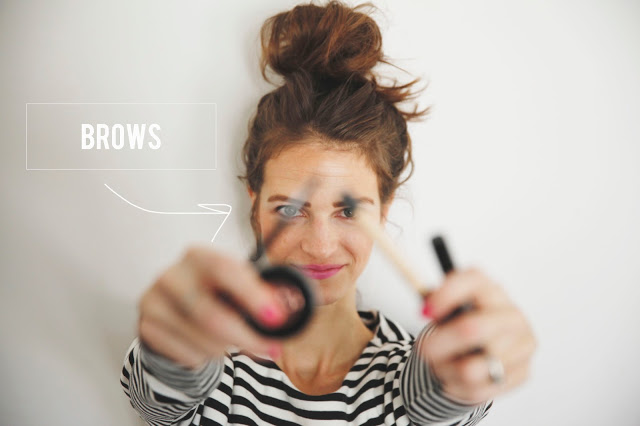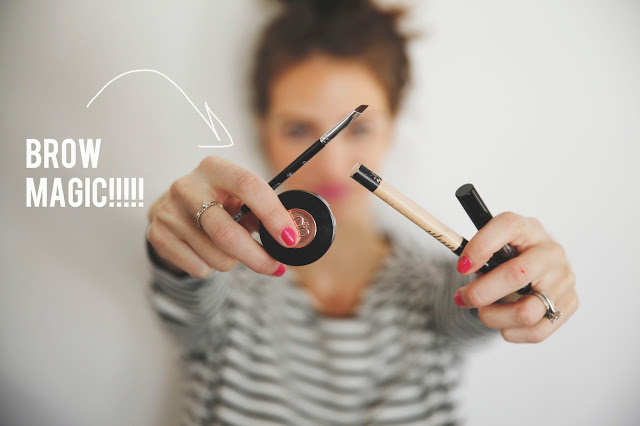 that'll be in your head all day long now. you're welcome!
so, blah blah i'm 31 now and am finally discovering the magic of makeup (see
this post
). i've already explained all that. so, one of the things, nay,
the thing
i've probably been most excited to discover is that if one was born with nearly invisible brows, one can fill them in! if you go deep into the tales of me and the husband archives, you'll see that i do have brows but… they're pretty light. well, somewhere over the past two (three?) years i started using
this pencil
. and while that pencil is great (and really, really quick if you have only like three minutes to spare for makeup), i was flying through it and i also couldn't get quite as bold as i wanted to with it. what now?! "i still haven't found what i'm looking for…" song lyrics ftw.
enter
anastasia brow duo
. (what i have on
here
!) it's answered my prayers (jk, i've never prayed about my brows, only my eyelashes!). it will definitely give you a legit brow and you can choose how heavy-handed you want to be with it. cons? it takes more than 4 seconds and has a teeny bit of a learning curve. i got 
this brush
 to apply it and it works
great
.
when i want to really go all out (like on the days i go through the panera drive-thru for instance), i'll top it off with a little
gimme brow
which keeps them in place nicely. (i also like gimme brow alone, but am tending more towards brow duo if i were to only do one.)
finally, i also use
this
underneath my brows (the brow bone, i believe?) for brightening. i've had the same stick for probably… 7 years now. we're well beyond its expiration date but i press on! it brightens the whole area making your eyebrows really pop, and that's what we want now isn't it, ladies???
(next i'd like to try
this
but the sephora gals even told me that it is a little bit tough to get the hang of at first and they're THE SEPHORA GALS. so what does that mean for me? i'd end up looking like frida kahlo is what i think that means.)