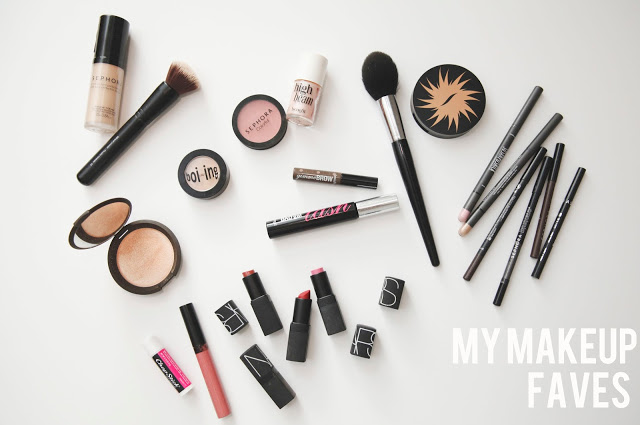 i've recently gotten excited about makeup. i mean, not for the very first time ever, but maybe for like the second time ever. what i'm saying is that i've never really known what i was doing (that sounds like i do now but i very much still do not.). i'm more that gal who walks into sephora, immediately seeks out a black sephora coat, and is like, "um. hi. would you. i think i want. um… like what you put on your face first? but. my skin. it's dry. do i need foundation? powder? matte? or is that liquid? tell me what to do." i mean, i use blush and put some concealer or foundation on under my eyes and the bridge of my nose, and mascara, well that's easy. swipe some of that on, dust some bronzer over the whole face, and i've usually been good to go.
NO LONGER.
I AM 31 AND A LADY AND THERE IS MORE TO IT THAN THAT DAMMIT. so, an accidental new year's resolution? get thyself some new makeup! and so i did. (notable: i follow/stalk
@sarahnicolehunt
on instagram and am secretly/not so secretly on a quest to actually have her face. girlfriend is nice enough to give me all her recommendations that i screenshot and google later on because it's chinese to me. isn't that nice of her to do even though i'm a psycho stalker?) also i recently spent at least an hour on a saturday night (part-aaay!) watching
jaclyn hill videos
and i'd like to say it made me smarter in the makeup arena but really it made me super overwhelmed.
onto the makeup above! a lot of these things (most of them) are actually old and probably expired. it's still a work in progress, ok? rome was not built in a day!
alright let's play. many of these are sephora which i do believe is good but i think that if i had more cash i would splurge for higher end stuff.
eyes
sephora kohl pencil
// i like this because of the smudge factor. it doesn't have to be perfect because… smudge! "oh that smoky eye? i meant to do that!" (speaking of that smoky eye, how do you do one???) do get a sharpener though, as it does dull.
susan posnick liner/shadow
// i was sent these awhile back and i'm still using them. i use the shadow more than i do the liner, but it's a cool thing in that it's all in one, and i like the color combos.
sephora liquid liner
// i like a good liquid liner for those days i'm feeling like a saucy minx. i used to have the one that you dip into the little tube but now i prefer this one. dries fast too!
bad gal lash
// i sometimes get this one when i'm feeling like a… bad gal (badum-cha!), and then i also grab whatever at the drugstore when i'm not. i can't say i'm positive that bad gal lash is worth the splurge or not.
gimme brow
// used to always use the
anastasia brow wiz
but i was flying through it and at $21 a pencil i was like, no. so hoping this one lasts longer and i really like it so far but i sort of wish i'd bought
this one
. so many products! so many decisions!
i didn't list any more eyeshadows because i use a variety of things (most are drugstore brands) and i guess i'm not die hard for any of them. any recommendations?
lips
lipsticks // i do believe nars lipsticks are great and are pretty much worth the money. my favorites are:
pigalle
for a more every day. it could be a bit dark for some;
dolce vita
would be a good choice for those of you who pigalle is too dark/bold for an everyday. it's semi-matte so on the drier side;
roman holiday
is fun, sheer also for everyday;
red lizard
is a really great dark red for night's out or doing laundry if that's your thing.
ofra lipstick
// this came in a mommy mailbox and i did not think i'd be interested in it at all but i actually love it. it stays on and dries semi matte and it's what i reach for almost every day lately. the color has been rubbed off on my tube but i think it might be laguna beach. (i'm wearing it
here
.)
chapstick // like how i kept that in the picture? it's just a testament to how much i love my cherry chapstick.
and finally, i want to try
some of these
next because in the words of jaclyn hill, "it's the year of kat von d."
face
sephora blush
// i have used a mac blush in the past but when i inevitably drop it and it crumbles into a million pieces, i'm even more sad if i spent any sort of money on it so… sephora to the rescue! i like it just fine.
high beam
// i have had this same bottle of high beam forever. i remember someone describing it once looking "dewy, like you drank a gallon of water" and i was like "where do i sign up." i do love it. i use it more in the summer months then winter time (not sure why). and i put it on my left hand, then dab it on using my ring finger all along the cheek bone, brow bone. it's one of my favorites.
sephora bronzer // bronzer! not sure if this is THE end all of bronzers but it certainly does the trick for me. do you have one you love?
sephora foundation
// i have never really done a lot by way of foundation/first-step sort of make up. i used to have this sort of creamy powder thing from mac that i just kept buying because it was easier than figuring out what i should have been doing. still not entirely sure what i should be doing but i'm doing this these days and am on bottle 2 now. i apply it with
this brush
(that anders just crawled away with the other day and i cannot find) down my nose, under eyes… basically t-zone. brushes matter! i'm learning that more and more all the time. i could probably get another to add to my… two. what is your favorite primer/foundation/powder (and what the heck is the difference between them all?!)?
benefit boing
// if foundation isn't cutting it and there's a blemish that needs masking, this to the rescue!
becca highlight
// THIS is my favorite new product of the whole she-bang (and a recc from my ig friend sarah). i'm sad to admit this but i get a little bit excited to put this on at the very end. down the bridge of my nose, and my cheekbones. plus, applied with my finger to the inside of my eyes for an added ka-pow! you never know when a stay at home mom needs to whip out a little ka-pow.
okay, i think that's it. i am going to take a stab at contouring one of these days, and i'll report back. also, would love to know what are your must-must-must buys for me and exactly (really spell it out for me) what you do with them. in fact, stop being so selfish and just send them along.