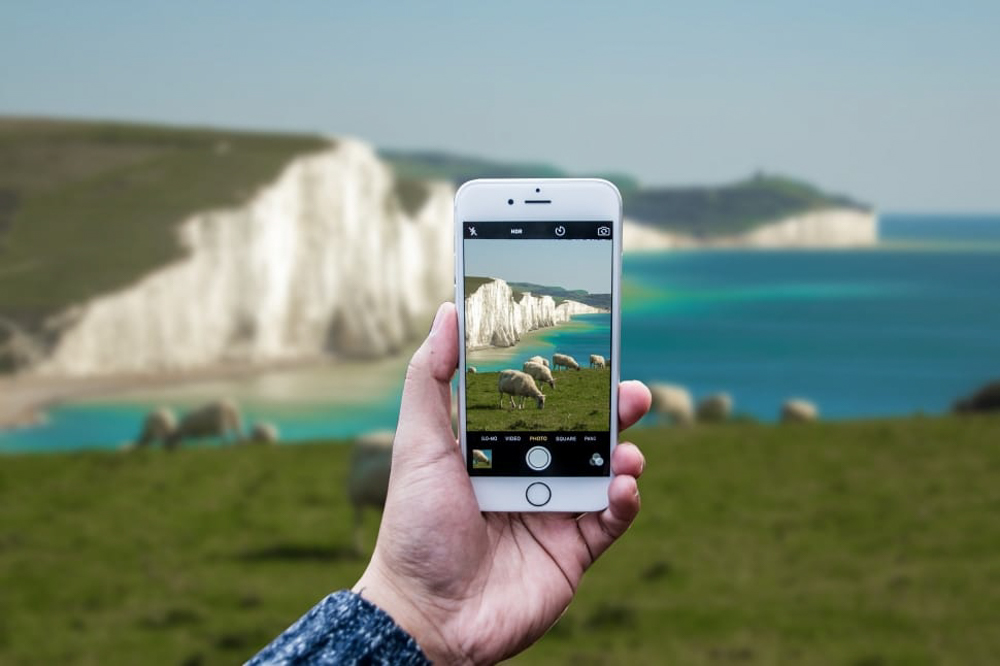 I'm going to try to keep this short and to the point since I know you've all heard, read, and seen a lot about Instagram these days. This isn't a post about the pitfalls of the perfectionism on Instagram, but more the boundaries I need (and maybe you need too) to live peacefully with the app. Here we go. 
Instagram at its inception is totally different than Instagram 2018. We all know this, and it just is what it is. No use fighting it because our efforts will be futile. I mean how many times have we seen complaints about the algorithm? Have they changed it back? No, and if I'm not mistaken, I think the algorithm has recently become even trickier and requires even more of your time to stay relevant/in people's feeds/get likes/grow. It's a necessary beast for me in blogging, but if not for that… well, I'm not totally sure.
I've been losing followers for months now. Up and down, up and down, and down and down. I don't spent enough time on Instagram, post enough pictures (or post enough of the right pictures), engage enough, do all the right things, etc. to grow. It's frustrating, don't get me wrong, but frustrating enough for me to learn the algorithm, keep up with its demands, and devote as much of my time as I'd need to to grow? No! I can't do it. First and very much foremost–I have kids at home! I need to be present for them. I do not want them, big or small, seeing me on my phone all the time. Monkey see, monkey do. And I want so much more for them. Second–the million and a half other things that mother, homeowner, part-time blogger, wife, friend, and sister entail. Time is too precious. (And the mom-guilt when I spend my time in ways that aren't enriching (i.e. looking at my phone) my life is very real for me.)
No doubt there are ways to grow and there's people everywhere doing it. If I found ways to make it happen without giving so much of my time to it, perhaps I could justify the time spent. But it seems really, really hard to these days unless you're a) already huge b) busting your butt (and I mean really busting it) c) getting regular shout outs from some big companies d) paying for followers/likes/etc.
Visualize with me for a second–It feels very much like the Instagram gods are these greedy circus ringmasters holding hoops for us to jump through. And we're all doing it! And just when we think we got the knack, they change the rules, and we have to learn a whole new way to jump through those hoops.
As I'm rereading this post back to myself I hope that it isn't sounding like I'm suggesting that you throw the towel in, or that I'm a kid who didn't like the rules of the game so I'm taking my ball and going home. I don't intend to sound like either! What I am trying to do is help myself, and, if this resonates with you then perhaps you too, set some boundaries with Instagram so that you don't get quite as frustrated with the whole stupid thing. There are times when I really like being there, connecting with people I genuinely care about, getting inspired by so many of the beautiful images and captions, but it's a slippery slope and it's easy for a little time to become a lot of time until you're looking at Instagram during any pause in your day.
Here's what I suggest you do if you're finding yourself in a place where Instagram is taking up too much of your day, feeling like an addiction, making you feel shitty about your life and/or guilty about the time you give it. Note–some of these are things I need to do too as opposed to things that I'm totally owning already:
Turn off all notifications. This is super unpopular because I know we all want you to turn on (specifically our) post notifications, but turn them off. All of them! Instagram, Facebook, Voxer, Twitter, etc. ALL OF THEM. OFF. As of recently iMessage notifications have even been turned off for me. (That said, I still use iMessage all the time. And as of late, way too much Marco Polo with two West Coast friends of mine. I'm not that disciplined.)
Don't keep your phone by your bed. What do you go to bed doing? What do you wake doing? Probably reaching for your phone and scrolling Instagram, am I right? Instead, let's go to bed with a quiet reflection and wake up with a mantra about making it a good day? This sounds cheesy but I am serious! Maybe a meditation? Thinking about three things we are grateful for? Some deep breathing, cuddling with our kids, coffee and quiet (quiet is relative; let's just aim for quiet in terms of technology). Go to bed with a book? Journaling? Planning your next day? I think these are all significantly better ends and starts to one's day than scrolling IG.
Limit the hours of the day when you even allow yourself on the app. For me personally, I'm thinking quickly in the morning if I need to get a new post out, and then staying off of it until 8 PM personally. Obviously there are exceptions to the rule–if there's a specific deadline, or some type of collaboration–but on a normal day, 8 PM. And take all the pictures and videos you want, but post them/caption them after 8. (That said, IG stories feel much more innocuous than something in one's permanent feed. There's less of a need to go back and check and see how well it's doing, so if this feels too much–story away, my friends.)
Stop thinking about it so much. Stop caring about the numbers. Post the way you used to post. Post the things you want your children to see one day. Post the things that make you happy. This is your Instagram after all! (I realize this is easier said than done, especially if you're thinking of Instagram as a business tool. But your readers ultimately want your voice (or should!). That's why they're following you. So I daresay, if you are yourself, then it'll resonate with your readers. And if it doesn't, do you want them there anyway?)
Just a few thoughts I've had and really wanted to put down in writing as a sort of accountability to myself. Social media is a fast train moving forward so instead of stomping our feet about how much we, at times, dislike it, we need to be disciplined about our use of it! It doesn't deserve this much of our negative energy. Who's with me?
{image}