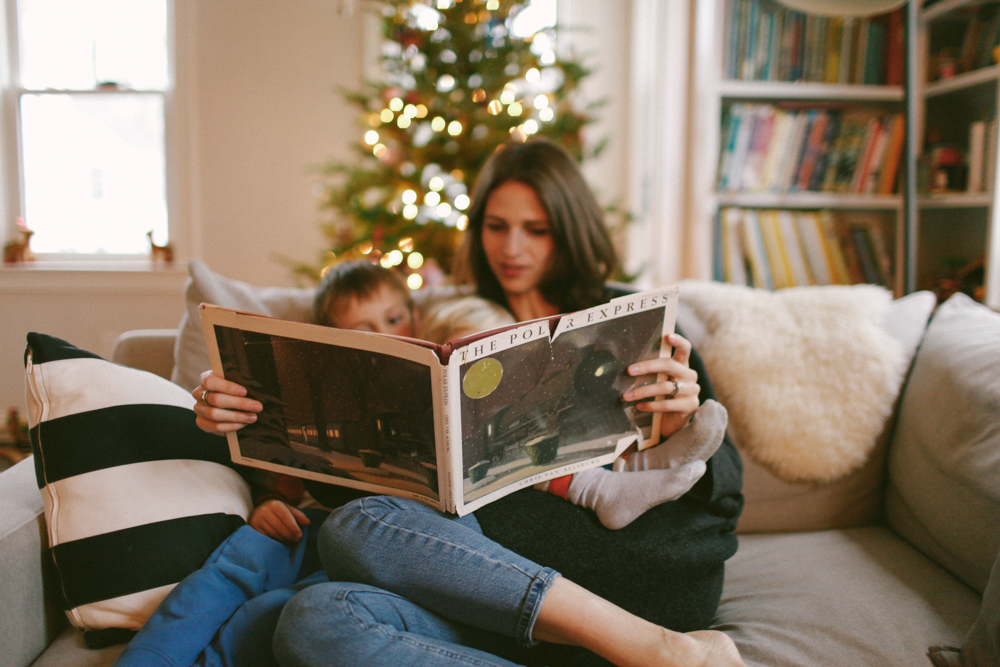 I remember when I was little and the Christmas boxes would come out and within them, so would the Christmas books. My Mom was more organized than I am, and would tuck those Christmas books away so that when they came out again around December 1, there was so much to be discovered in those boxes besides just Christmas ornaments and a Nativity scene. Ours are stuck between all the other everyday books all year long, so the kids are used to seeing them, though we don't actually pull them off the shelves and read them except in December.
Some of our favorites, and surely not an exhaustive list, are as follows:
Dr. Seuss' The Grinch Who Stole Christmas: a classic tale of a grumpy Grinch and Cindy Lou Who who turns his tiny heart into one that learns to love Christmas… and all the Who's in Whoville.
Spirit of Christmas: This is a beautiful book, and one that we've only had for about 5 years now. Tillman's books are all easy favorites on the shelves. The words and the pictures both will capture you.
Charlie Brown Christmas: Easily one of our favorite movies at Christmastime for so many reasons not least of which is the classic soundtrack. We can all be a little bit Charlie Brown at Christmastime. Happy there are Linus' everywhere who remind us what Christmas is all about. Having it in book form is a nice addition to the movie.
Twas the Night Before Christmas: Would any list be complete with this one? My Mom used to read this to us every Christmas Eve before bed, even once we were all (more) grownup.
Polar Express: The copy in the picture is mine from when I was little and written in it, in my Mom's obvious cursive handwriting, it says "To Bridget, Love Santa." I suppose I fell for it at the time! Anyway, I much prefer this book to the movie (no offense to Tom Hanks). It's sweet and special and the illustrations are truly gorgeous.
Sweet Smell of Christmas: This is not the most conventional one on the list but I totally loved it as a child. So much nostalgia when I open our copy. Bonus: it's scratch 'n sniff.
Steve would like me to add The Other Wise Man here! I haven't read it yet–for a slightly older child–but a book he loves.
Your favorites??