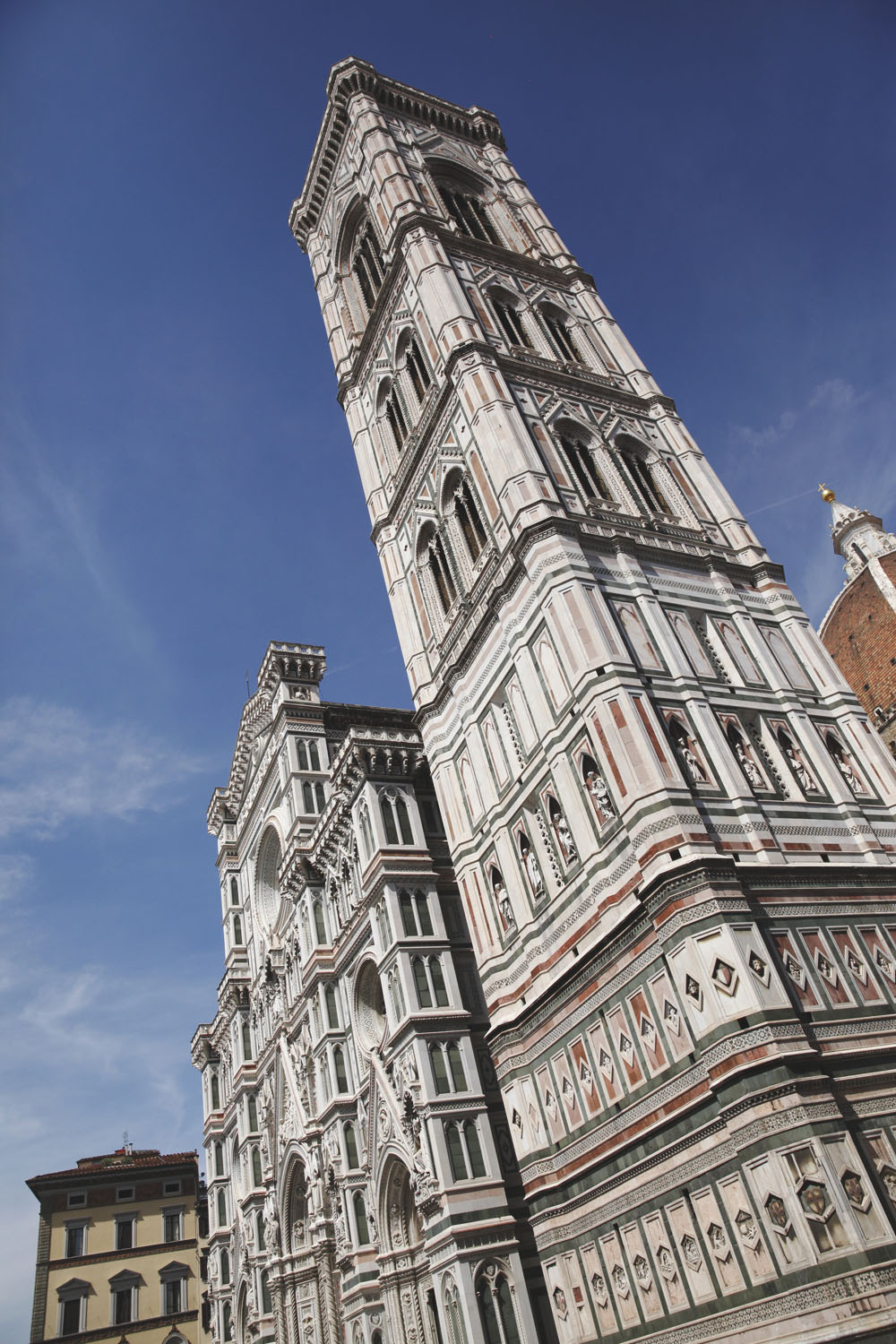 Oh beautiful Florence! This city is such a gem. So many big cities are overwhelming, busy, fast but Florence feels like a pace I can keep up with. I once had a friend tell me that Rome is like a man and Florence is like a woman and I think there's something to that summary. Florence is a bit more feminine, artistic, calmer. Rome is busy, hectic, crazy. What am I saying about men and women? Draw your own conclusions! (Love you, Steve!) Also, I really do love Rome. I just don't think I could live there (at least not with children).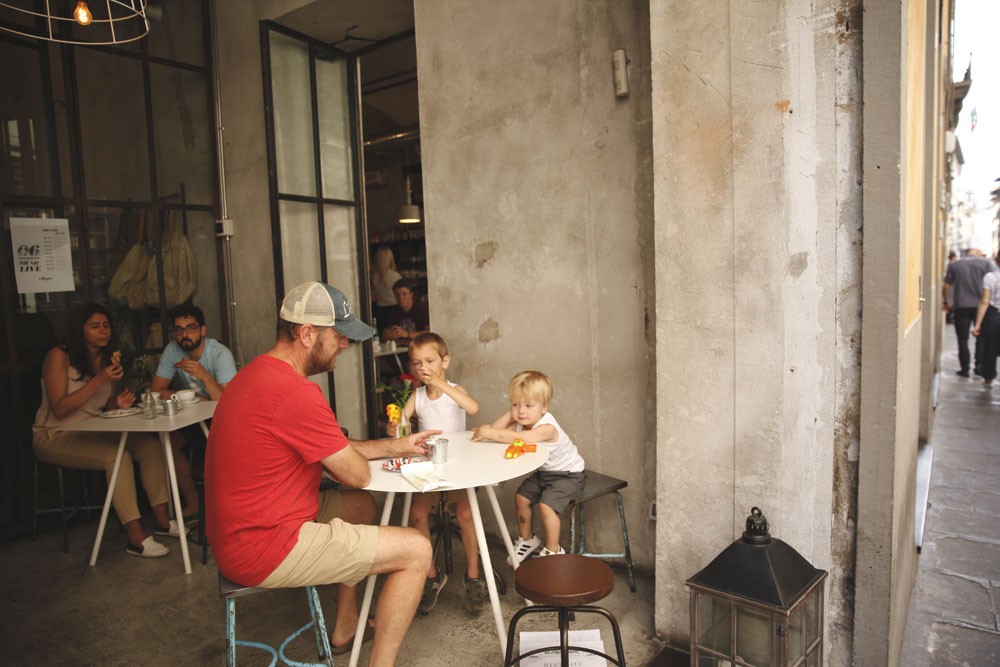 In Florence, we relaxed, we ate food, we slept in (our Airbnb had A/C plus really great room darkening shades and it was lovely; Orvieto was hot, no A/C and no fan, so we were loving life in this place.), we strolled. We slowed down, put little on our agenda, and just enjoyed Florence. We arrived, checked in, and went straight to Al Antico Vinaio for sandwiches. I can't decide if that place is simply for the tourists or if the Florentines like it too. Seeing as the people in line behind us were also from the Boston area, I might have my answer.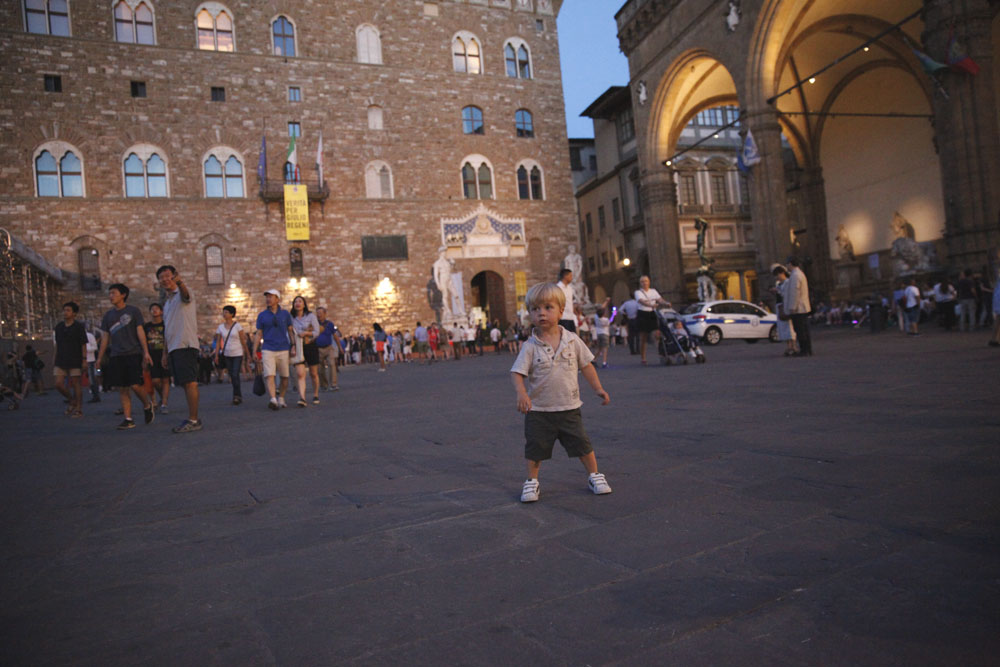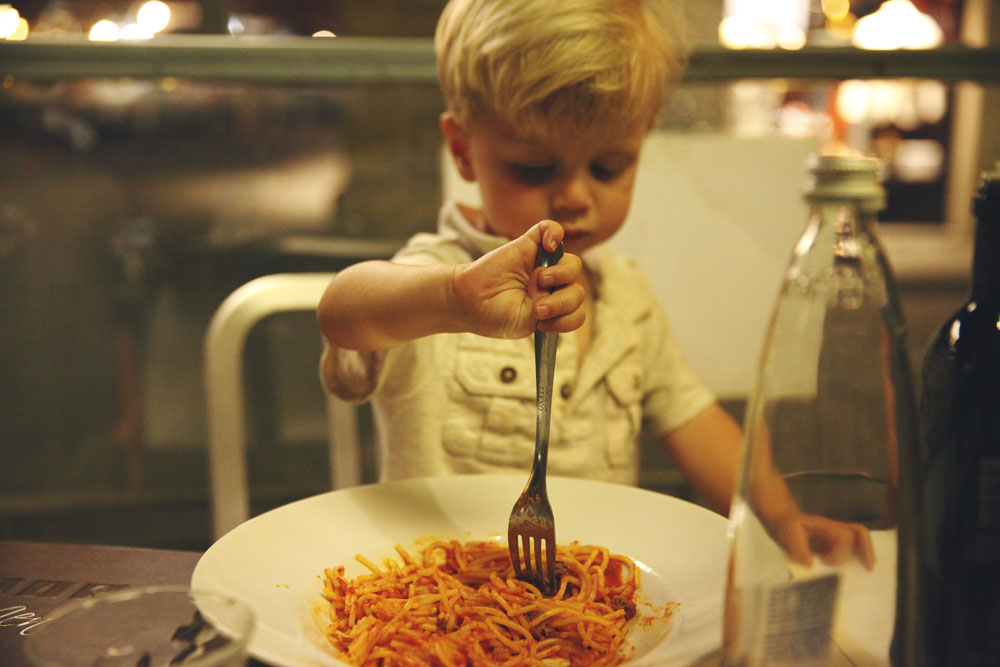 One of the nights we went to Palazzo Vecchio and found a place to eat. Our Airbnb (which I will link to below!) was a five minute's walk from there. It was such a great location, and we loved it. Also, these Italian cities come alive at night. There's something extra magical about them. Right by our Airbnb there was a man playing the most gorgeous Spanish guitar one night at about 10 PM. Moments like that are when I'm certain Italy is the best place on earth.
It's hard to really expand on why I like Florence so much. It's just got a good feel. Add to that it's got some of my favorite food in Italy. In Rome I find it hard to find things aside from pizza and pasta, but in Florence, their cuisine has so much great steak and vegetables and don't forget the Tuscan white beans and ribollita. I had a bowl of it that first night with a drizzle of olive oil and it was delicious. Steve was on a lasagna kick and was raving about his. It would be nice if I'd remembered the name of the place though, wouldn't it?! (If you follow the piazza almost to the Guccio Museo, it's one of the last ones on the left!) (Above top is Nordstrom, skirt is Free People, and shoes are c/o Nisolo and necklace is c/o Tiny Tags.)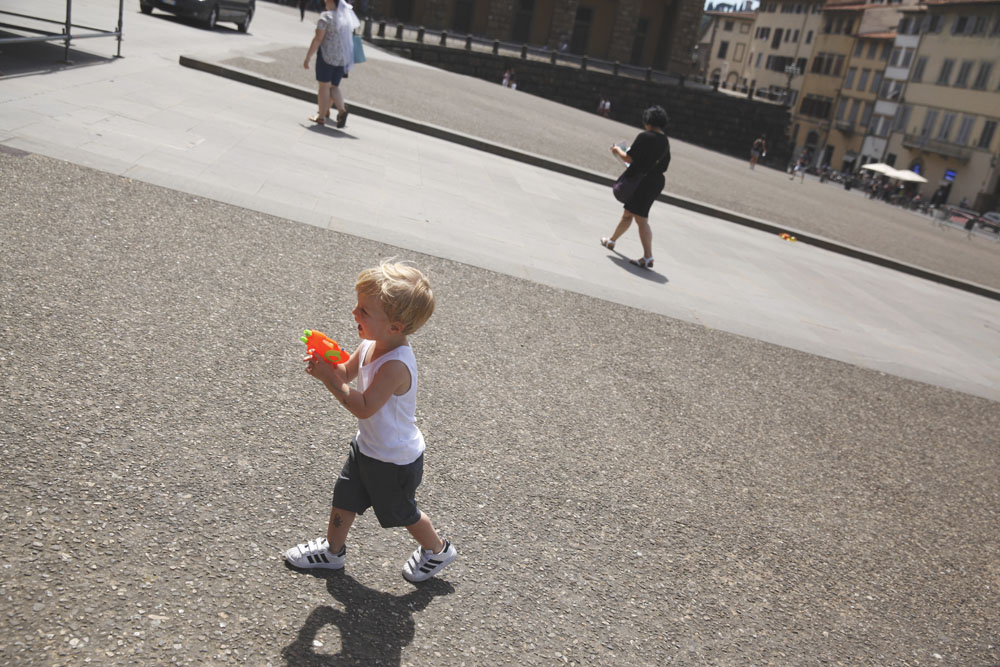 The next day (after another visit to La Menagere, the most beautiful coffee shop ever) we grabbed some water guns at a Tiger store and tickets for the Boboli Gardens. The plan was to just take it easy, let Anders get a good nap, and let them run free. Necessary when traveling with little ones.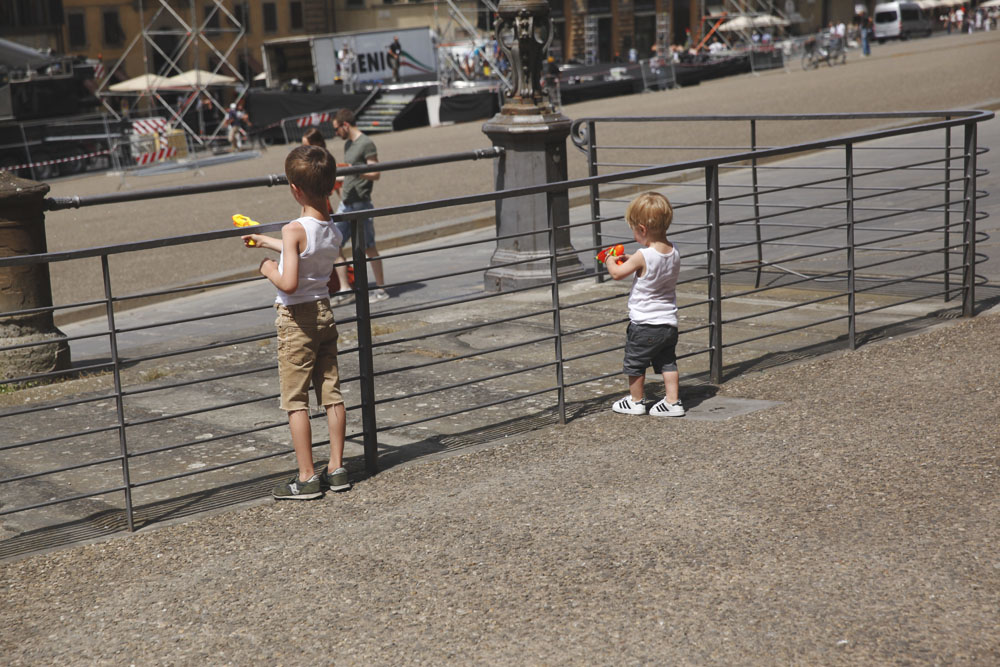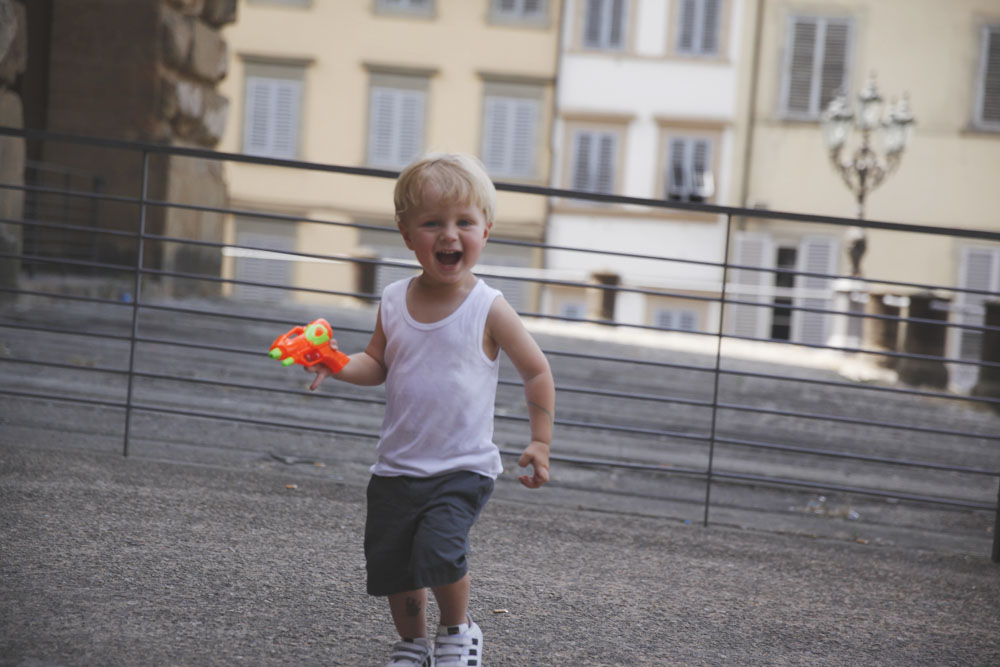 This was pretty much their faces as they ran around shooting each other with their guns. It was so funny. They did not shoot any other people — as they were warned about it repeatedly! Also, about a minute after I took this picture, an Asian woman was following Anders around taking his picture. That happened repeatedly in Orvieto too. Is it the blonde hair? It always made me chuckle. Steve pushed the stroller up the hill behind us, and a few more like it. What a man, what a man, what a man, what a mighty good man… (In your head all day).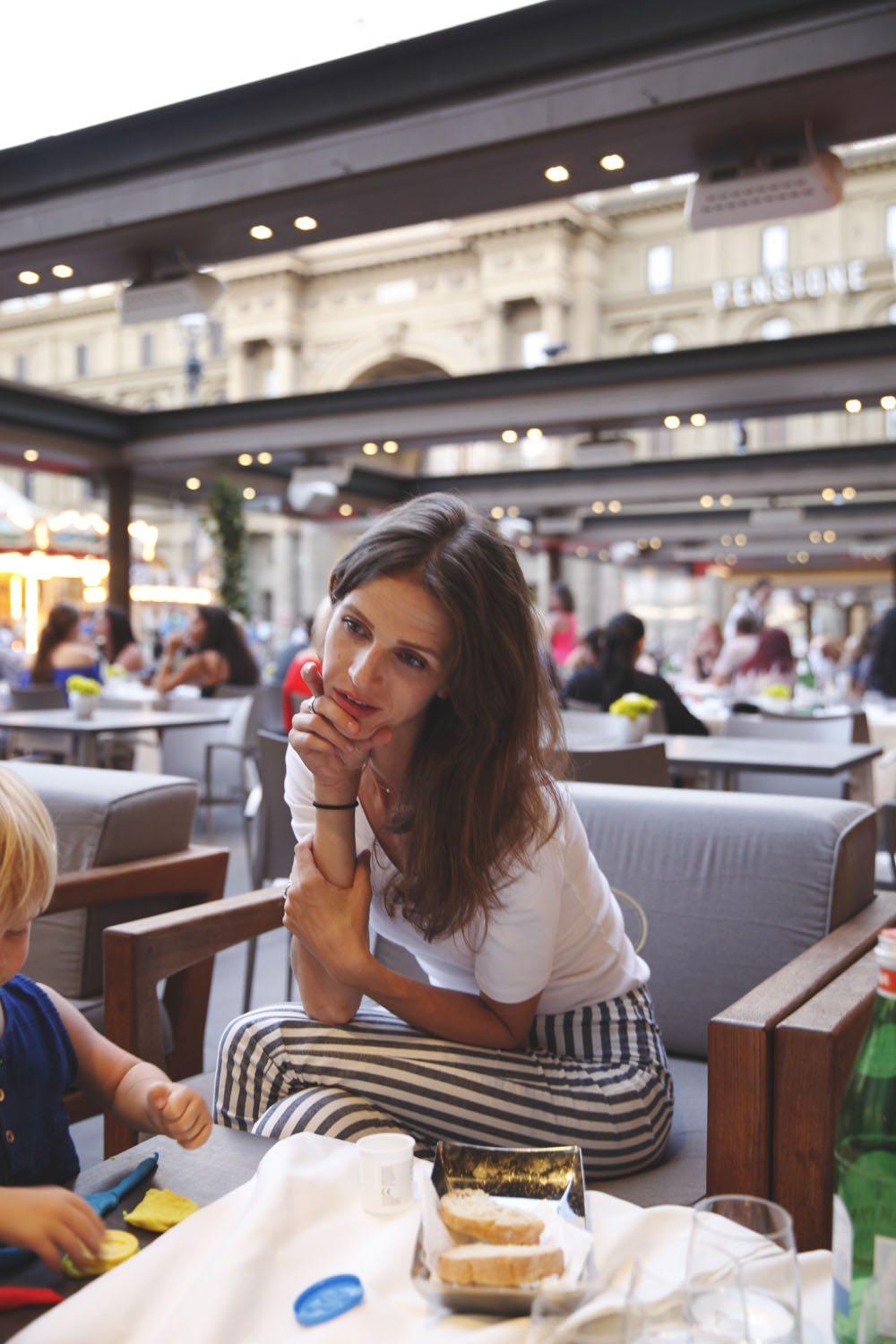 The next night we went to Gilli Cafe which is in such a sweet spot in Florence, just next to the kid's carousel. Waiters dressed to the nines, the most beautiful classic interior, and a great outdoor eating space with comfortable seating, or tables if you prefer. I got a pasta dish with pesto and sundried tomatoes and walnuts. Yum.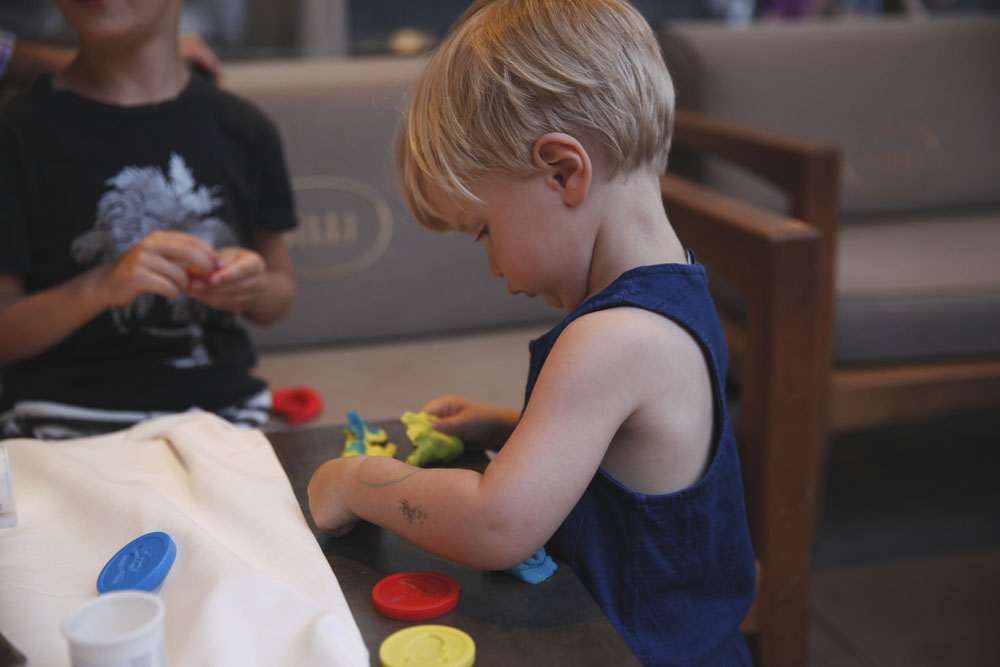 This play dough from the Tiger store was clutch. Anders was very much over sitting nicely for restaurant dining by this point.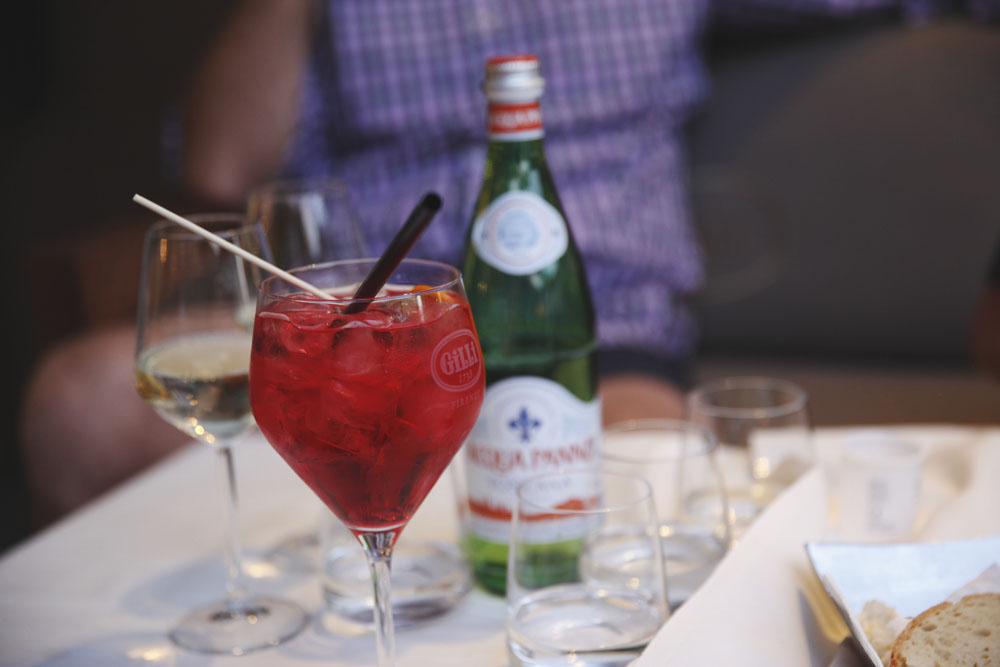 But even the most naughty restaurant diners are made less offensive by a delicious Spritz if I do say so myself. Plus a few carousel rides afterwards, and everyone's happy.
Until next time, Florence. We love you so!
{Our Airbnb–truly a perfect location!}
{past Florence trips and tips}