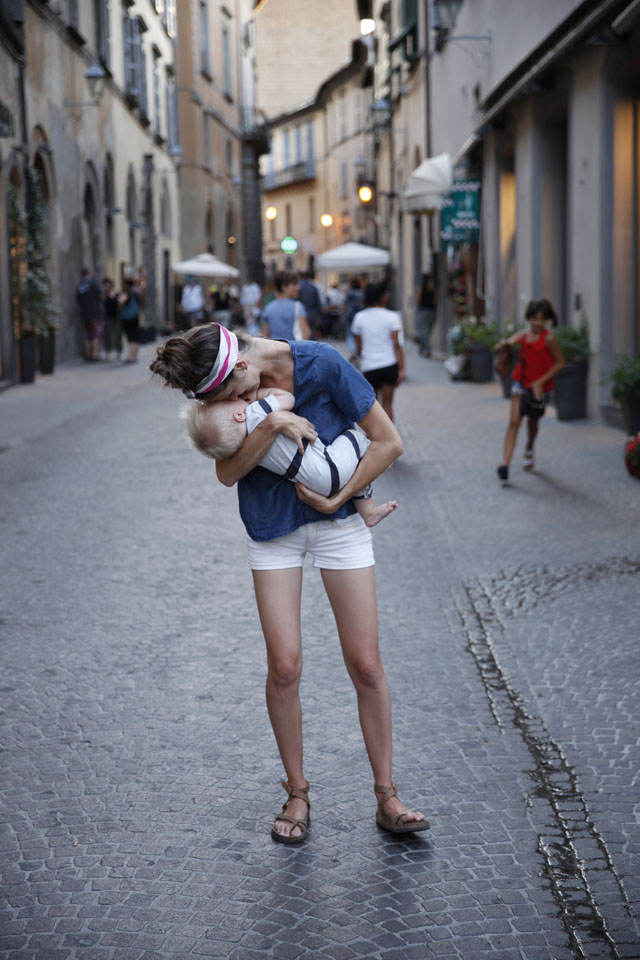 I've talked before about the form v. function thing and how I really love when I find things that check both boxes. After doing a bunch of traveling two years ago, and with some more coming up, I feel like I know a thing or two about good shoes for lots of walking. Plus, I'm really picky, so I don't just want comfort but I want it to be a stylish shoe I really like wearing. Who wants to bow out of fun activities because of blisters, or sore feet? Who wants to look like a fuddy-duddy galavanting across Paris in gross "comfort" shoes? Not I. So, here's some comfortable and cute shoes for your summer travel or just bopping around town chasing after your little ones.
A comfortable sandal: While we were traveling, you guys asked about this shoe more than probably any other question I've had on my blog ever. They're awesome. Plus they were really elusive for awhile. Birkenstock was only selling this particular style abroad; in fact, I found them through a German seller on Amazon a few weeks before we left (my color seems impossible to find at normal retailers, but I found them in a few sizes here). They're my favorite summer shoe ever. There was no break-in period, there's arch support, they're so great for walking miles in (I don't think I ever had sore feet and we WALKED.), and they're really cute too. I'd wear them with dresses, shorts, skirts, pants, anything. Note: I have a very narrow foot, and these still work for me (not all Birks do). If tree-huggin' Birks are really not your thing, here's some flat sandals that I've heard raves about in terms of comfort–here and here.
A street-wear sneaker: I have this actual pair (they're on sale right now) and they're quite comfortable. I love that the sneaker trend has options now of more of a streetwear shoe, than just a really athletic looking one, if that makes sense. I'm wearing them in this post. Also love this pair and this pair.
A supportive ballet flat: I like to have something that is a more obvious choice for church, or a nicer dinner if you go on one. A classic ballet flat will always be perfect for this. With a pencil pant, or an off the shoulder dress, it's perfect. This pair has actual cushioning for support. Nice contenders are this one and this one.
For a few weeks abroad, you don't need much more than that, however if you're fancy and would feel crazy not bringing a heel along, I've found wedges with a lift under the toe to be sooo comfortable as far as heels go (less weight on your toes if there's some height in the front too). Here's a few options: 1 / 2 / 3
P.S. My favorite flip flop, and I can wear these for quite awhile before any soreness sets in.
Happy trails!