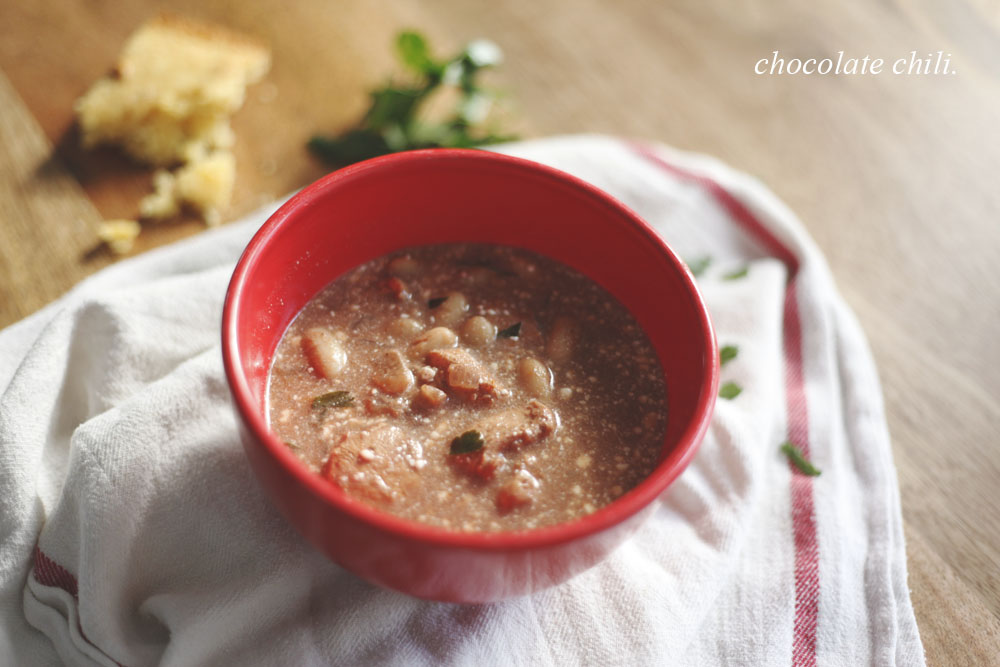 These days are calling for lots of one-pot meals, my favorite kind all year round really, but one that is in regular rotation during the winter months. There's a lot of snow, no green, and we're ready for spring (tricky combination). But the one-pot meals prevail, and happily. It's one thing I heartily embrace in the post-Christmas-winter-lags-on time. The snow may be a mix of grayish, slushy soot, our shoes all speckled with a circular rim of dried salt, foreheads dry, and lips chapped, but inside the smell of something bubbling away in a chicken broth remains. And thank goodness.
My sister Meghan was the first to cook this for me. From her, I got a photocopy straight from a cookbook with only the words "Pennsylvania" written at the top. I've tucked it into a plastic sheet protector so as not to let the cooking splatters slowly chip away at is legibility. But, now that I've posted it here (though, as I only just realized, not for the first time however my pictures weren't terribly good then, nor did I go on about how delicious it is, so can let's pretend this is the first time you've seen it.) it remains in the internet archives forever. You'd be surprised, or maybe you wouldn't, at how often I look up recipes on my own blog instead of rifling through my small cookbook collection. Anyway, I think Meghan made this for me when I was in college, a time when hearty one-pot meals were at a sad minimum, and I remember thinking, through enormous brothy bites, that it was the most delicious thing I'd ever eaten.
It's important, I think, that you serve it with cornbread. I've never served it without cornbread, or with any other substitute. Of course, if you're gluten-free then you could try a tortilla chip, but for me the saltiness of the chili goes perfectly with a slightly sweet bite of cornbread. And no need to reinvent the wheel, I think Trader Joe's boxed makes the best cornbread around.
CHOCOLATE CHILI
(serves 4; I always double, however. But the following is not doubled)
1/3 cup chopped onion
2 garlic cloves, minched
2 T oil
2 lbs. boneless, skinless chicken breasts (roughly 3 large), cooked and cut into pieces
1 T salt
1/2 T ground pepper
1 t cumin
2 T unsweetened cocoa
1 14-oz. can chicken broth
1 15-oz. can tomato sauce
1 C chopped fresh parsley
2 15-oz. cans white kidney beans, drained
1 T masa harina dissolved in 1/4 C water (don't fear; this is not hard to find.)
2 T honey
1 C sour cream
optional: 1/2 T red jalapeño powder (I never add this.)
In a Dutch oven, saute onions and garlic in the oil until soft. Add the chicken and cook until browned. Remove from the heat. Add the salt, pepper, cumin, and cocoa, stirring well so it coats the chicken. Mix in the broth and 1 1/2 cups water, the tomato sauce, jalapeño powder if using, and parsley. Return to the heat and bring to a boil; cook at a low boil, partially covered, for 35 minutes.
Add the beans and cook 15 minutes more. Add the masa harina mixture and cook 5 minutes more. Remove from the heat and stir in honey and sour cream.