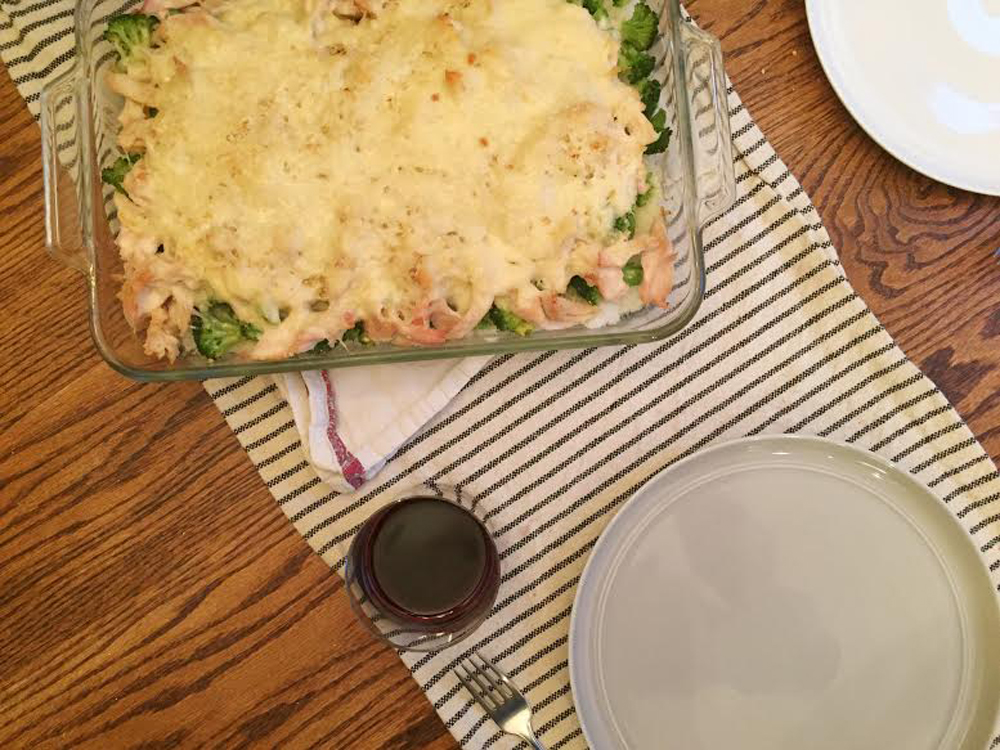 My sister came over yesterday and I sighed, walking circles around the kitchen, "I have to make dinner again?" She nodded her head in agreement. What a nuisance. It's not like a project where you can clap your hands together and marvel at your completed work with satisfaction. It's never done. It comes around again and again, every 24 hours roughly, and for most mothers about 10 hours after breakfast and 6 after lunch. (Never mind all the snacking in between.)
I told her I'm in a rut right now, and that the same three or so meals pop into my head every time this happens. She said she's in one too and suggested we swap our "rut meals." We didn't get that far, but it's worth exploring. What are your rut meals? (Mine, right now anyway–I think my rut meals change–are chicken pot pie, chicken divan, or pasta. I'm always fairly happy to make the first two.)
This poorly photographed dinner above is one of our rut meals, and it is a really, really good rut meal. I've made it so many times, referenced it so many times, but not shared it even once. How rude. I did share it on snapchat so I think a lot of you have a screenshot of it somewhere buried in your phone archives but let's make this a little simpler, eh?
Chicken Divan (serves 6-8)
4-6 (depending on size) chicken breasts, cooked; I use 4 large
2 pkg. cooked broccoli (instead of cooking, I take it out of the freezer morning of and let it sit on the counter where it gets up to room temperature)
1 cup rice, 3 cups cooked; I use jasmine
6 oz. grated sharp cheese
1 stick melted butter
bread crumbs
Sauce
1/2 t curry powder
2 cans cream of chicken (I use this kind, and usually just one with maybe a dollop or two of plain whole fat yogurt; you don't miss the second!)
1 T lemon juice
1/2 c mayo
1 can water
Use a 9×13 dish and layer in this order: rice, broccoli, chicken (broken up in pieces or shredded), sauce, bread crumbs, cheese, drizzled butter. Cook 35 minutes at 350 degrees.