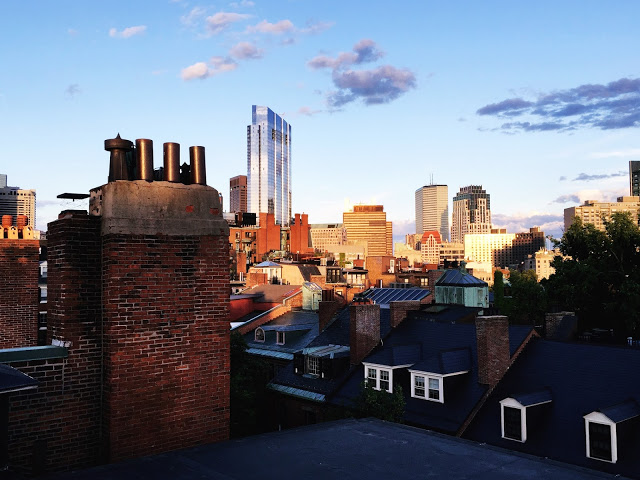 I took this earlier this week from the rooftop of a friend's place in Beacon Hill where we had dinner. It was really nice after a week of really heavy news. I never feel like I have the right words for this sort of thing, so I'll just say that I'm thinking so much of those who have aching hearts right now.
What are you guys doing this weekend? We'll be doing much of the same (what does that mean? Odd jobs, bike rides, walks) and then Father's Day! Looking forward to celebrating Steve and giving him a present I'm pretty excited about. He reads my blog though, so I'm not going to say what it is yet!
Also, I am making the official switch to WordPress! So, if my blog is a little glitchy or looks a bit different over the weekend, you'll know why! I'll say more about that next week. I'm so happy to finally be doing this.
Leonardo DiCaprio's Malibu house. I wish it were mine.
Today's teens are actually better than "the good, 'ol days." Update: Steve says he's pretty sure the research is flawed because they're just all too busy on their computers or phones to get into any trouble.
How they got their guns: a history of how mass shooters obtained their weapons.
Graduating 8th grader impersonates Trump and Sanders. Funny.
Six no-bake cookies. Sweet without running an oven! Perfect for summer.
Any weddings to go to this summer? This dress is the prettiest.
Being a John Hughes' movie fan (Pretty in Pink forever!), I liked this interview with Molly Ringwald.
For those of you who love those scalloped Marysia suits (don't blame you; they're gorgeous) minus the price tag, here's a similar one from H&M for a lot less.
The Dalai Lama is hopeful about the world's future.
Three-ingredient salsa. Do you make your own? I don't, but I want to try this.
Have a good weekend!