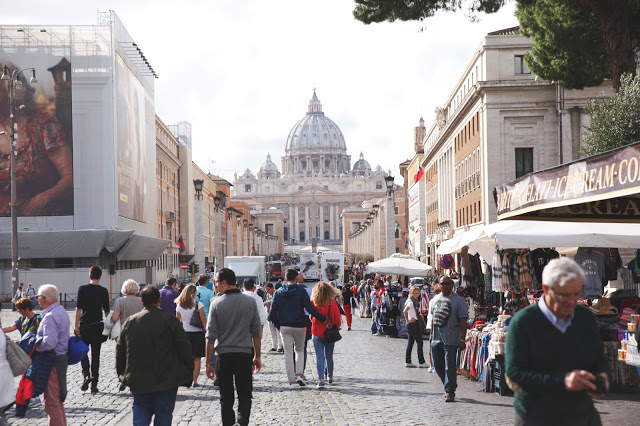 Is that picture not the best?? Italian women, man!
If I rode a motorcycle I am certain I wouldn't look nearly as chic.
In fact, here I am doing the robot. Not even a little bit chic.
In Rome, fill your water bottle at every fountain. It's convenient and it's quaint and the water tastes great. Parker loved filling the bottles, and then drinking it in order to refill it again. At first, you hesitate. This water? It's drinkable? It is and everyone does it!
I cannot remember if this is a street in Monti or Trastevere. Which is terrible. An enormous difference between Italy and the States? A street this small, with restaurant tables set up to boot, would absolutely be pedestrian only. (And, I wish they were in Italy too!) There was a lot of maneuvering for cars and motorcycles on streets that you would assume are car-free. Not so!
I love this picture. And would you look at that ivy?
Rome has some strong ivy-growing-on-walls game.
Parker babysits Anders at St. Peter's while we wait in line to get in.
Everybody's gotta pitch in in this family!
Watching the pope! We saw him at noon on Sunday when he gives the papal blessing. I'm really glad we did that. (You can also see him on Wednesdays!) This wouldn't typically interest me all that much, but with this particular pope, I loved it. (Now to get a translation of what he said…)
My friend Jenny who flew to Rome and also wore Parker on her
shoulders when he forgot how to walk. She is the best.
We made a point to go to the Villa Borghese Gardens
(which was sort of on my list, but became REALLY ON MY LIST after my homesick post;
so many of you told me I had to go, and I'm so glad we did.).
It reminds me a bit of Central Park? A nice quiet space in an otherwise bustling city!
The view of Rome from the top of Piazza del Popolo at the Borghese gardens is awesome.
Especially at sunset!
The saddest attempt at a family picture, right? But it's the Colosseum!
I'm writing this from a quiet spot in Switzerland, breathing fresh cold air, coming down off the buzzing high that is Rome. I want to write it now as I don't want to forget some of the details worth passing on to a future Rome-traveler (though, the online resources for one traveling to Rome are plentiful) but I do wonder how I would write it differently, as more time passes. Well, it's moot, because here I am, and I am writing!
(And below Steve's, I'll do a brief guide as best I can. And then, it's a wrap, Rome!)
Now here's Steve:
Here is a rather longish report about our time in Rome, which has now come to an end. In fact, as I write, we are high up in the Swiss Alps in the tiny little town of Wengen, near Interlaken. We flew from Rome to Zurich, where we rented a car and drove to Lauterbrunnen. There we parked and took the train—the only way to Wengen, unless you want to hike—straight up into the mountains. At this point, we're unpacked and settled, enjoying the most spectacular view of the Jungfrau, although we can't always see it for the clouds and fog. We've already made a Swiss fondue for dinner. The green grass in the valleys, the yellow leaves falling from the trees, the red geraniums in the window boxes, a light covering of snow still on the evergreens, well, it's all just breathtaking. We're pretty short on winter gear here, so the owner of the home we're staying in dropped off some coats/hats. She's very sweet and her home is absolutely perfect in every way. It has five balconies. We figure that's one for everyone except Anders, which is just as well since he's too young to hang out on his own balcony anyway. Since it's off-season, we got a great deal on the place. Good thing too: we just bought, by our reckoning, about 50 bucks worth of groceries. The cost here: 175. Life ain't cheap in Switzerland. Still, we really want to know why we can't be Swiss and live here too. And, here's some news: after our morning hike, William and Lindsey just announced that they are never going home again.
This place had the best pizza ever. Or something very, very close. It is soooo thin (just the way I like it); more Roman than Neapolitan, and the edges of the crust are burnt, blackened, perfect. It's crispy on the outsides, but has a bit of a thin chewy center. The pizzas take all of five minutes to be placed in front of you and they're made by the cheeriest Italian man who looks thrilled when you enter the door. Total hole in the wall in the Testaccio neighborhood. Bonus: there's a playground across the street in a little park. Otherwise, there's not a whole lot happening in this part of Rome but it is well worth it for the pizza. We went twice in three days (both times, walking in the rain because it's that good). The first time we went, we got two salads to share, two plates of bruschetta, a big thing of their house wine, and six pizzas. Total bill: 59 euros.
Only open for dinner from 7 pm on; we heard there's a line if you're not there right on time.
Piazza di Firenze, 25


San Teo
A few doors down from where we stayed, San Teo (no name outside?) was my favorite pasticceria of the entire 2 1/2 months. I can't imagine it falls short of what you'd come to expect at a fabulous place in Paris either. The little desserts are not only beautiful but so delicious and their breakfast pastries are unbelievable. Chocolate croissants, plain, cream (not overwhelmingly so!) with chocolate chips… I forgot my whole "eggs-are-better-for-you" routine and had a pastry almost every morning we were there (sometimes two). The cappuccinos are so good too, the people are friendly, and it's ridiculously reasonable. Three croissants and four cappuccinos and you'll still be under 10 euros.
San Teo
Via di San Teodoro 88
Grom
Yes it's a chain and so because of that alone a lot of people want to look the other way but man! This was maybe my favorite straciatella of the entire trip. Like so good. I went to Frigidarium and Come Il Latte and this beat both (especially Come Il Latte–I wasn't impressed!). Yum yum yummmmmm.
Grom
Via della Maddalena, 30a




Brillo Burger (pictured above)
Great, great burgers. By American standards too. Fun menus where you check off how you want it–endless toppings–and out comes your delicious burger. Near Piazza di Popolo. 12 euros a burger, however, so not the cheapest eats. They have their own draft beer too!
Brillo Burger
Via della Fontanella, 8
Other fun food-related things: Eataly in Rome is huge and has all sorts of lovely grocery items for sale on the first floor. We grabbed some chocolate here, and I wanted to buy all of the yogurt in glass containers. Good thing for a rainy day too, perhaps? A bit of a hike to get there, depending on where you're staying. We all sort of wanted to kill each other on this trek, but then we arrived. Disaster averted. On Via di San Teodoro there's a big market every Saturday and Sunday that's worth going to. Grab a fresh juice from the guy in the back! (I got fennel, spinach, lemon, and pair and it was really good. You can get it just after your carb-overload from San Teo.)