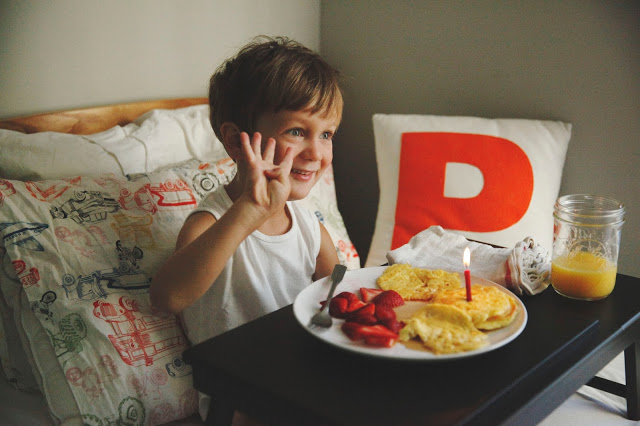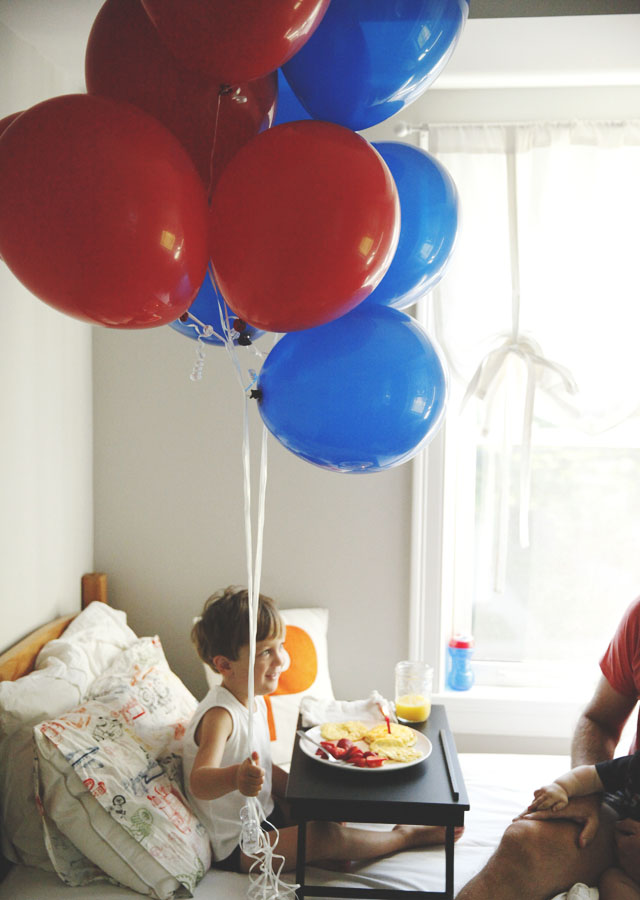 Per Hunt tradition, we started the day with breakfast in bed! This is Parker's first time having breakfast in bed because last year we had just moved… and did we even have his big boy bed set up? I'm not sure. But, I know it didn't happen. And the year before, well, he was just two and probably up before the roosters, and, you get it! His fourth birthday was officially his first breakfast in bed. He requested yogurt pancakes (he says it correctly now but for a long time it was "wogurt" pancakes which I sort of miss) and the strawberries and OJ were my addition. He stayed in bed and read a book with Steve while I was in the kitchen making it. Then we brought it all up with a candle, and ten balloons, and sang to him which made him all sorts of shy and even as I did it I said, "Now I know you're not into being sung to, buddy, but can we just sing to you this one time?" He was okay with it.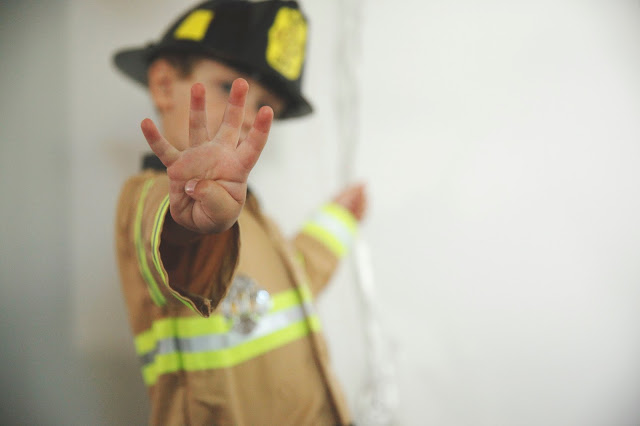 He'd been waiting for his birthday all week long. I wasn't making too big of a deal about it but it definitely got mention, and anticipation is hard for these little people, so when, on Sunday night, he asked me, "Is it my birthday when I wake up?" I decided to make him a little calendar and put it on his windowsill. "Not tomorrow morning, not the next morning, not the next morning, but the next one!!" I put a box for each day, and labeled it MWF and so on and that helped.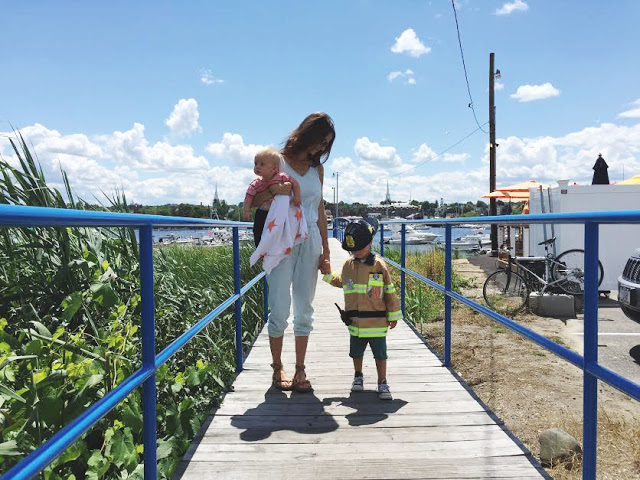 We gave him his firefighter costume right away and he wore it all day long. And it was hot. That costume came off briefly at lunch (he requested burgers out – but then ended up getting chicken fingers. Go figure.) but otherwise, was pretty much on his person no matter what. To the playground, to dinner, the backyard, downtown. When he has it on he sort of has this shy smile where you know he really wants everyone to take notice but he's also a little bit nervous about it at the same time. It is so cute. Everywhere we went people commented, and I added, "A four year old fireman!" You'll notice he's doing a three and a seven in that picture with Steve. I think he wasn't ready to fully make the jump to four.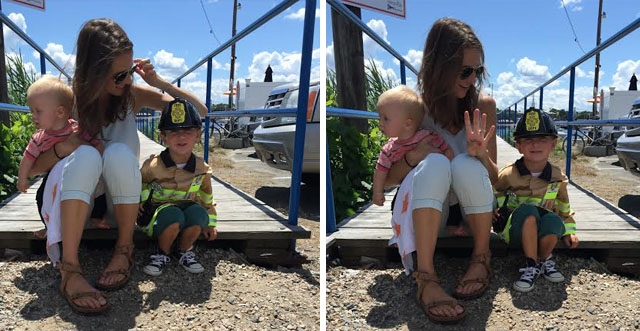 That night once everyone got home we had his dinner choice, spaghetti and meat sauce, and he opened a few more presents. A remote control car, some Legos, and a forklift from his siblings! Then, vanilla ice cream (nilla! says Parker) and some raspberries on top. He didn't want cake. It was a perfect birthday celebrating this boy's sweet life. We love him so much.