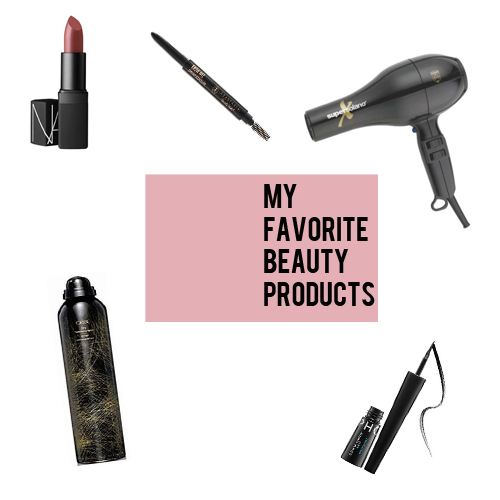 let's talk about beauty products, girls!
disclosure: i'm in no way an expert.  like at all.  but i do like looking nice.  sue me!  i'm also not a products hoarder.  i buy one thing, use it until it's gone or long past its expiration (or, in the case of mascara, add a drop of water to it, mix it up, and try to get a few (hundred) more swipes out o' the tube), and then… i go and buy more.  i know there are gals who try new things all the time but i just like to
know what works and stick with it
.  i do not like wasting my money in this arena.  i went through a period where
bad gal lash
was the only mascara i would use and then, upon closer inspection, was like, "mmm…. is this
really
worth the $20 price tag?  are my lashes really falling under the "bad gal" category?"  i moved on to the generic drug store variety and have felt every bit as bad gal as i did when i used "bad gal lash."  it is what it is.
so basically, either i use something and like/love it and keep buying it over and over.  or i get a really strong recommendation from someone who i deem smarter than me in the "beauty products category" (which all of you and your mothers fall under) and then i go and buy that.  simple!
here are some things i've really come to love.  but please read till the end because i need some advice.
1.
nars pigalle
.  it's a great every single day lipstick (for my skin tone anyway).  you don't look like you're going to the club (i so respect women who can wear red lips to the grocery store and think nothing of it but i'm certain that everyone's staring at me when i do so.  but!  i went to a party this weekend and wore my red lips and did not look back.  who's a big girl?!  i am, i am!).  also, nars, in my humble opinion, actually is worth its price tag.  particularly their mattes.  they truly stay on.  at the same time, i'm not a lipstick expert so maybe cover girl/maybelline's do too?  spill the deets.  other favorite lipsticks are nars red lizard and this mac nude who's label has since worn off (and sometimes i combine that with the pigalle–soooo fancy).  i have sooo much to offer here.
my questions: do you have an orange you love?  i want an orange.  do you have a lipstick you love in general?
2.
anastasia brow wiz
.  this is like the greatest addition to my beauty routine ever.  i had invisible eyebrows (evidence: yesterday's post) and now i don't and, guess what, eyebrows you can see are actually quite lovely and really add something to a face.  who'd have known?  i added this about a year and a half ago and am on my second pencil and it's sort of a must for me.  don't let yourself fall victim to the invisible eyebrow.
3. this 
expensive hair dryer
.  hear me out.  it's going on probably ten years under my tutelage and still works great.  dries faster and better than any other hair dryer i've used, so cost per use is like… a penny at this point.
my questions: a really good brush?  that helps the blowdrying/styling??
4.
oribe dry texturizing spray
.  i just started using this so technically it has no business being in this round up until i've seen the real fruits of its labor.  i will say though–it smells really nice.  i catch whiffs of my hair in the breeze and am like, "damn what's that delightful smell?  oh!  just me!"  and the reviews on amazon were all really, really positive.  i'm a sucker for good reviews.  will i continue buying it at its hefty (for dry shampoo) price tag?  TBD.
my questions (these are some of the most important of the whole post): do you have a dry shampoo you can't live without?  (i've used suave too.)  or a make-hair-more-voluminous-and-amazing-without-showering routine???  cause that's really what i'm going for.  more volume, less showering.  please tell me what to do.  also!  my ceramic curler thing is on the fritz (i have to hold the on button really hard for at least ten minutes to have it remain on.  this is going on a year or so.  my thumbs are numb by the time it's hot.  it's time to replace it.).  do you have a curling iron you love?????  link me!  please!
5.
sephora liquid eyeliner
.  when i want to be extra fancy and glam i put this on and, let me tell you, it does the trick.  i really love using it and probably do so about once a week.  small victories for this SAHM!  way less glam, though, when my eyes water, i rub them, and then rub this all over my face too.  and
here's
a better tutorial than any i'd attempt to do.
so, i guess that's all i have to add to the beauty regime conversation.  really valuable, right???  oh, i really, really love cherry chapstick too.  that should have been number one.
what are some tried and true products/tips/tricks that i should know about????  word-of-mouth recommendations are my favorite.