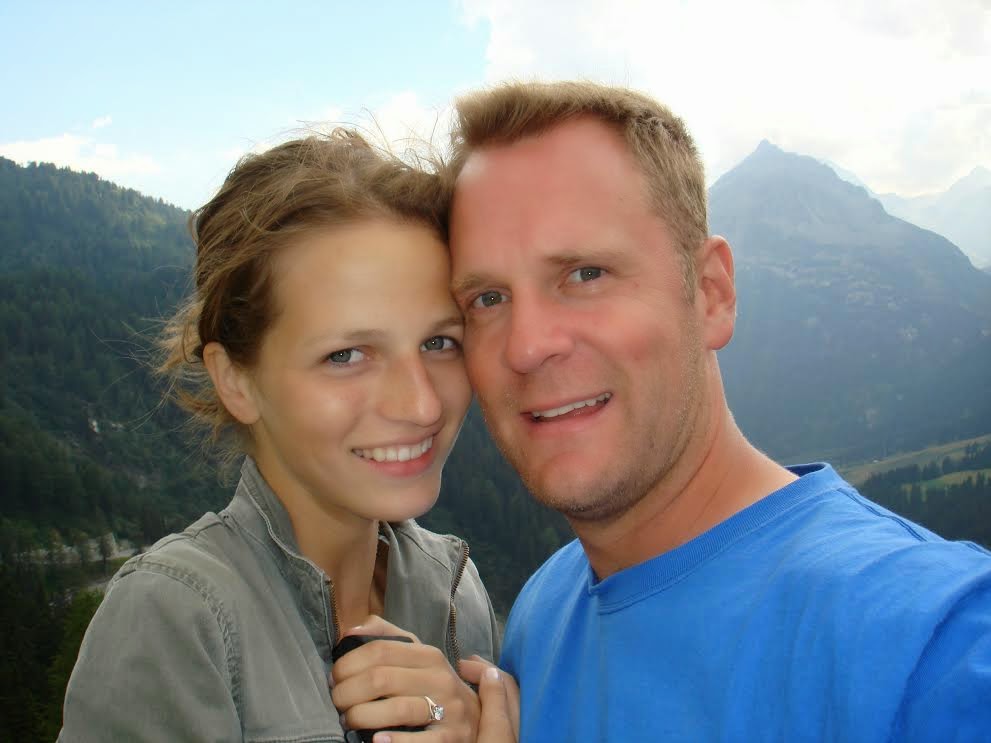 picture from Switzerland a few days after getting engaged!
I was posed this question by one of my readers in
this post
a few weeks ago.  A fair question, indeed, and one that I thought could have a post of its own.  Do I feel like I missed out on my twenties having started dating Steve-with-the-four-kids at the ripe young age of 21 years, a college junior.  You should know that, even as I type that sentence which is about
me and my life,
it's still shocking.  To both of us really.  Did I think that would ever have been my life?  Did he ever think it would be his?  No to both.  But alas it was and is and let's dive in.
I've written out our love story.  I think I'd write it differently now, were I to do it again, but I'm keeping it as is because that's how I (actually we!  Steve has a chapter too.) wrote it at the time so that's how it'll stay.  Anyhow, the love story ended and life continued on and now here I sit as a 29-year old, pregnant with my second (but Steve's number six), and set to turn 30 in a few short weeks.  30!  That's crazy to me.
To make a long story short, do I feel like I missed out on my twenties?  The quick answer: yes and no.  The long answer: I do distinctly remember browsing Facebook and seeing my friends going to bars, trips to NYC, everything in their lives seemingly footloose and fancy-free.  I remember being jealous.  None of my friends were married then, and they certainly didn't have four children.  We were in very different places.  While that was probably a low point–comparing myself to them and feeling crappy about it–it certainly did happen.  Emotional maturity, the kind that you can't sprout overnight but that comes with life experience in all its glory from pain to joy, has taught me that everyone has their battles and that finances and job woes and heartbreak and singleness and dating can have its share of dark and lonely times.  And I skipped over not all, but a lot of that.  The characteristic "twenties" is not my story to tell.  I guess here's where I would say so what?  Everyone's life is different.  Do I feel like there's some unwritten chapter of mine that's just begging to be put on paper and interrupting my sleep at night until I do?  Not really (at all).  I also didn't walk in my college graduation and had people tell me, "Oh you will regret that one day!"  I haven't thought about it again until this very moment.  Do I suspect that I'll have some midlife crisis and Steve will find me at the local bar doing shots of SoCo and lime with my shirt off?  No.  My twenties simply looked different from yours.
My twenties were spent falling really hard and fast for a handsome man who I absolutely could not have parted ways with simply because the cards were stacked up against us, because it would've made my life take a very drastic turn, because a lot would be expected of me, because he had children, because he was older.  Those things seemed crazy to me then, no doubt, but it seemed crazier to walk away because of them.  I would not have been okay with that at all.  He was it for me, and that's all there was to it.  My twenties were spent getting to know my best friend.  My twenties were spent learning how to be a mother to his four children.  They were spent learning my place in this family of five, each person with a unique personality, each person still grieving the loss of their mother (or wife) in different ways.  They were full of trial and error both in the kitchen, in the laundry, in life.  They were spent getting mad–at him, at them, at myself, at life, and then finding forgiveness and grace and picking up and moving on and realizing that I would do that again and again and again.  They were spent learning to love them, learning how to be loved by them.  They were spent having a ton of fun going camping as a family, to the Jersey shore, to Switzerland (and coming home with a ring!), and yes even to some NYC bars where I did have more than my share of SoCo and lime.  In my twenties I learned so much about myself and my strengths and weaknesses and how they fit (or didn't fit) into my marriage and my family.  My twenties were really, really hard but really, really good too.
Man, did I learn a lot through my twenties.
So did you, most likely.  We just learned different things, and some the same.  I think that's okay.