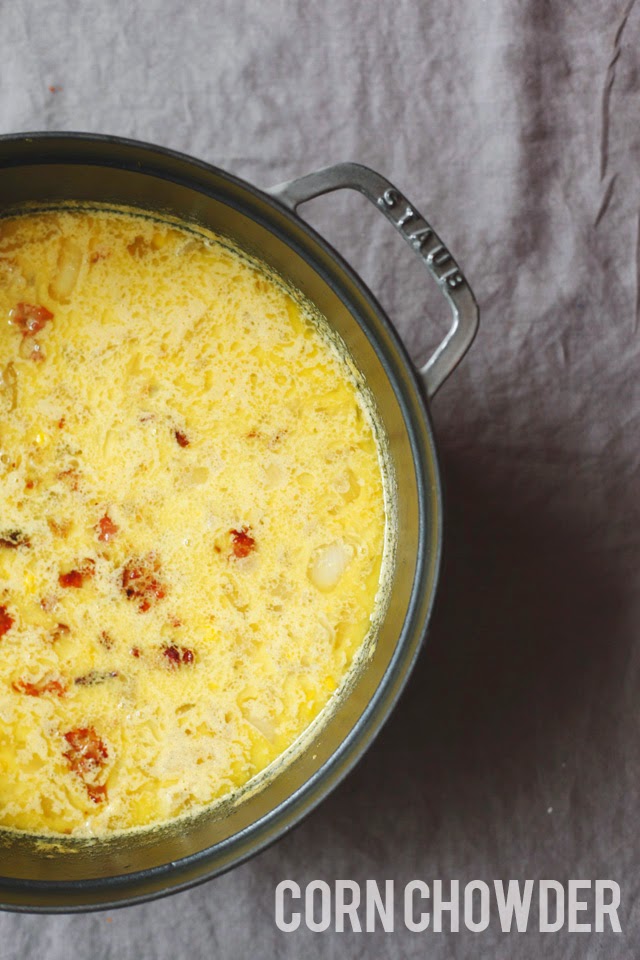 Corn chowder is something like a sweet manna from heaven after a long, blustery fall day. It's soooooo damn good. Especially if that recipe calls for a generous splash of cream at the end of it and especially if it suggests you reserve some of that bacon fat for the soup.
"Well okay! But only because you insisted!"
I didn't grow up eating a lot of corn chowder so I can't tell you for sure how this stacks up next to your mother or grandmothers variety. I have had it at a few restaurants in my adult life, however, and can honestly say this one is gooooood. Six o's. I could've done many, many more.
Once again, it's my friend Ryan's recipe and at this point I should just bring him on as a food contributor because I've shared his recipes for sweet potato burritos and tortilla soup and that's only what's coming to mind right now.
He makes really, really good food.
Let's get right to it.
Corn Chowder
from The Victory Garden Cookbook
serves about 4 (I always double)
4 ounces bacon (recipe calls for salt pork, but I've never used it; feel free, however!)
1 medium onion
2 cups potato chunks (I use Yukon Gold)
2 cups combination chicken broth and water (I use more chicken broth than water)
salt and freshly ground pepper
2 cups scraped corn
1 cup corn kernels
1/2 cup heavy cream (or half and half)
Cook bacon till crispy. I reserve virtually all of the fat here but you can get rid of some if you're looking for fewer calories. Remove bacon. Chop onion and cook in bacon fat until softened and golden. Add potatoes, broth and water, one teaspoon salt, and scraped corn. (For scraped corn, it suggests that you run a knife down the kernels on an actual ear of corn over and over to achieve the scraped/pulpy corn. No. I have never used anything but the organic frozen bags of corn from Trader Joes for this recipe. So, what I do for the "scraped corn" is put a bunch of it (frozen) into the Cuisinart and chop it up a bit. Gives the broth some thickness. I'm sure my friend Ryan is shaking his head right now.) Bring to a boil, lower heat, and cook, partially covered until potatoes are tender. Stir in whole corn kernels and cook five minutes longer. Add heavy cream (since I always have half and half, I end up using that more often). Cook until heated through. Season with salt, pepper, and the crumbled bacon you cooked in the beginning! Do not forget that!
Enjoy. There really isn't another choice.