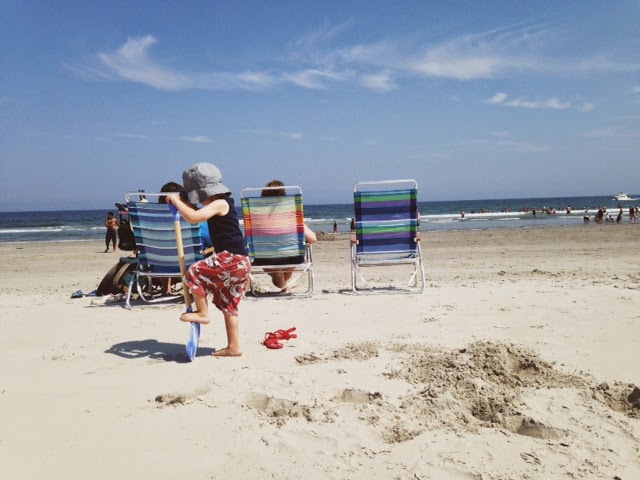 it's 10:30 pm and i'm about to go to bed but i wanted to check in here first and say hello!
today was another beach day in stone harbor and… like a rookie… i got burned. like, what, is this my first time at the beach? i barely applied sunscreen all day long and if you were short a pan and stove in your kitchen (unlikely but let's just pretend for the sake of my story) you could probably fry an egg on my kneecap right now. yepppp. my dad a moment ago: "are you limping?" no, dad, that's just me being an idiot and, well, yes, sort of a limp too.
it was just one of those days where it was sooort of cloudy and we weren't committed to staying long but then the few hours turned into all day and… moral of the story: just slap on some sunscreen.
i did however apply it to parker so i'm not a total loser.
it's been fun here. we've played hard, slept hard. parker's slept the hardest. that boy's needed it. and i swear, he's turning into a three-year old overnight. i think, when i have a real moment to sit, i'm going to have a big post entitled how do you discipline your toddler please tell me now. yes. i can feel that one simmering on the back burner.
but for now… it's bedtime.