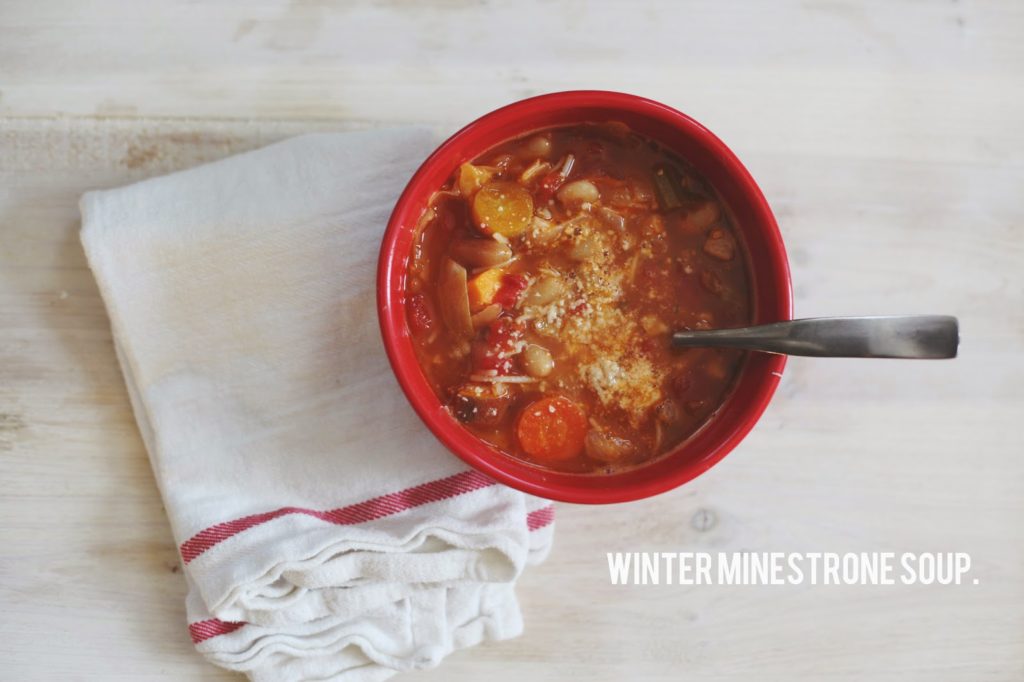 Big shocker: Bridget's sharing yet another soup recipe (and looking suspiciously like
the last one
–I promise this is a new picture, a new soup!). If it's not a soup, it's a chili here in my food archives, I'm afraid. At least this time of year in the frozen tundra-like state I'm currently living in. Do the southern California readers of this blog just skip posts like these? Skip these posts and head to the beach with coconut-scented sunscreen in hand? I hate you all.
I saw a picture of this soup on
Instagram
the other day and as someone who's always game for a soup,
as we've already established
, my interest was piqued. Add to that, I saw the word Ina so… it was good as made in my dutch oven right then and there.
And who doesn't have chicken broth, celery, carrots, onions, and some canned beans at the ready most of the time? You? Get thyself to the store and keep those stocked at all times. Everything good in this life starts with a mirepoix (you like how I got fancy there?). This is no exception.
I changed it a bit, surprise surprise. Another reason why soup will always win. The butternut squash got swapped out for some sweet potato because really, the difference isn't huge, and who in their right mind enjoys working with a butternut squash? Not I. I once hacked at one with a tool whose name escapes me now but imagine a kitchen-approved sledgehammer and there you have it. I can't bring myself to buy it already cubed from the vegetable section because, I don't really know, but I'd have saved myself a lot of grief that day. And while spinach is great in a hot soup, I am die-hard about cabbage in my minestrone. Growing up, my Mom's always had cabbage and while Ina can generally do no wrong, I do believe the soup was elevated a bit by that substitution (did I just change Ina? Is that sinful? Like editing Shakespeare or something? My apologies.). Oh, and the pasta. I couldn't find whatever little pasta she referred to so it was a mix of some other teeny noodle and I also added farro. I know. I really took some liberties with this one. It was delicious though.
I doubled it and had some for lunch the next day with some chopped chicken, so that'd be a nice substitution too. Particularly if you have teenage boys who sometimes come to the kitchen all wide-eyed until you throw meat in their direction. You know.
Winter Minestrone Soup
serves 6-8
4 ounces pancetta, 1/2 inch diced
1 1/2 cups chopped yellow onion
2 cups chopped carrots (3 carrots)
2 cups diced celery (3 stalks)
2 1/2 cups butternut squash (or sweet potato!)
4 cloves garlic, smashed
2 teaspoons chopped fresh thyme
1 26-ounce box diced tomatoes, such as Pomi
6 to 8 cups chicken stock
1 bay leaf
salt and peper
1 15-ounce can cannellini beans, drained and rinsed
2 cups cooked small pasta, such as tubetti
8 to 10 ounces fresh baby spinach leaves (or cabbage!)
1/2 cup good dry white wine
2 tablespoons store-bought pesto (this is amaaaaazing in it)
freshly grated parmesan cheese for serving
Heat olive oil over medium in a large heavy pot or dutch oven. Add the pancetta and cook over medium-low heat for 6 to 8 minutes, stirring occasionally, until lightly browned. Add the onions, carrots, celery, squash, garlic, and thyme and cook over medium heat, stirring occasionally, for 8 to 10 minutes till the vegetables begin to soften. Add the tomatoes, 6 cups of the stock, the bay leaf, 1 tablespoon of salt, 1 1/2 teaspoons of pepper. Bring to a boil then lower heat and simmer uncovered for 30 minutes until the vegetables are tender. Discard the bay leaf. Add the beans and cooked pasta (I cooked the pasta at this point, and it was fine!) and heat through. The soup should be thick but if it's too thick, add more chicken stock. (I added the chopped cabbage at this point, about half a head?)
Just before serving, reheat the soup and add the spinach. Stir. Cook till leaves are wilted (this takes no time at all). Stir in the white wine and pesto. Depending on the saltiness of the stock, add some more. Serve alongside garlic bruschetta, sprinkled with parmesan cheese, and a drizzle of olive oil.