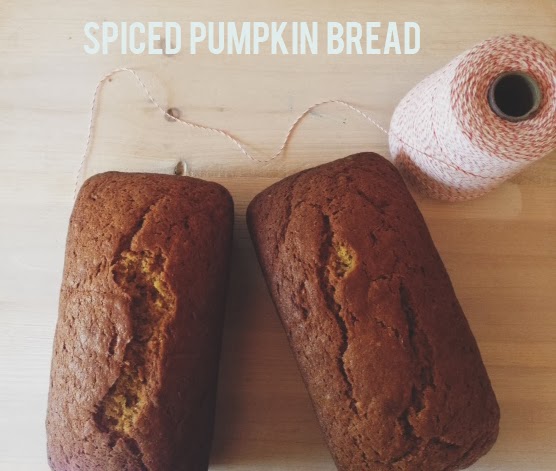 I am no Suzy Homemaker. I mean, I love to cook. Not always, but put on some good Spotify station, gimme a glass of red, get out of my way, and I can make a mean dinner. I just don't think cooking awards you the Suzy Homemaker title. I think only baking does. I rarely bake though (my Mom never baked when I was growing up–something about sugar being the devil–and the apple doesn't fall far from the tree.) But, second to perhaps chicken stock simmering in your kitchen is the smell of pumpkin or banana bread baking away.
Today was just beautiful. It was one of those fall days where a jacket's barely necessary and the air is clean. A friend recently remarked how blue the sky looks and at first I thought isn't it the same sky year round? But then she pointed out that the lack of humidity makes the air more clear and thus we almost see the sky better than we do otherwise. It made sense. The trees on our street are beginning to shed their leaves, and our driveway is positively covered in yellowy pine needles. I had to drive Steve to work today and the backroads at that hour are at their best: steam rising up off the grass, horses grazing on hills, ancient stone walls along the old New England roads. It doesn't get much better than Massachusetts in the fall. I had coffee with me, so did Steve, and we chatted about his weekend (he and the big kids were away). There was something special and cozy about it, heat going in the car, no music on, driving twenty-five or so the whole way.
Later in the day, Parker took a long nap and William played across the street with some friends. Over the weekend, I was productive and got nearly all the laundry done, vacuumed, odds and ends. With an almost clean house, I decided to bake. I can't really bake unless the house is basically in order. It just feels too frivolous otherwise. Cooking is a necessity, we need to eat. But baking? Baking is special and the icing on the cake. The cake being the clean house, of course. I had grabbed at least two cans of pumpkin puree at my last Trader Joe's visit so pumpkin bread it was. Plus, it's mid October so, you know. This is by far my favorite pumpkin bread recipe. It makes two loaves which is always perfect–share one, keep one. Eat one, freeze one. In this case, I shared both. It was so very neighborly of me, delivering warm pumpkin bread both across the street and down the street to two friends of ours. Wrapped in parchment paper, tied in twine. As I delivered it I laughed, "This is so not me, but here I am delivering pumpkin bread!" Hopefully I didn't do something totally wrong since I didn't get to taste test it myself.
I might make more tomorrow morning (if for nothing else than the house still smells like the pumpkin bread we never got to eat!).
Spiced Pumpkin Bread
makes two loaves
3 cups sugar (I can't bear to do this much and it's still good–and remember, it's for two loaves!)
1 cup vegetable oil (I used coconut oil)
3 large eggs
1 16-ounce can pumpkin
3 cups flour
1 t ground cloves
1 t ground cinnamon
1 t ground nutmeg
1 t baking soda
1/2 t salt
1/2 t baking powder
1 cup chopped walnuts (optional–or better yet chocolate chips!)
Preheat oven to 350 degrees. Butter and flour two loaf pans. Beat sugar and oil in large bowl to blend. Mix in eggs and pumpkin. Sift flour, cloves, cinnamon, nutmeg, baking soda, salt, and baking powder into another large bowl. Stir into pumpkin mixture in two additions (and walnuts/chips here if desired!).
Divide batter equally between prepared pans. Bake until tester inserted into center comes out clean–1 hour and ten minutes. Let cool.
Enjoy with a big pat of butter!
And, to really fill in all the promising details of a cozy fall afternoon, enjoy with a new playlist:
Listen below or follow
this link
to Spotify. It's really a good one.