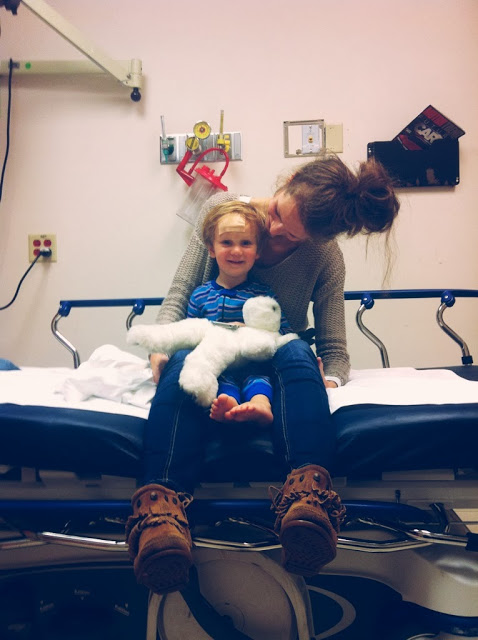 this past weekend i was up at lake winnipesaukee for a girl's weekend. three kids and three friends (
here
are the little people i speak of!). when kids went down for naps, we'd talk (and i took a bath in a big jacuzzi tub which felt altogether fancy since the tubs we have at home are not the luxurious bathing kind!), have wine, eat snacks, share stories. it was really relaxing and a nice break from real life. not to mention a place with spectacular views of one of my favorite places in this whole world? perfect.
saturday night, the kids all took a bath together and we got the cutest video full of giggling from our little ones. we had them all jammied up, ready for bed, and i just began to do some dishes while they ran around and played. parker was running with the biggest smile on his face. in the next room, i heard a crash and then some crying coming from my friend's daughter and then from parker and while running around the corner my friend said, "there's blood." ugh, that memory still makes me cry. it was coming from a big gash on parker's forehead. my friend explained that the kids ran into each other for a hug, and then he crashed down into the corner of a wall. to me, the cut looked enormous and so deep. i was so scared but, would you believe it when i tell you i held it together and kept my composure??? i really did. i talked to him, and held paper towels on it. since we were away from home without knowing exactly where the nearest hospital was, i asked my friend to call 911. i told her the address (having literally told myself, just the night before, that it'd be good to make a point of remembering in case there was ever an emergency while here. weird.) and she made the call.
i kept holding parker, talking to him, keeping him calm, explaining that the ambulance would come and nice people would help his boo-boo. he was totally sad, that sort of eyes filled with tears without actual crying (the kind that breaks my heart most), but was keeping calm. we got into the ambulance and he held my hand and held a moose that the emt gave him (the emt also put a bandaid on the moose's head–so grateful for nice people in those situations). even cracking a little smile when the emt did peekaboo with the moose. he was wheeled in, in his carseat ON a stretcher which is heartbreakingly adorable. they gave me the option for sedation (which has some side effects, takes them awhile to come out of, and can give them terrors) or just some topical anesthetic which is sometimes a problem if kids flail and freak out. i opted for the second having confidence that he could handle it and that, if necessary, we could pick the second option. this boy is brave, i've seen it before, but i couldn't have prepared myself to be as impressed as i was by him. they put some numbing cream on his cut, twice over 40 minutes, and then came in to do the stitches. they wrapped him in a sheet to keep his arms down, and then had him lie down. i got right on top of him, with his face a few inches from mine. he was scared but i kept talking to him, about his scooter, about gracie, about the game he played with william the day before, about how the nice doctor was going to make his boo-boo feel better. the doctor stitched him up — seven of them!! — without him so much as moving his head. this picture was taken not ten minutes afterwards (by my sweet friend, ashley, who came straight to the hospital once i'd left with the ambulance.) while he watched some daniel tiger on my phone. during all of this, i called steve and asked him to come (at first, a nurse had said sedation was the only option and that it'd be several hours till we'd be discharged) and by the time he and the kids arrived, parker was already done and all smiles. and this was like 10 pm! someone who was in the hall right outside our room said, "wow. not a peep from him." he gave steve the tightest hug, held onto his moose, and we drove back to the house we were staying.
when we went into the house, parker went right to the "scene of the accident" and pointed to it saying, "boo-boo." i barely slept that night, but parker slept soundly between steve and i except when we woke him at 3 am to ask him questions that he'd know the answers to making sure he was ok. the next day, he was back to normal, though i hovered more than usual and felt fairly traumatized by it. and finally, when he went down for his nap that day, i let out a cry. i'd been so scared but hadn't really had time to cry or feel relief that he was okay until then. such a delayed emotion but i guess it can be that way.
this wasn't my first rodeo (i've done the hospital three times with daredevil jordan so far!) and while i'm sure it won't be the last, i'd love it if it were. there's something so unnatural with being in the hospital with your child. and i know that is some people's reality. i don't even have words for how terrible that is, how desperate that is. when you worry about a child, it sits so heavy on your chest. no matter what you're doing, it's ever present. i've only had little glimpses. no comparison. i can't imagine it being a reality.
in summation, parker is the bravest little man, and i could not be a prouder mama.