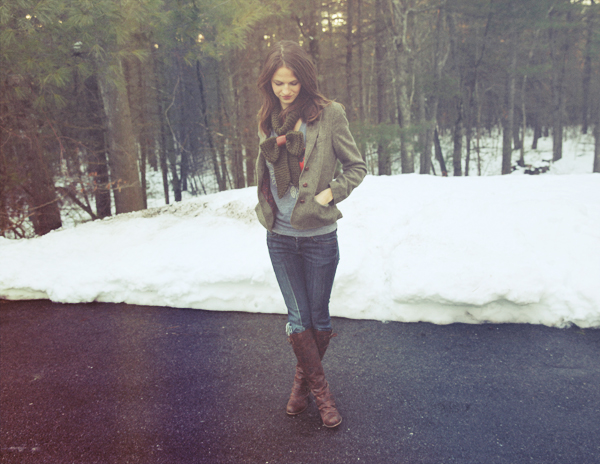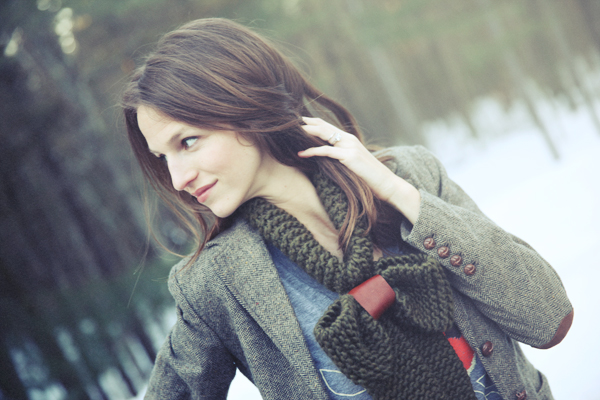 {blazer: h&m}
{boots: famous footwear}
these pictures were saturday afternoon, but saturday, several hours earlier, middle of the night to be exact, oh my friends, was not looking quite so… i don't know… together? let me paint the picture for you. (you're welcome!!) it's 1:30 am. parker wakes up. steve hears him. me? sleeping like a rock. steve gets him, brings him into our bed, i nurse him, still mostly asleep. everyone slumbers once again. at 2:30 am, steve hears our door open and lindsey scamper in. i'm, once again, out like a light with parker half on top of me. lindsey kneels down and (it should be noted, i only know the story because steve has since shared it with me.) begins talking to steve. explaining, with hand gestures, "um, well, dad. i threw up a little bit. no big deal. in my bed. on the sheets, but only a little." you know, like a don't-trouble-yourself-dad cause it's only-a-little (riiiight. bed, floor, wall, curtains. as steve reported later. and as i got to see first hand the next morning when i did the laundry.) then steve hears it. that sort of rumbling, gaggy, i'm about to throw up again sound. "run, lindsey, bathroom!" this is when i wake up to see lindsey dashing off to the bathroom and steve throwing the blankets off himself to follow her. while steve is telling her to go to the bathroom, i'm still in the, "ummm, whaaat?" and fumbling for a light switch on the opposite side of the bed from where the light really is. i nearly jumped out of bed myself but, parker… half on me. (whatever else occurs, do not wake the baby!) that is my alibi and i'm sticking to it. so, more throw up, steve cleans, and lindsey is utterly useless (as one would expect).
steve returned to the room a bit later, grumbling about how he's just ovvvvver it. five kids in, i suppose the man is allowed to say that, essssspecially when referencing middle of the night vomit.
in other news, saturday was gorgeous here. gorgeous! like sun on the snow was blinding gorgeous! i'll take it. and, you should all know: spring is officially 9 days away (as of saturday when i wrote this). and, if you recall, march dealt some seriously summery weather last year. remember
this
??? i expect the same by march 22nd. ya hear, mother nature?!