volume 2.
hi, friends. i'm sara from
bonzo, chooch and me
. i'm stoked to be over here today and i'm stoked bridget's doing this little series. if there's one thing i love, it's learning from other mamas about how they treat – or hopefully
prevent
! – sickies.
i have a love/hate with this time of year. i love how cozy fall feels after a long, hot summer but i feel like cold and flu season hits earlier and earlier each year and along with that comes the worry. oh i wish i could let it go and not worry about germs as much as i do. i know bridget – and maybe many of you – can relate!
so, since we can't germ-proof-bubble-wrap our babies and ourselves, the next best thing to do is to be prepared with information and supplies. is it just me or is the worst time to research various illnesses and/or gather the necessities when the fear said illness is knocking at the door? half the battle is preparation. it's always best and most effective to spring into action at the first sign of symptoms.
i'm not dead-set-opposed to an occasional dose of tylenol when absolutely necessary but to say i prefer a natural approach is a major understatement. and there are so many natural and homeopathic treatments to so many different ailments – i actually find it equal parts inspiring and overwhelming. but i like to have a handful of some tried and trues at the ready and add to my list as i go.
i've always known that garlic works wonders – it's often dubbed "natures antibiotic" – and putting it on the soles of your feet is a really effective way of letting the garlic circulate through your system so it can go to work.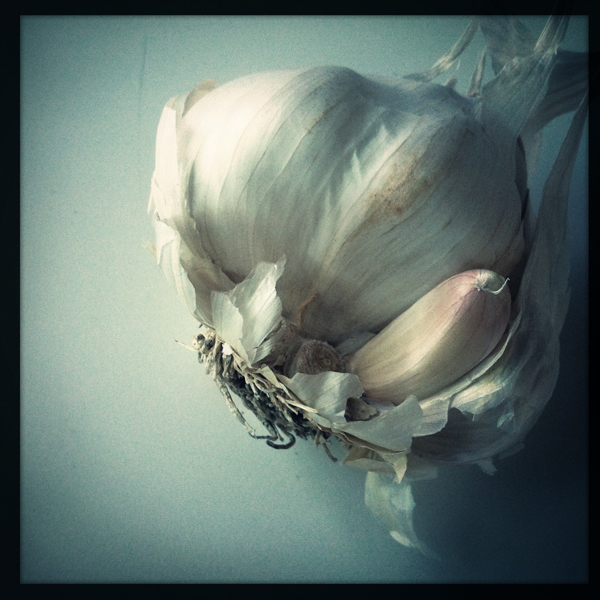 last year i read a
post
(bookmark this
blog
, friends. it's one of my favorites and is
loaded
with great information, tips and tricks!) that took my home arsenal to another level. and lo and behold, days later bonzo seemed to be on the cusp of a little bug so i put it to the test – and we nipped that bug in one day flat!
•••
we call this "two socks" or "stinky feet" at our house.
here's what you'll need:
garlic, olive oil, coconut oil and a mini food processor. and two pairs of sacrificial socks.
here's what you'll do:
peel up to 10 cloves of garlic (i usually do about 8) and throw them in the food processor.
pour a couple tablespoons (2 or 3-ish. i keep my measurements loose!) of olive oil
and a couple tablespoons of coconut oil on top and whiz it up until it's smooth and creamy.
transfer it to a short mason jar (or similar) and put it in the fridge.
once it sets a bit, scoop it out and slather liberally on the
bottoms of your – or your little one's – feet, put two pairs of socks on and go to sleep!
(if you're worried about sensitivity to garlic, i'd say maybe use less garlic the younger they are.)
and since you'll likely be home if you or your little one are under the weather,
there's no need to wait 'til bedtime. we'll rock two socks any time of the day when we need 'em.
and this little remedy works double time for mamas, too: soft – albeit stinky – feet!
here are a few other items i keep in stock to fight the fight:
stay healthy! xx