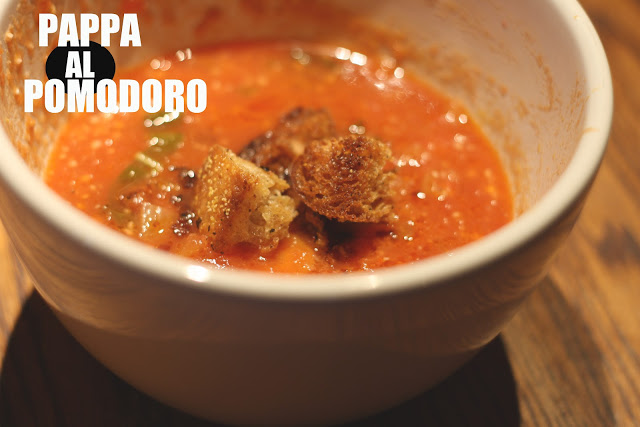 oh man guys… you know, i've professed my love to ina before on this blog. i can totally forgive the fact that she only ever wears black collared shirts because, let's be serious, the woman is a genius in the kitchen. a genius! when you cook that well, you've earned the right to wear whatever the heck you want. anyway, here's one more recipe that pretty much seals the deal in my book: she is my favorite celeb-cook. there! i said it!
if you like soups and you like croutons, and that should be all of you, then this soup is for you. you might've seen the start of it on instagram. it was my first time (first time!) with fennel (or anise… it's what my grocery store had!). i was a little unsure if i was even chopping it properly, but i just went for it. and man, it did not disappoint. not the anise, the tomatoes, the basil… none of it! it was sooooo good, so flavorful, and totally cozy. make it. don't make me tell you again! and don't skip the croutons and buy silly store-bought bagged ones instead! i warned ya!
pappa al pomodoro
serves 6
| ingredients |
1/2 cup good olive oil
2 cups yellow onions, chopped (2 onions)
1 cup medium-diced carrots, unpeeled (3 carrots)
1 fennel bulb, trimmed, cored, and medium diced
4 cloves minced garlic
3 cups (1 inch) diced ciabatta cubes, crusts removed
2 (28-ounce) cans good italian plum tomatoes (i used san marzano)
4 cups chicken stock
1/2 cup dry red wine
1 cup chopped fresh basil leaves
salt and pepper, freshly ground
1/2 cup freshly grated parm cheese (i used locatelli which beats parm any day)
for the croutons:
3 cups (1-inch) diced ciabatta cubes
2 ounces thickly sliced pancetta, chopped
24 to 30 whole fresh basil leaves
3 tablespoons olive oil
salt and pepper
| the how-to |
heat the oil in a large stockpot over medium heat. add the onions, carrots, fennel (or anise, like i said!), and garlic and cook over medium-low heat for ten minutes until tender. add the ciabatta cubes and cook or 5 more minutes. place the tomatoes in your food processor and process until coarsely chopped. add the tomatoes to the pot with the chicken stock, red wine, basil, 1 T salt, and 1 1/2 t pepper. bring it to a boil, lower heat, and allow to simmer partially covered for 45 minutes.
now, for the croutons… preheat the oven to 375 degrees. put the pancetta, diced ciabatta cubes, and basil in a bowl and toss really well with the olive oil, salt, and pepper (don't be too sparing with the salt and pepper as it's basically the only seasoning on the croutons). cook on a sheet pan, stirring occasionally, for 20-25 minutes. they should brown and be really crispy. the basil leaves will turn dark and crisp–that's ok. stir in your cheese for taste. serve hot with the croutons on top!
yum. i mean it. yum.
i'll just say it ahead of time.
you're welcome.