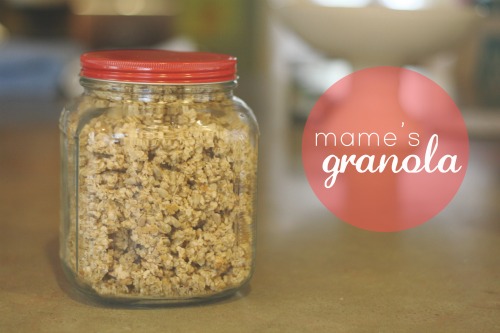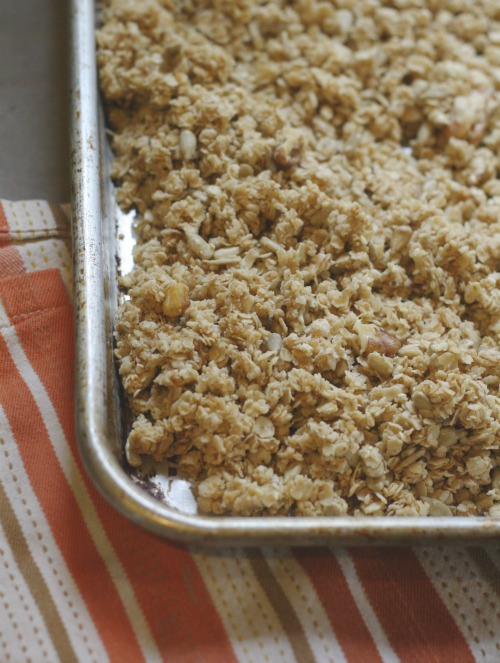 granola has been a favorite of mine since i could say the word. when i was in preschool, the class was asked to bring in a recipe that the teachers would compile as a gift to the parents. a cookbook of us little ones' favorites. i still remember my "recipe." it was pineapple, yogurt, and granola. went something like this: put your pineapple in a bowl. put your yogurt on top. put your granola on top. gimme a break, i was like four! but seriously… perhaps more than any singular meal in my entire life, that is the meal i've eaten so much of. i don't know that i've gone more than a week without having it, barring, ya know, international travel or what not. even the morning i gave birth to parker… pineapple, yogurt, and granola! he pretty much came out demanding it.
the granola has changed over the years. i didn't always have my mom's on hand. trader joe's granny smith was a good stand-in (but has way more added sugar–like most store-bought versions–than this version…which has none!). the yogurt is always the same: whole milk plain yogurt by stonyfield. the pineapple is best canned (say what?!). only because it needs a good amount of pineapple juice to sweeten up the plain yogurt. and fresh pineapple doesn't have the juice, ya know what i'm saying?
it's delicious, any time of day really. i'd best give you the recipe now, huh? mame is my mom, by the way. that's what her grandkids call her. and what we refer to her granola as in this house when we're lucky enough to have a batch whipped up by her. this time, i made it!
mame's granola
(i doubled this recipe and it made what you see in that jar)
3 cups rolled oats
1/2 cup unsweetened coconut (we usually skip this part)
1/2 cup unsalted raw sunflower seeds
1/2 cup unsalted cashew pieces (i used walnuts cause i didn't have cashews!)
1/2 cup nonfat dry milk powder
1/4 cup bran
1/4 cup wheat germ
1/8 cup sesame seeds
1/2 cup oil (i used coconut oil and it's really good)
1/2 cup honey (i used maple syrup)
1 T vanilla
mix and bake at 350 degrees for 15 minutes on a sheet pan.
stir a bit when it comes out (unless you like it really clumpy).
a note from mame:
recipe is terribly forgiving (you could probably tell?).
use what you have (add raisins if you like, or whatever else!).
add flaxseed meal if you want!
do your thing, people!