hi guys! i am away at the moment so i have a few pre-done posts… our christmas coverage (parker's first!) will be up next week. hope yours was fabulous. love and peace as 2011 wraps up!
xo, b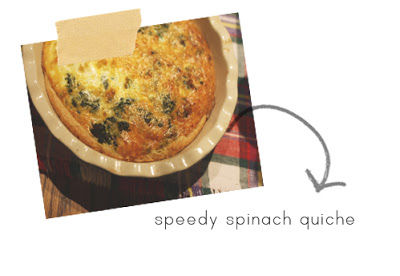 i love quiche.
like i could eat it morning, noon, and night.
luckily it's the kind of food that can be appropriate at all those times.
pair it with a cup of coffee and some hashbrowns… breakfast!
pair it with a fruit salad or bowl of soup… lunch!
pair it with a fresh green salad… dinner!
unfortunately my family doesn't feel quite so passionately for the egg-magic that is a pie o' quiche.
but sad for them, i do the grocery shopping! suckas!
so here's this one:
speedy spinach quiche
serves 6
| ingredients |
1 T butter
1 onion, chopped
1 10 oz. package of frozen spinach, thawed and drained well
(try for the organic if you can. spinach is one of those highly-sprayed crops!)
1 9-inch pie crust (i used trader joe)
1/2 c monterey jack
1/2 c parmesan
4 eggs (i used more)
1/2 c lowfat cottage cheese (didn't have this so i used heavy cream)
salt + pepper
1/8 t ground nutmeg
1/8 t dried dillweed
| the how-to |
melt butter and sautee onion till translucent. add thawed / drained spinach to dry it up a bit. cool slightly. preheat oven to 375 degrees. transfer pie crust into proper dish or pie pan and press the to conform it to the pan (does that really need to be said?). sprinkle some of the cheese over the pie crust. top with spinach mixture. beat eggs, cottage cheese, spices, in bowl and pour over top. bake until filling sets, about 50 minutes. cut into wedges and enjoy with the proper side (you know, the breakfast, brunch, or dinner side. for us, it was dinner: a green salad!)
i thought it was totally delicious. they were less enthused (but they aren't enthused by any quiche. steve thinks real men don't eat quiche and lindsey was like, "the spinach tastes like seafood." but she's a silly 9-year old girl who thinks she will realistically live as an amish person one day so she's not to be trusted.)