it's sara from
bonzo, chooch and me
again... hi!
so you know those coffee house muffins that are super moist and sweet? the ones that are pretty much cupcakes without frosting?
yeah. these aren't those. just to put that out there right away.
these are healthy and maybe a pinch
earthy
, as choo choo would say.
but they're also really good, promise – as long as you're not expecting cake, you know?
these are best warm, slathered in a generous amount of butter or coconut oil – what isn't?
but seriously, a nice smear of super healthy pasture butter or organic coconut oil takes these to a new level in both taste and healthiness. win win.
you'll need:
1/4 c. agave nectar
1/4 c. + 1 tbsp. butter
1/2 c. canned organic pumpkin puree (or dude, homemade puree if you're feeling it.)
1/2 c. organic apple sauce
2 tsp. vanilla
2 eggs
2 c. flour – i use 1/2 c. of each: almond flour/meal, spelt flour, coconut flour, all purpose flour. use what you've got, just make it equal two cups.
2 tsp. baking powder
1/2 tsp. baking soda
1 tsp. cinnamon
1/2 tsp. ground ginger
1/2 tsp. nutmeg
1/2 tsp. sea salt
1 tbsp. each: chia seeds, flax seeds and hemp seeds, ground. i love my
grinder
. the seeds up the nutrition. you can use some or none – whatever works.
optional: a handful of raisins. a small handful of walnuts, ground. a pinch of pepitas, ground – or not.
• preheat oven to 350º
• cream butter and agave nectar in standing mixer or using a handheld mixer
• add pumpkin puree and apple sauce
• beat in eggs one at a time, add vanilla
• in separate bowl, sift the flour, spices, salt, baking powder/soda
• add sifted flour and spices to pumpkin mix one scoop at a time until blended
• add ground seeds and walnuts, if using
• add raisins, if using
• scoop mixture into greased muffin pan
• sprinkle tops with a pinch of ground pepitas (best for little eaters) or whole pepitas if not.
• bake for 25-ish minutes until golden – you know.
• cool, slather with butter or coconut oil and enjoy!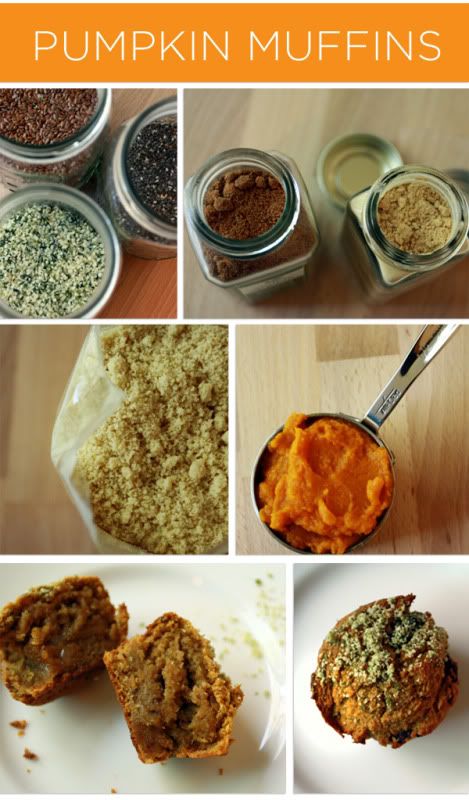 ps: there are a couple more muffin recipes
here
and
here
!