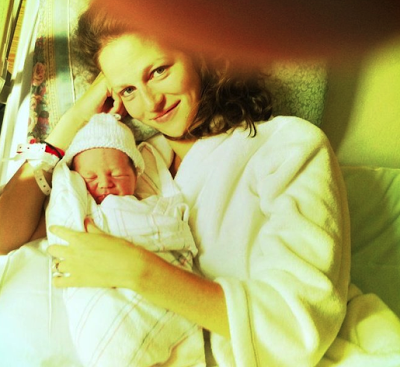 me & parker taken the morning after he was born.
and, to add to your reading pleasure, a few of the songs that were on my birthing playlist
… now, if only i could dub in the sounds that i was making.
it's sort of surreal to be sitting here, parker sleeping on me in the carrier, writing my own story of the labor and delivery of my son. truly, the whole experience of pregnancy and childbirth and all that it entails–the worries, the excitement, the flutters that turn to kicks, the "can i eat that's", the frequent bathroom trips, and the heartbeats on the doppler, the ups, the downs–is amazing. i'm getting weepy as i write this. the whole thing was just so significant, so huge. i remember one of my older sisters saying that, after giving birth she felt like the president of the united states should've called her up and been like, "congratulations! job well done! today marks a new holiday forever in your honor!" this, of course, doesn't happen. life goes on outside the walls of that hospital, or birth center, all the while you're pushing a baby out of you. but it feels like everything should stop, at least for a moment, to pay tribute to this new life that just came into the world. right?!?
now, where to begin? i loved pregnancy. as evidenced in my
39/40 post
, i was so content with parker staying put as long as he wanted. and that really wasn't BS for the blog world to be like, "ohhh, she's all mother-nature-crunchy-woman on us, all happy with a 56-week gestation period!" i
really
loved being pregnant and i found myself the happiest towards the end. since having parker i've seen other pregnant girls walking around and i get a little pang of jealousy. having the little man with me always, our secret little relationship of kicks and jabs, was special. and i do miss it.
but he's here now. and that is pretty great. his little eyes opening and closing slowly when he first wakes up next to me and his feet all folded up frog-like, and his hair getting all matted down and sweaty from sleeping on me for the umpteenth hour, and his smiles, oh the smiles! i like having him here a whole heck of a lot. safe to say, i'm obsessed with the little man.
so, the birth story. i thought i'd go late. i was prepared to be one of those castor-oil-chugging-at-41-weeks-and-6-days-for-fear-of-induction pregnant women. my mom and dad were arriving on friday (july 22nd), staying overnight, going to a wedding in NH on saturday, and then my dad would head home to the philly area and my mom would stay on for 2-ish weeks waiting for his arrival. our plan was always to have her in the birth room with steve and i. she would stay on after his birth to open a can of nanny mcphee in the hunt house… doing laundry, cooking, cleaning, and waiting on the new mom (yes, it's a sweet set-up, and yes, i love her dearly. one of my sisters, who's had this a+ treatment after her first-born called her a "whirling dervish of efficiency" and 'tis true, my friends, 'tis very true). so, friday night, she and my dad arrive, and we head out to dinner nearby. we were having a heatwave and it had to be low 90s even in the evening. i had some spicy chicken tenders and wondered when this babe would make his appearance (hoping it wouldn't be towards the very end of my mom's 2-week stay). we walked around town afterwards, took some pictures, the kids played around a grassy field with their cousins, and the sun went down on that friday night.
saturday morning around 4 am i woke up to use the bathroom and noticed that my underwear was wet. not soaked, but just damp. "did i pee my pants?!" my first thought. it'd be a first this pregnancy, but i didn't think it was entirely unlikely seeing as there was a child on my bladder. i didn't think much of it (silly bridget). i just went to the bathroom, changed my underwear, and went back to bed. the next morning i woke up, steve and my dad went out to breakfast nearby, and i noticed more water… never a gush, but certainly a trickle. i was still sort of in disbelief that this could be "the water." i'd been having a lot of braxton hicks over the past few days, and every time i had one that morning, i'd feel more water coming out. i soon realized, this was it. steve came home from breakfast and i met him in the garage in my pajamas and said, "i think my water broke." he said, "are you serious?!" and we hugged. obviously pregnancy has to end with a baby, but (is it just me, ladies?) i was almost in denial that labor would ever get here. did i think i'd have that bump forever? perhaps. nobody ever said pregnant women weren't a little cah-ray-zee.
so, i told my mom and dad what was up, and they figured they'd skip the wedding. i wasn't having any real labor and once your water breaks, you're "on the clock" so to speak. they don't really like you going past 24 hours without having your baby, so it's in everyone's best interest to get labor started!! i ate some yogurt, granola, pineapple, drank lots of water, and called my sister to get her advice (she was also our birth instructor!). she suggested not calling the hospital yet. they might want me to come in immediately or at least put me on their timetable since my water had already broken. i felt safe to stay home for awhile–there was no meconium in the water, i was strep b negative, and i could feel him moving still. our plan was always to labor at home as long as i felt i could. so around 10 am we went for a 2.5 mile walk around our neighborhood. i was staying fairly relaxed and letting my body do its thing. throughout the walk, i'd keep having contractions but nothing i couldn't walk and talk through. i'd just take note and guess about how long they were, while moving. we eventually made it home where my mom did foot reflexology on me, particularly working the pressure points that can induce labor. i continued drinking water, breathing through the fairly mild contractions, and swaying (for some reason, i swayed from the moment i woke up throughout most of the day… swaying felt natural.).
around noon they started getting more serious. where i found myself focusing during the contraction, on all fours, leaning over my bed or the counter. i could still talk between them, but was more "in the zone" during them. steve started recording them and realized they were coming every few minutes and lasting a minute or more. we got on skype with my sister (this happened at my house, not in the hospital, for those of you who read her
guest post
and thought that!) and i'd disappear from the skype screen every minute or two to have another one. we decided around 1 to call the hospital, see which midwife was on call, and give them the latest.
in the ob-gyn practice i go to, there are five midwives and by the end of all your prenatal appts. you end up getting to know all of them. of those five, there were two that i was hoping for more than the others. i was thrilled when one of them was the one on-call that night. i told her my water broke sometime that morning and she suggested i come in sometime later that afternoon. towards the end of our conversation i had to hand the phone over to steve to finish the conversation because of another contraction. they definitely were progressing.
around 3, we got in the car to go to the hospital. i will say, i was torn about whether to go or not. i felt like it was a good place to be, but i was freaked out about them intervening if i ended up being in really early labor (i did give them my "birth plan" and trusted that, barring any issue with the baby, it would go fairly accordingly). i will say too that i have a bit of a competitive side–three older sisters who've all had beautiful labors, never arriving at the hospital in super early labor to only be told to go home, and hells no would i be the sissy-pants who arrived at 1 cm. thinking i was at 5 cm. to only be the laughing stock of the carmody girls for the rest of time! in the car i had a serious contraction on all fours in the backseat. confirmation that i was heading to where i needed to be? i think so. either way, i accepted the fact that i was going to the hospital and just hoped that i was motoring through this labor as i hoped.
on the way to the elevator i had another contraction, got up to the room, had another, tried to sign hospital papers, had another. i had my midwife check me. 5 cm! SCORE. things were moving along. the time was around 3:30.
i got in a hospital gown (even though i was all, "i'm not laboring in a hospital gown. i'll be in my own clothes, dammit!). when the time came, i could've cared less and, let me tell you, birth is a messy process. i mean, the linen changes alone… there had to have been 86 towel-changes throughout the next few hours. "a clean one? ah, give me just a few seconds girls, i will fix that in just a jiffy." so being in a hospital gown was no problem. i was now in the zone during, in between, and after contractions. i didn't talk to anyone much, i didn't give positive or negative feedback with what steve or my mom were doing, but i would continue doing what was working and what felt good.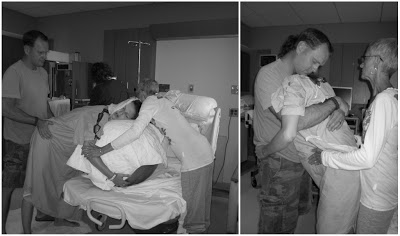 these pictures verge on inappropriate. i assure you, steve is not trying to get me knocked up again whilst giving labor, as the image might suggest.
anyway, in our bag we had our ipod dock and a birth playlist that was playing right from the start. those are some of the songs you might be listening to now. i was aware of the music, aware of things happening around me, someone rubbing my leg or telling me good job, but i was definitely in the zone and not a very verbal birther. i found i was one of those, what should i call it, groaners? i made this sort of low groan as i exhaled to match my contractions each time i had one. it was like a distraction from the pain? i certainly didn't plan to do that but i found myself groaning each time one came on. there is a video. no, you're not going to see it. and when you think, "oh, i will be too embarassed to groan!" you won't.
those pictures, i think, are me during transition. particularly where i'm hanging on steve doin' the labor dance. that seems to be when i went from 7ish to complete because it was soon after that when, in the middle of my contractions, i felt the urge to bear down. "like you're pooping?" "indeed, ladies, indeed." i think this was around 6:30ish. though i wasn't a real verbal birther, i do remember thinking at various times, "there has got to be a better way to do this" and "i see why women get epidurals." those thoughts definitely ran through my head. anyway, i had more contractions like that–where i felt like i was approaching pushing time. i asked to be checked and was complete. hurrah!
so, i pushed for about an hour. nothing in labor felt like a long (or short) time–i honestly wouldn't have known the difference between 10 minutes and 1 hour it seems. it was like time stood still (cliche much?). i pushed on a birthing stool, on all fours, on my side… i moved a lot, trying to usher parker through the birth canal because, let's face it, while i loved being pregnant, at this point i was ready to be done. it seems he was too. so, the most effective pushing seemed to be on my back, grabbing my thighs and hiking my legs towards me as far as i could–like a c-curve. i had a few contractions like that… using literally every ounce of strength i had, before he came out. i will say, i lost my cool a little bit at crowning (they don't call it the ring of fire for nothing… and i tore, ladies, but i can confidently say it does heal!) and steve had to remind me to breathe slowly. but that was like the last two seconds of labor, thank goodness. and, at 8:05 pm, here was parker…it was him all along…in my arms, and i was overcome with emotion. we were overcome with emotion. being handed this baby, both a stranger to you and someone with whom you feel this incredible bond, is out of this world.
there are no words.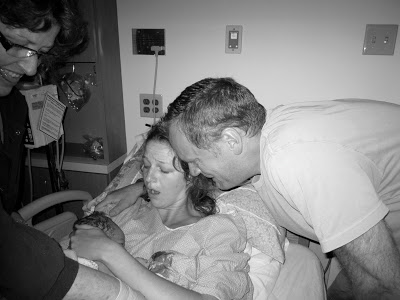 so, labor was hard work. it was definitely hard work… and then you've got this beautiful child who is yours forever at the end of it and love fills up any space that the work, and sweat, and pain, and blood might have. it's just… gah, like i said, there are no words. i loved it.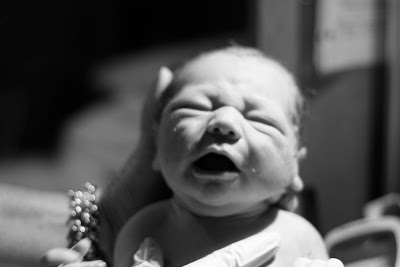 so that's our story. where parker's life met ours. i love you sooo much little boy. we are so glad you are here.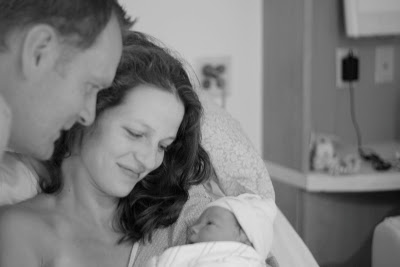 and…three cheers for these two… team parker (or team get-parker-out?)… i am sooooo grateful for them. they were amazing, encouraging, hands-on… everything i wanted and more. (and i would totally be remiss to not mention my birth-teaching sister meghan who's 8-week class steve and i took. i highly recommend a birthing class. i felt so prepared for what labor would entail and honestly wouldn't want to go into it any other way).
there you have it. parker's birth story. one of the most incredible days of my life.