first of all i would like to say hello to all of you dedicated bridget followers. she really is a gem, no? i am so excited for the hunt family and can't wait to read all about this baby boy, not to mention stare at his tiny toes! can't.wait. when bridget so kindly asked me if i would guest post i knew i wanted to share a funny story about being pregnant and in my last trimester. i was reminded of it the other day when i walked in to my daughter matilda's room to find her like this: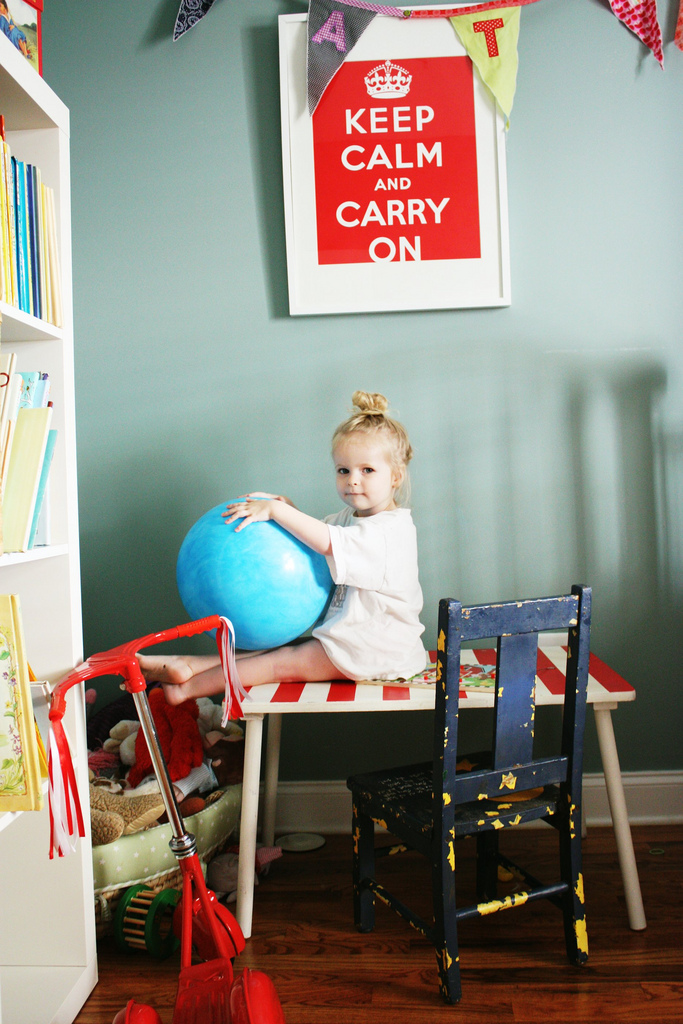 feet crossed, sitting on a table that used to be mine that we painted in stripes for her first birthday. holding her "soccer ball" with the ubiquitous "keep calm and carry on" poster crooked above her head (i can barely look at it now after seeing it so much but i did buy it pre-craze).
that poster was involved in a huge pregnancy meltdown. i had everything just so in matilda's room (i don't think it has ever looked as neat since) and the keep calm poster was the finishing touch. it was to be a reminder that no matter what came my way in my new role as a mother that i was to "keep calm and carry on." my brother was working in a frame shop and i asked him to have it matted. he called weeks after i had given him the poster to tell me he had remembered to take it in to have the mat cut. keep in mind that i was obsessing over this until he called. excited beyond words i drove to pick it up. i eagerly grabbed the poster to look it over and noticed that the mat was black. black. all of the blood rushed to my head and it was full on ugly cry. i'm not proud of this moment, but in my defense my feet had doubled in size, i was miserable at my current job, i had gained 10 pounds in that one week and dammit i wanted that poster to have a white mat.
matilda came in to the world a few short weeks later. i had never felt so powerful as i did the day she was born. i love that girl. the poster hasn't necessarily kept me calm but it has reminded me of how much i am NOT in control and that motherhood is such an adventure. i learn something new everyday about myself and my biggest prayers are that i'll be a good mother, that matilda will know how loved she is and that Lord help me… i can keep calm.
——–
bridget's note: you can find the fabulous lesley at
homemade grits
–i have loved her blog a long time… all sorts of creativity AND organic goodness happenin' over there.