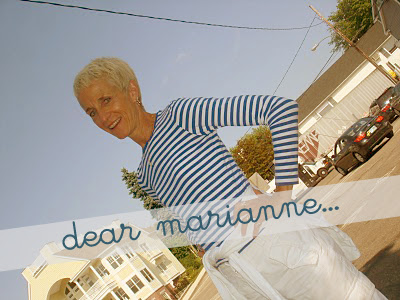 after doing a few posts on
health
from a holistic approach, i was surprised at how many e-mails i got asking for more information on various things, websites one could use to learn more, books i've read, how often i give myself an enema (loved this one!), and a few actually asking for my mom's e-mail address so they could go right to the source with their questions since, as i've pretty much said, anything i know about health i owe to her. i love those e-mails. i loooove talking about health. the way some people love politics or movies or books… i love talking about health-related matters. so, it is with those e-mails in mind, my (mostly) total disappointment in america's current health situation, and a love for all things natural, i bring you the "dear marianne" column.
for those of you who are newer to my blog, hello! marianne is my mother and one of my best friends. her interest in all things health has not happened overnight but, over time, since the early 70s. a little background: she was wary of vaccinations before most were questioning them, questioned where her meat was coming from, had a homebirth in 1980 when that was mostly unheard of, was looking into eastern medicine before it was cool, and did not flat out trust that the fda and government had our best interests at heart. she never gave us over-the-counter medication, but opted for things like enemas, foot reflexology (she's been doing reflexology since the 80s), and chiropractic care (from a few weeks of age and on) when things were off in our bodies. this isn't to say that she (and i) don't believe that vaccinations and antibiotics and such have their place in this world. let me be clear: they do. however, i think we could all agree that less is more and that our world is a bit over-medicated at present. when too many of us trust the experts, she trusted her instincts and did her own research. and before you go thinking i munch on kale all day, i should tell you that my health is not perfect–i get colds and sore throats sometimes, and i still enjoy ice cream and cookies just like the rest of you (as julia childs says, "everything in moderation. even moderation.") but i certainly was not sick much in my childhood and i'm still not. nor do i remember my mom ever having anything more than a slight cold. healing the body through the body was always the name of the game in my house and my mom knows her stuff. she's well read and i've told her she deserves an honorary PhD with all the know-how she's amassed over the years. it is with these things in mind that i decided to start this. i'm just the middle-man. she's where the information is at, people!
i'm really quite proud of her (can you tell?) and am lucky to have all the information she's passed on over the years. so, if those e-mails from you guys are any indication of questions needing answers, here we go!
all the questions will be answered by her and probably not until the end of may. also, i've allowed for anonymous questions (but please be nice!) because asking about the appropriate shape and color of your poo might not jive well with you. but, if you know me at all, nothing is TMI for me.