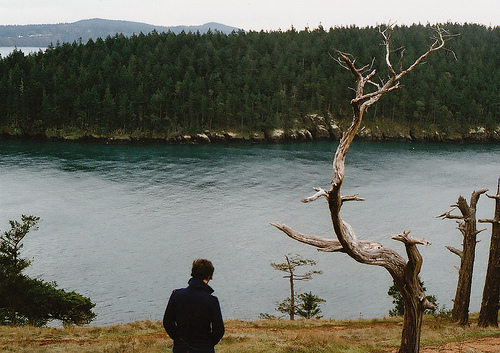 Steve and I have been married almost five years. These five years carry with them some of the highest highs and lowest lows for me. Learning how to navigate my new life… of being a parent of four, becoming a wife of a widower (not that this is his only title–widower, man, father, son, sex-machine, etc.), and moving into a ready-made family was difficult. I still found myself to be inherently selfish, desirous of a normal life with just me and a husband, take out dinners, late nights, sleeping in, and movie dates without babysitters to plan for… but then comes the guilt. Guilt is an ugly little creature who creeps around tapping you on the shoulder and reminding you that, despite your best intentions, you are flawed and imperfect. Guilt because, in my situation, these four kids lost their mother. They don't deserve anyone who feels anything less than over-the-moon for them. Of course, this is unrealistic. Eventually real life settles in. The dirty socks and the arguing and the grime of everyday life. They can't be parented with "guilt gloves" if you will. They can't grow up with special treatment because they lost their mother. But, guilt is guilt nevertheless. Steve certainly has it. And, despite what he tells you, it does color the way he parents. Not a lot and not all the time. But, I think, to a certain extent it has to. They lived through a dark time together. A short-lived battle with the horror of cancer was their life for a time–trips to doctor's appointments, wondering when Mom and Dad would come home and with what news, and all the while their innocent hearts not even grasping death or knowing what that meant for them… and then, at the end of the battle, those left standing: a single dad with four sets of pleading eyes looking to him wondering what life held next. Maybe that wasn't the end of the battle but just the beginning.
And here I am. Entering their lives that were running without me and without a Mom entirely. The kitchen wasn't the cleanest and showers might not have been happening as frequently as they are now (don't even ask me about the cavity situation), but it was running nevertheless. Bellies were full come nighttime and water flowed from the faucets. For me, a college life with only myself to care for, to a family of five, left me panicked at times. Steve breathed a sigh of relief when I entered the picture ("Help at last, help at last, thank God Almighty, we have help at last!") while I was in over my head. Like the last chapter in our love story says, I didn't know what I was getting myself into. Would I change it? No. You saw that, right? I wouldn't then and I wouldn't now (Steve always refers to a time when, at Baja Fresh over a Burrito Dos Manos, we shook on the fact that we'd never get divorced. Thus, I am here to stay. If a Burrito Dos Manos doesn't seal the deal, I'm not sure what does.). But goodness gracious, we've had our tough times. We've had some big fights and there've been some tears. I remember our first night as a family for dinner. It was a few days after Christmas. The wedding week was a whirlwind–December 22, then the two of us headed into Boston for two nights, came home to a full house (my sister and brother in law, my parents, his parents, the kids). It was fast and furious and gave me no time for introspection and quiet (something that I require in the easiest of circumstances but this?! This was a huge change which, in retrospect would've been benefited by a year-long ashram in India.). So when, a few days later, my parents drove away from our house (our house? I felt like a child. I had a home? I had a husband? Kids?? Wasn't my family my parents and sisters? Wasn't my house in New Jersey where I grew up as a child?) to their house six and a half hours away, I had to quietly retreat to my new bedroom while the kids and Steve were eating. And there, I laid on the bed and cried. Steve and I still joke about it today sometimes. Yes, we're far enough away from the whole thing that we can see the humor in it. Him being totally psyched to be married after a life of a single Dad and here is his new wife, crying while the kids eat dinner. Kind of funny? Pathetic? It's both and a whole lot more.
Anyway, where was I going with all of this? Bringing a 5th baby into this crazy life of ours. Right. It's something we both knew we would do (maybe we'll be so crazy to bring in a 6th) but it does carry with it questions and concerns. Both of which I'm sure all soon-to-be parents have when they get that plus sign on the pee stick. For one, he thought he was done after four. That was a good number for him and his first wife. I don't blame them. Four is a lot, in fact. Five is more and six?! Let's not go there. That doesn't mean he doesn't want a fifth but do I have to remind myself of that fact fairly often? Yes. Do I wonder if he'll love this baby to the moon and back? Sure. It doesn't make a whole lot of sense when I think about it rationally but, let's be honest, pregnant women don't go down in the record books for being the most rational of creatures now, do we? There is a part of me that wishes that we were learning all of this new baby stuff together. But he's done it–not once but four times–so shouldn't that carry with it its own benefits? While I'll be quite sure our baby's crying is due to a mix of malaria from a rogue mosquito, he can assure me, "Crazy woman, babies cry. It's what they do." I know he has his own concerns. We've talked about them. He worries that my relationship with this baby will look different to the kids. That they'll think I love this baby more. That I will love this baby more.
It'll be a delicate balance, I'm sure. A newborn baby will require attention that a nine and eleven year old won't have a need for (not to mention a sixteen and eighteen year old). Diaper changing and holding and cooing. I don't want to lose my relationship with them in the chaos and love that a newborn baby brings. I fear saying things like, "I've never felt this way before," about the emotions that overcome me when I stare into my newborn's face (and while I fear saying them, I fear not saying them. I fear what it will look like for me to hide these feelings that will undoubtedly well up inside me). Will they hear it and think, "She never felt this way for me?" Will I have to hide the love I feel? Will it be different? The love I have for my kids now is special and it is unique. I love them and worry about them and want to protect their hearts. I want them to succeed in their lives and have good marriages and be good human beings. I want them to share their fears and emotions with me. I'm not always the best at showing them I love them. In the chaos of things, too often my need to control overcomes the rest. In my desire to raise them the way I was, with a model of "tough love," I can exhibit all the tough and so little of the love. Will I raise my own child the same way or will I be softer and more gentle with his heart? Will carrying this child in my womb for 9 months make everything different? I don't know. Probably some things. But I do know that my desire is for it to bring us all closer. Cause us to be gentler in a way only having newborn in the house can. Force us to slow down. To love one another and this new baby and solidify, in a way we've never been able to before, that we are a family. It is not me and them. It is us. The seven of us.
And, those are just some of my feelings on bringing number five, a little boy, into this family of ours this summer. I can't wait but I want to cherish this time too. This time before six becomes seven.