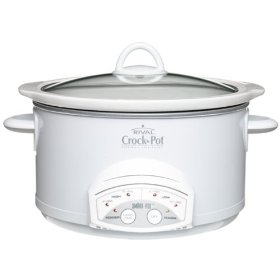 since we're nearing the end of crock pot season (at least in this family), i thought i'd share one of our faves with you before it's too late (this was even lindsey's birthday dinner request–kid friendly!). also, it doesn't need to be done in a crockpot so if you're not thinking of dinner till 6 pm, you can still do it. score.
12 to 16 servings
courtesy of paula deen
(this recipe is sort of the "whatever you have, use" kind of recipe.
so if you don't have some of the following, NO big deal)
2 lbs. ground beef (i always use 1)
2 cups diced onions
2 cans pinto beans
1 can kidney beans
1 can corn
1 can mexican style stewed tomatoes
1 can diced tomatoes
1 can diced green chilis
1 can black olives, sliced (i leave this out)
1 package taco seasoning mix (TJ's sells it now… without MSG!)
1 pkg. ranch salad dressing mix (i get whole foods version, again… no MSG!)
corn chips, sour cream, grated cheese as you wish…
brown beef and onions in large skillet (or dutch oven). drain excess fat unless it's a little grass-fed fat then it's all gooooood. add beans, corn, tomatoes, chilis, olives, seasonings, and cook in slow cooker on low for 6 to 8 hours OR simmer over low heat for 1 hour in pot on stove.
enjoy!
(i always have black beans on hand more often than other beans so i will use them instead of other beans it calls for… and sometimes i have all those types of tomatoes, sometimes i don't… it's seriously forgiving. use what you have and it'll still be good. and avoid the MSG-laden packaged-mixes. i am a MSG hater and think we all should be, yes? let's keep our brain cells.)