i love this show. i get downright excited to watch it, more than probably any show on television (ew, i just admitted it) and my husband loves it too. in fact he was coming home late last night and told me not to start it without him. even though every single season he says he won't watch it, he gets sucked in. it's cheesy, for sure: "i've done a lot of soul-searching", "i'm here for the right reasons", "these other girls aren't right for you", and "this is the final rose… when you're ready" can get old. but nevertheless, we cuddle up every monday night and watch it with the occasional giggle.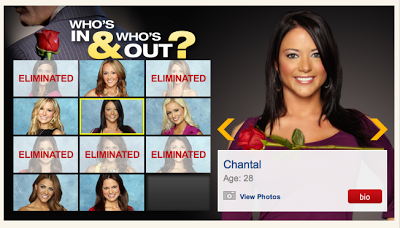 so, let's pretend that the girls actually read my blog and that the show isn't actually over but presently happening. thus, they need my help.
ashley, you're ok. but you're going home soon for sure. i'm thinking within the next two weeks. you or britt is next.
britt, i think you're nice but you gotta put yourself out there more. brad doesn't even know you (though, it looks like you get a one on one next week). but word to the wise: LOSE the clear, plastic shoes now. and read the above.
chantal, he likes you a lot. maybe you'll be the girl. i'm not sure. but, you have got way too much in the chest area to wear these weird v-neck dresses that you keep putting on. spesh the leopard print one! say no to that! shred that baby now! ok, back to your chemistry. don't be jeal of the other ladies. he really likes you.
emily, i think if you go home it's because he likes you more than you like him. but, for the record, i have a girl crush on you.
michelle, it was really short-sighted of you to only bring lululemon clothes to your stint on the bachelor. didn't you know that cameras would be on all the time??? anyway, you're crazy pants. this is just a huge competition to you. and you know you're supposed to be there? what's that? you'll be going home soon. stop punching him too. it's not cute.
shawntel, you have the best style of all. where'd you get that
green dress
from last week? (ah! it appears to be american apparel!). can we share clothes? i kinda like you. i wouldn't mind if you're the last girl. but i doubt you will be.
that is all.
thoughts? do share.
*footnote: to all the ladies… you know brad isn't really the one behind the helicopters and candle light dates and fancy suites and shopping sprees. when real life begins and the cameras stop rolling, so will those awesome dates. so stop thanking him. just thank abc.