It did. After Friday's post, my load got lighter and I grew out of my funk. But man, oh man, raising kids is hard and it's nice that there are a lot of you out there who get it. Thanks for your comments. I love getting them…particularly the ones that agree with what I'm saying. Yep. That's right. Don't challenge me. Just agree with me.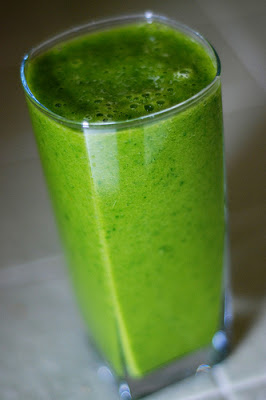 Anyway, I made this about three times since Friday thanks to Camilla's tweet. It's really, really good. William has been begging for it every moment I'm in the kitchen. If you want to try it on your kids but think that the green color will turn them off, add blueberries and then it turns a different color. But, other than that, the banana totally masks any spinach flavor, and what kid couldn't use some fresh, raw spinach in their diet? We love smoothies here in the Hunt house.
Update: a few of you have asked for the recipe since I posted this. If you follow the link, it's there, but otherwise I'll give you my very casual version:
for 2 small or 1 large smoothie
1 banana
1 handful of fresh, raw spinach
1 T or so of flax seed meal
enough almond milk to make it blend well
a handful of ice
BAM, you've got yourself the GREEN MONSTER.

Husband has off for a few more weeks–the benefits of being a professor–and it has been really nice having him done his sabbatical work, but still on vacation. We saw a matinee last week (there's something so fun about seeing a matinee in the middle of the week–I'm not sure what–but something) and have just been relaxing and enjoying one another's company. Oh yes, and Gracie's too.
As for me, I have to get caught up on some emails and really learn how to use my camera. My husband makes fun of me. I want to be a photographer but I've barely read my camera manual. Whatever Steve. Whatever.
That's all.
Oh yeah, and I'm already starting a countdown to summer. A little early you say? Nonsense. Who's with me?