I'm feeling nostalgic today. I'm listening to Mama's Song (and am currently forcing it on you) which always makes me nostalgic, and thinking of my Pop-Pop. He's my only grandparent left and I dread the day when I get a call that he's not with us anymore. But, I'm not going to talk about that. I'm going to talk about the things I love about him. And about my grandmother who passed away in 2003 a few months after the two of them celebrated their 65th anniversary — an anniversary which I am ever so proud of them for having.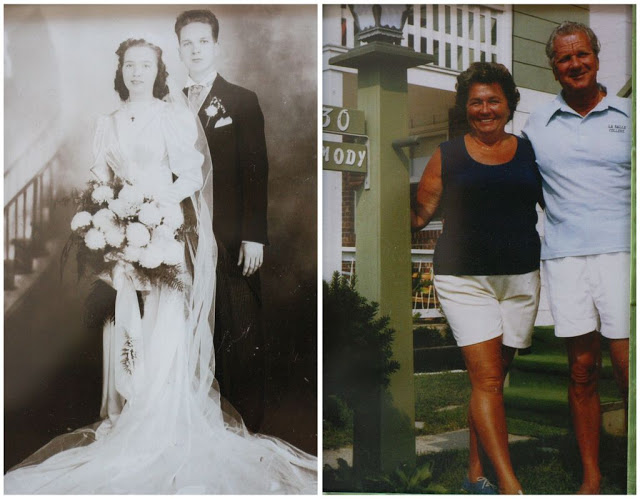 My Pop-Pop was born in 1917. He was a Philadelphia cop (and rumor has it, a young Bill Cosby used to tease him while he was directing traffic in North Philly), a hard-working father, and a painter who painted everything from houses, to his boat shoes (true story), to beach chairs.
My Mom-Mom was a cook–and oh my was she a cook–a baker, and a loving mother. Women of her day had a way of making a meal for fifteen with seemingly little effort and time and having it be absolutely delicious. She used a lot of butter and there was never a meal I was more excited to eat than one that Mom-Mom had prepared. From peach cobblers with warm vanilla pudding drizzled on top to twice baked potato boats, to buttered string beans everything was really, really, really good. What I wouldn't give to sit beside her now, give her a hug, and share a meal (prepared by her, of course). My Pop-Pop always referred to her, at least in front of us kids, as Mom-Mom (which I always thought was funny as a kid) and gets choked up thinking of her now, but he would get choked up then too–when he talked about her marrying him, how he wooed her, how he courted her at a restaurant where she was a waitress using her sister's name and I.D. because she wasn't old enough to be working yet. She worked under the name Irene–her sister's name–and once he took a liking to her, he called her by name. He always thought she had said Eileen. She was too embarassed to correct him so she was Eileen from then on out. I think that's funny.
They had six children, raised them with love and good values, and I am blessed beyond my wildest imaginations to have one of those six as my father, a good man–a product of their good parenting, no doubt. They lived in Ocean City, NJ just a block from the beach and boardwalk and it was such a fun place to visit.
My Pop-Pop always saved napkins that he'd already used. He'd stick them in the back of the napkin holder and we always knew to take one from the front. When people were parking in front of their O.C. house, he'd always shout directions from the porch trying to help them parallel park. He really just likes to talk to people, a trait he's certainly passed onto my father… the most gregarious man alive. He's 93 now and at times is still sharp as a tack. When I see him I have to give him a little reminder of who I am: "Hi Pop-Pop! It's Bridget. The one in Boston. The one married to the professor." "OH! The professor! How is the professor!?" Steve has never been Steve. He is strictly known as "the professor." But you can ask him old police stories, their old addresses, diners he used to visit that haven't existed for years… and he will remember them all.
I'm really glad Steve and the kids have gotten the chance to meet him. I'm glad I've got Irish and Ukranian roots from the two of them and that their genes are in me. I'm glad I have special memories of him and my grandmother, their love for one another which was always so evident, and the commitment they made to one another… an incredible lesson for all those following in their footsteps.
Man, did I tell you or did I tell you… I am feeling nostalgic.