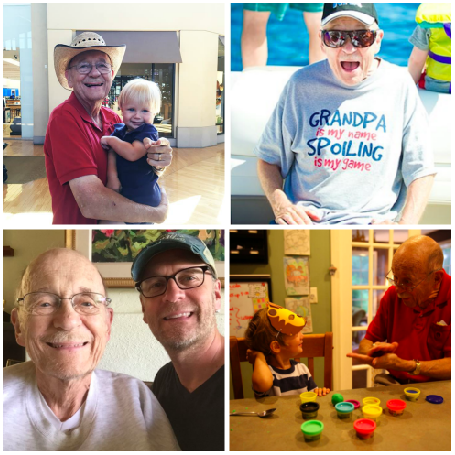 Steve lost his father on Friday. They live pretty far away (in Mexico) but he'd been able to get down there twice last month as his father's health continued to decline. Besides going down there, he'd been calling at least twice a day for the last several weeks and, when his father's health prevented him from doing much more than simply listening on the phone, Steve sang hymns to him night after night, hymn after hymn. I'd hear him from the living room in the evenings when I'd come down from putting the boys to bed and it was both heartbreaking and beautiful.
My father-in-law was one of the most tender men. Whenever we were together–admittedly not that often because of how far we lived from each other–he always made a point to so intentionally tell me how grateful he was that I was in Steven's life. That Steven and the kids had found me after losing Shannon. He'd have tears in his eyes as he said this and be gripping both my upper arms as though his words would carry more weight that way. He gave great hugs. He'd always be the last one to go to bed, playing cards with Jordan, and often the first one up, coffee in hand. He retold a few of the funniest stories and it didn't matter that you'd already heard them, because hearing him it again would include his laughter which was the best because he had the heartiest laugh. He'd been at his wife's 16th (!!) birthday party and they were nearly inseparable until his death. A few weeks before he died, he cleared–for the first time ever–the pool table. He was a successful businessman and then, in his retirement, would go off-roading in a souped up Jeep in Colorado, or hunting with his friends. He was so generous. He had the sweetest smile. We'll miss him a lot.
Steve's birthday was earlier this month, and I never gave him his own post. It's a bit strange to here, and a bit late too, but I will take a moment to say something about this wonderful man, which, on second thought, is perhaps fitting in a post about his father who had such influence on him. Watching him over the past several weeks love his father the way he did was really something special. He is full of integrity and tenderness, selflessness and sacrifice, and his love is an action. I'm grateful to be on the receiving end of it.