I was pretty late in discovering Etsy. Am I the only one? I only discovered it last year, and then of course I felt gipped all the prior years of life before knowing about it. Anyway, now I know, and am grateful. I could furnish my entire home and self and kids and hubby at Etsy and be quite pleased (mix a little Anthropologie in here and there, if you don't mind).
Anyway, this was my first Etsy purchase, in my orange bathroom, and I love it just as much as I did when it first arrived. I think it's a good sentiment to read in the bathroom, don't you? Sometimes, on the toilet, you're not totally sure if it's going to be okay. So this reassures us.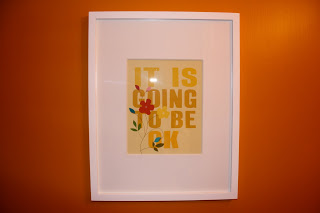 It can be yours for $23 (not including frame–I got that at Target). And
here
is the lovely Etsy shop where you'll find it.
And I know I'm breaking the rules here by listing 2, but these have captured my heart for over a year now. I don't own one yet, but one step at a time.
Another good bathroom sentiment. And also found at Etsy… and in soooo many colors, it'll make you swoon.