to the VITAMIX 5200!!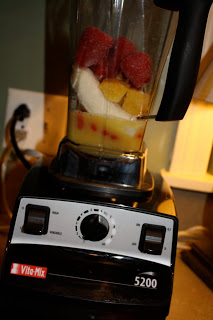 this, dear friends, is a little piece of kitchen-machinery heaven given to me by my lovely husband. it's really for him too though. you know, one of those presents. we've all gotten them. nonetheless, i was pleased.
with this delightful monstrosity (it's sort of on the big side as blenders go), you can make this deliciously refreshing smoothie…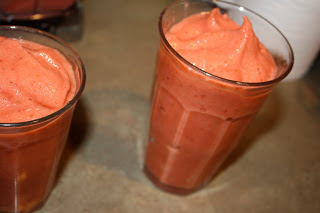 what's that? you wanna know how?
antioxidant-pow-pow! smoothie
(i came up with that myself… you like?)
some orange juice (or any other juice)
1 banana–the riper the better, oh yes
a handful of goji berries (the frozen ones at whole foods, know what i'm talkin' bout?)
strawberries
pineapple (i think this ingredient made it)
*optional (don't we love options?): our faves… wheatgrass &/or bee pollen
EnJoY!
and fellas… if your lady-love loves smoothies,
let me make a suggestion…
adopt a vitamix.
you won't regret it.