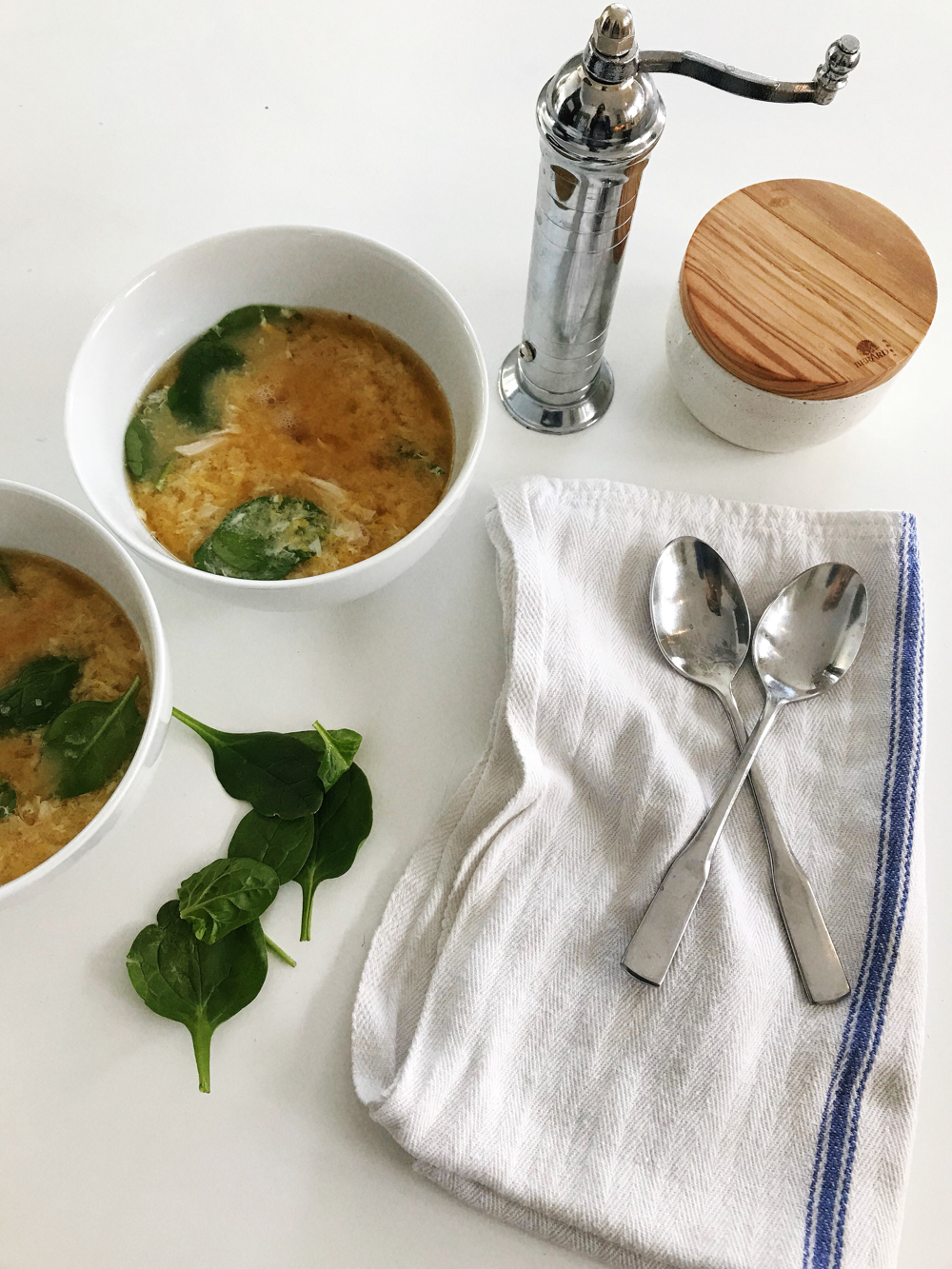 Well, getting back into the swing of things in blog + social-media land has been a challenge for me this year. Feeling less creative, less enthusiastic, seeking more quiet, slower pace, more privacy has all lent itself to me being here (and there–Instagram) less. I love blogging, don't get me wrong, but I'm just not feeling as natural here at the moment. I don't want to sit and spit something out just for the sake of a post. So bear with me!
I'm saying all this, but here I am because there are a few noteworthy things lately that I've really enjoyed and want to share about. Hopefully you'll enjoy them too.
For starters, egg drop soup. Who knew there was something monumental missing from my life in the form of a perfect, nutritious, comforting soup? Are you bored of eggs? Are you sick of the morning routine of what to have for breakfast? Is this starting to sound like a commercial for a pharmaceutical drug? Then try egg drop soup. The first time I made it, I had homemade turkey bone broth to use, and then I used some spinach, and leftover chicken from the night before. Salt and pepper. Oh and cilantro! If you include cilantro it sort of gets this Asian noodle bowl way about it and that makes me very, very happy. My town has no pho, no noodle bowls, and this is no good.
Second time I made it I grated fresh ginger in there too. A glug of sesame oil. Three eggs for myself. Spinach again. I imagine it will be the most soothing almost-sick-trying-not-to-get-sick meal. Or when you're sick too, duh. It's could be lunch or dinner, but having it for breakfast is my favorite because I think it's become my favorite way to eat eggs. Going forward, when I'm out at a diner for breakfast and I ask them to whisk my egg into some hot broth, how will it go over?
I was in New Jersey for a hot second (early Friday morning to Saturday evening) this past weekend. My sister and I flew in to surprise my Mom for her 70th. 70! There are simply not words for the love and the fun that was shared. Please know that I'm fully aware of the cheese-factor in what I'm about to say but you know how Oprah has used the phrase "joy rising"? Well that's what this was. There were lots of phone calls, planning, point-persons at the restaurant, etc. My Mom and Dad were having dinner together in Cape May and, once their entrees were finished, the four of us girls walked in holding a piece of birthday cake with a candle. She was completely shocked. Had no idea this was going to happen, no idea my sister and I were in town, shocked. My face hurt from smiling so much. At one point shortly after the surprise, and she doesn't even remember saying this, she exclaims to the other diners, "They're all mine, aren't they beautiful!?" My Dad sat back, smiling, eyes filled with tears. Just the sweetest.
After that we walked to Congress Hall where there were even more people to surprise her. Her sister flew in from Florida, cousins, nieces, nephews, friends. And there we danced our tails off. I mean sweating, sore feet, the whole nine yards. It's not common for just the original six of us to be together without husbands, kids. We love our husbands and kids, of course. But just us was something special. How often does that happen?
So, here we are, Monday morning, and I've got a sick boy at home who's watching the LEGO Ninjago movie right now (we had to barter; he drinks a mug of warm broth, takes all the vitamins I give him, and then he gets to watch a movie he's been dying to watch), I just changed a diaper, and there's a week ahead.
Thanks for being here!