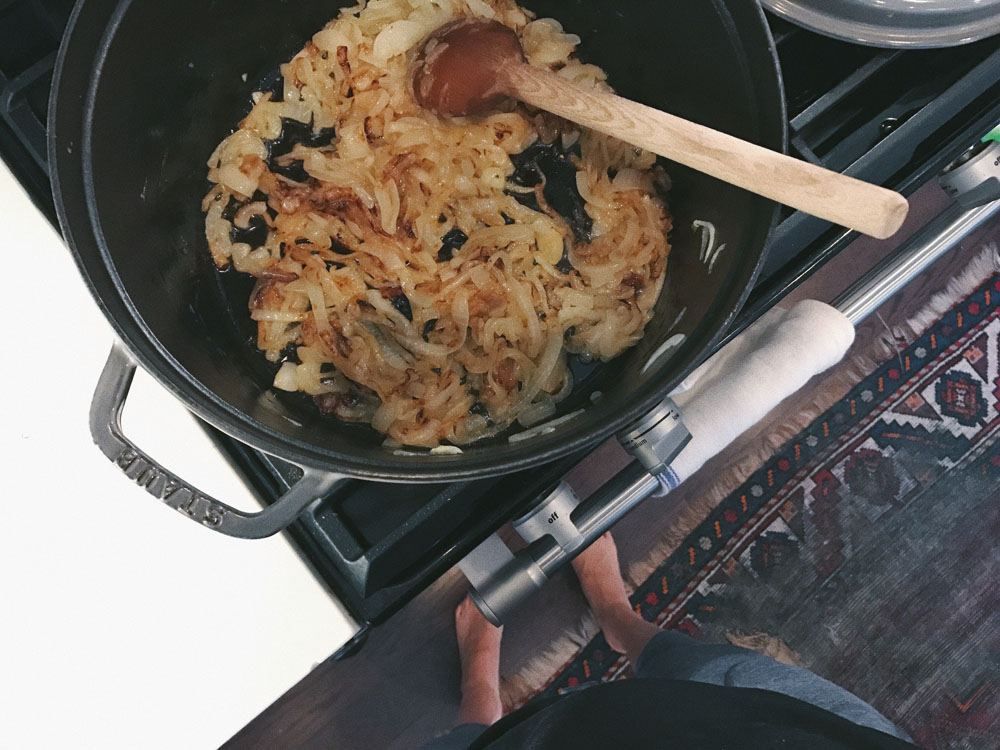 I felt melancholy today. End of summer stuff, maybe. Cloudy weather. Sometimes the last baby stuff creeps in there too. Oh how I miss my baby. And then it's compounded with questions of did I enjoy it? did I put my phone down and take him in? And I'll have those same questions in one year about me now, and on and on it goes. An unending cycle. Social media has felt heavy lately too. I check in and it feels like there's a lot of really weighty stuff. So then I don't check in for a bit cause honestly (can I say this in a whisper because I feel like being a blogger and all I'm supposed to like Instagram) I don't love Instagram. I wish I could say it's for only really good reasons like wanting to be more present in my day to day life (which is, by and large, the majority of the reason; it is such a time-suck and I virtually never feel like it is a worth it time-suck) but it's also because of the curation (hate that word) over there, the information overload, and finally the inability to grow unless you're active active active. Seriously. It's two steps forward two steps back and such a headache. I just don't have the patience for the game, and I hate that I should even have to play it. It's a part of my business, so I need to, but I find the whole thing (post-algorithm, especially) frustrating. And then you're just inundated with images and info and I click out of it and I don't even remember what I saw or read or double-tapped. It's mindless. And sometimes mind-numbing. And yet sometimes it's the first thing I reach for in the morning. Why?!? This doesn't mean I'm disappearing over there. These are merely the thoughts that have been running through my head for months now. (Though, there is true heart-sharing over there too, and there are many times that I've been really grateful for the space to share and to have others share with me.) But the old days where you'd throw up a picture, slap the Rise filter on it, and write a little caption without giving it much thought? I miss them.
I made French onion soup the other day from Julia Child's Mastering the Art of French Cooking. Cloudy and cool and this devastating news coming from Charlottesville, I felt like I needed something cozy brewing in the kitchen. It was beyond decadent. So much that one was certain that it was loaded with butter. Only 2 tablespoons! Those caramelized onions, if you're patient, will win the day. Slow and steady they become something completely different than when they were first tossed into the pot. It was my first time, though it's nearly identical to this caramelized leek soup which I made once. To my mind, they taste so alike but leeks are tedious the way they get grit and dirt in between their layers so I'd choose French onion soup over the leeks any day. It'll be a winter staple, I think. The only downside is that the boys probably won't touch it. Onion soup? It seems unlikely. Maybe if I shovel in a spoonful when they're not expecting it, they'll fall for the flavors after all. It happened to be Julia Child's birthday yesterday. I didn't know this at the time but it was a happy coincidence. (It was topped with toasted French bread and a generous grating of melty Swiss cheese before being served too. Key.)
I'm having something of a love affair with bralettes. It's such a nice break from underwire and they're so pretty. I bought two before going to Italy and I wore this one in black constantly. I didn't mind if a little bit was showing (how cheeky) either because that's how I roll in Italy. It's so comfortable. It's the bra I'm grabbing most this summer when I'm getting dressed. Are their any other perfect ones out there I should know about?
Can the same post talk about soup, social media, the state of affairs in the U.S., and bralettes? I guess so.
What's going on with you guys? What's on your mind? There's a lot on mine. Let's talk.