A few weeks ago, I crowd-sourced on IG stories. This is, far and away, my favorite use of Instagram. And, as always, you guys came through when I asked Where is there a watering hole, stream, waterfall, child-friendly hike in Stowe?! Some of you said, "I'm going to visit Vermont! Please share what you find out!" So here I am, here's the post, here's the hike + waterfall! (And here's one from our last visit too.) So thank YOU to those who shared Bingham Falls with me. Or shared anything with me, really.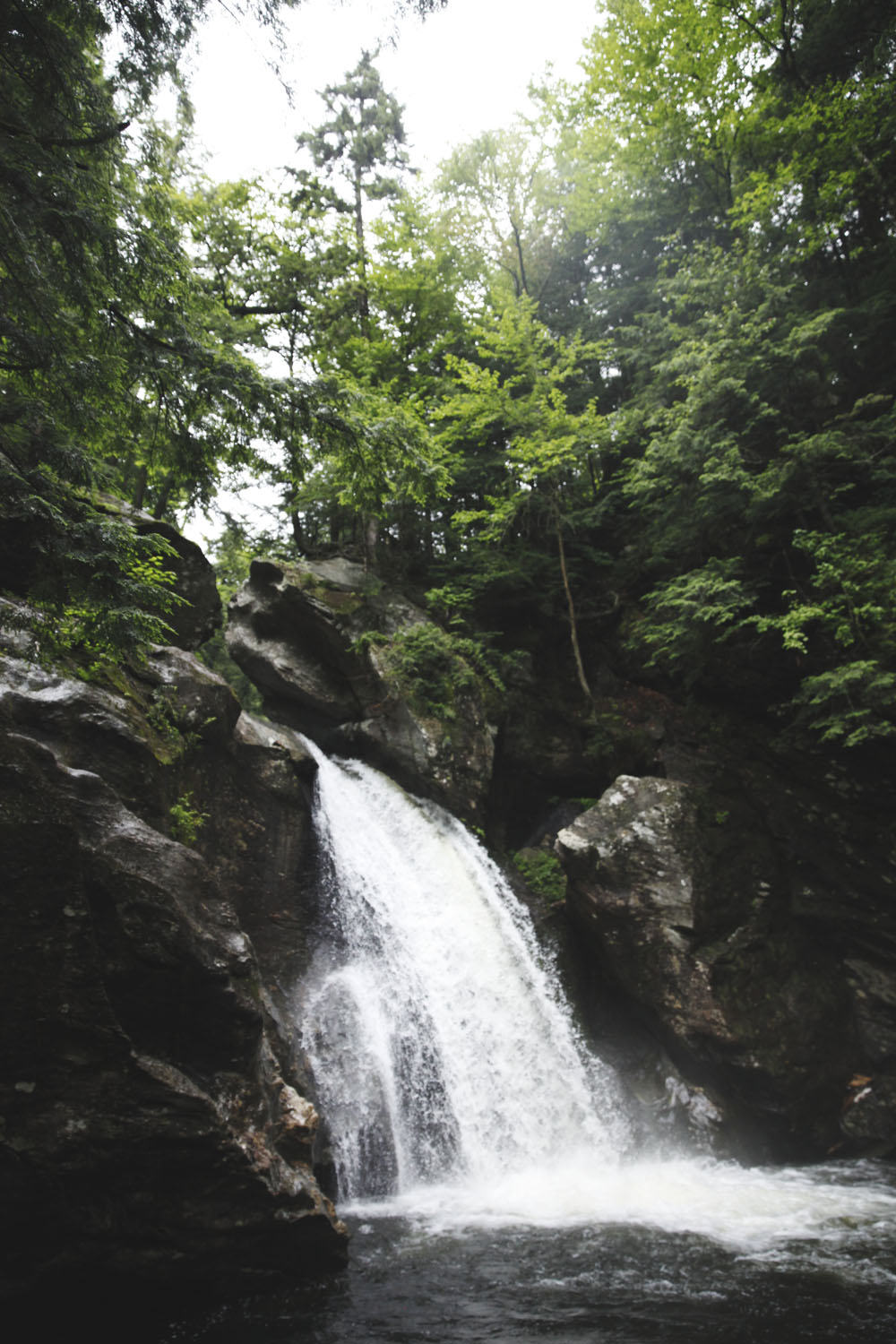 Isn't she pretty?! Bingham Falls, my friend! It's just off Mountain Road, and easy to get to from Stowe Mountain Lodge by foot. It's a very child-friendly hike, though there are some drop-offs. We walked there straight from the Lodge's doors, down Mountain Road roughly 25 minutes (this is a true road, so perhaps you'll want to drive to the Bingham Falls entrance–there's ample parking–if you'd like to avoid it).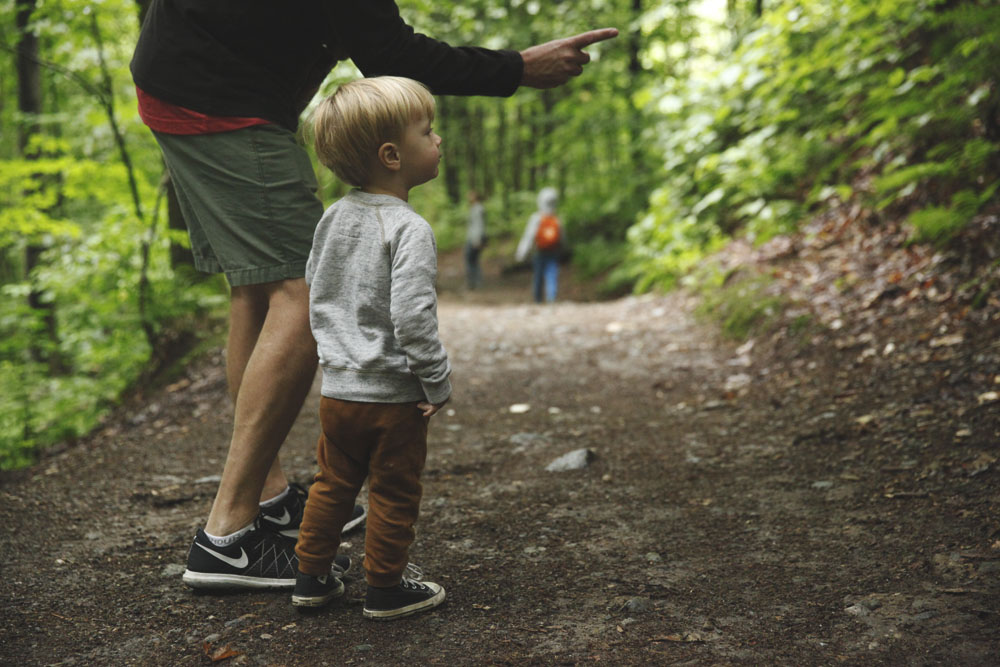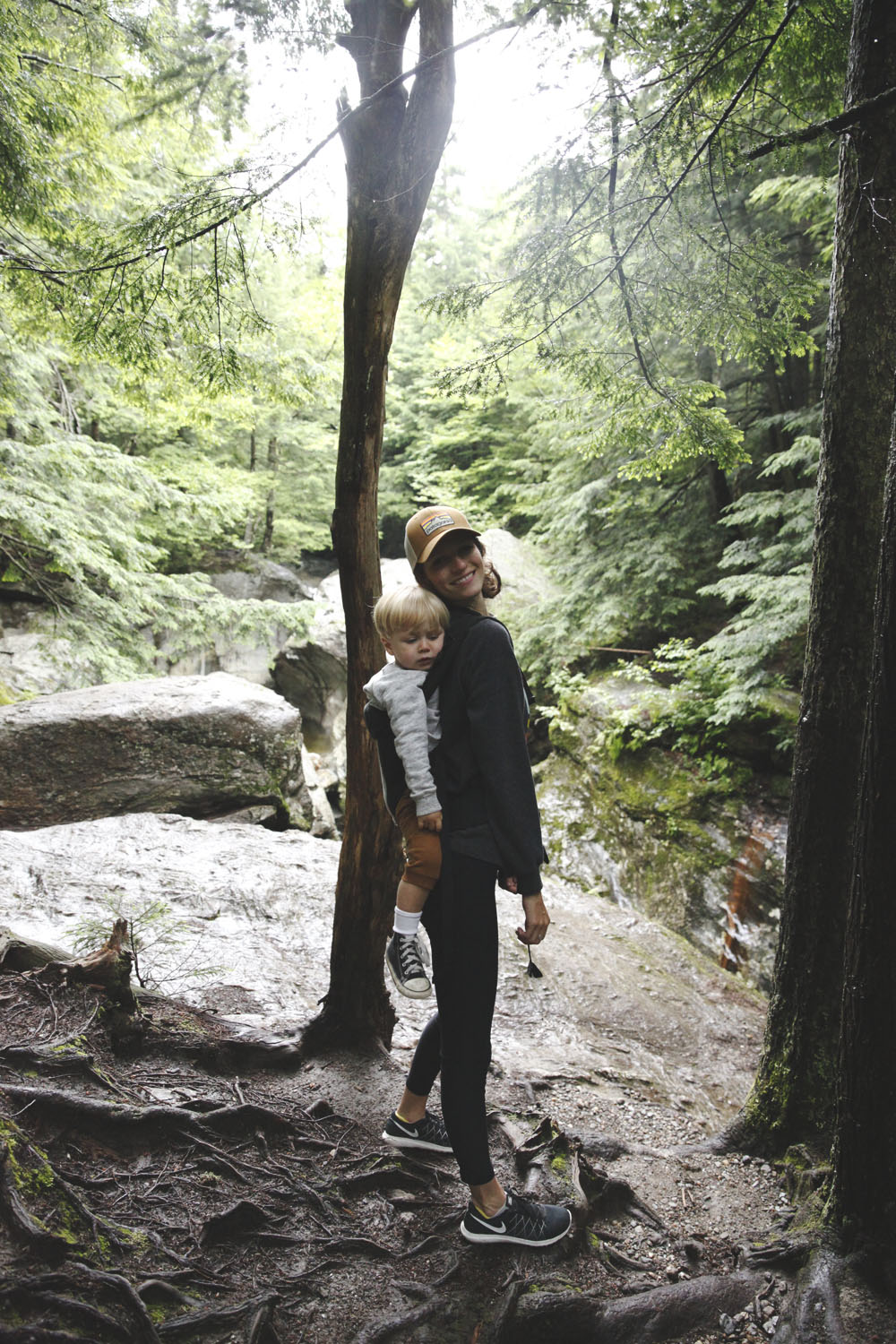 Still doing the back-carry, Anders. Yep. Till you're 18 and your feet skim the ground.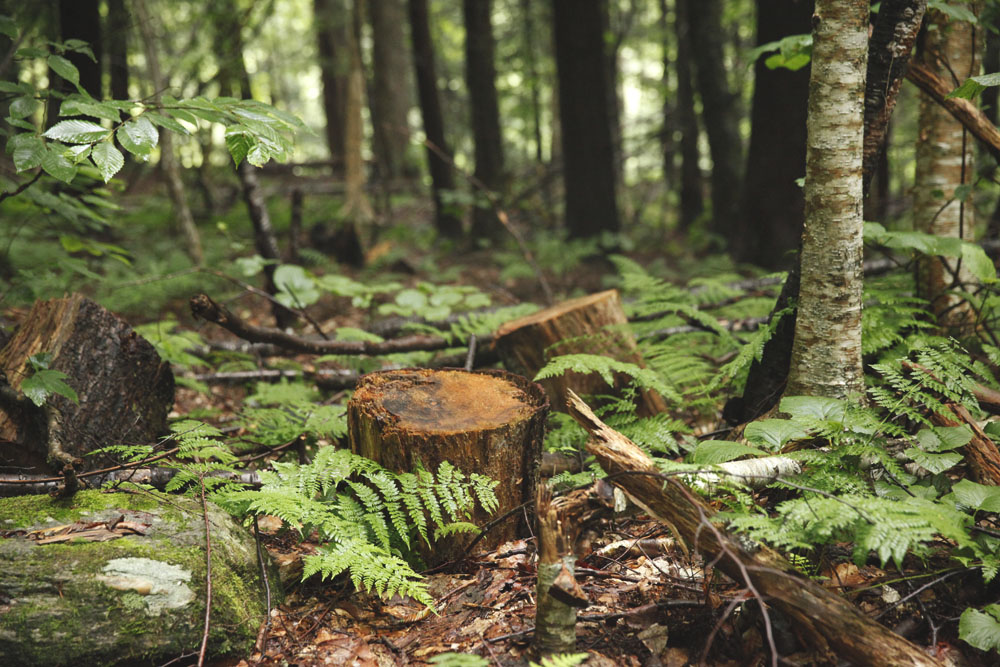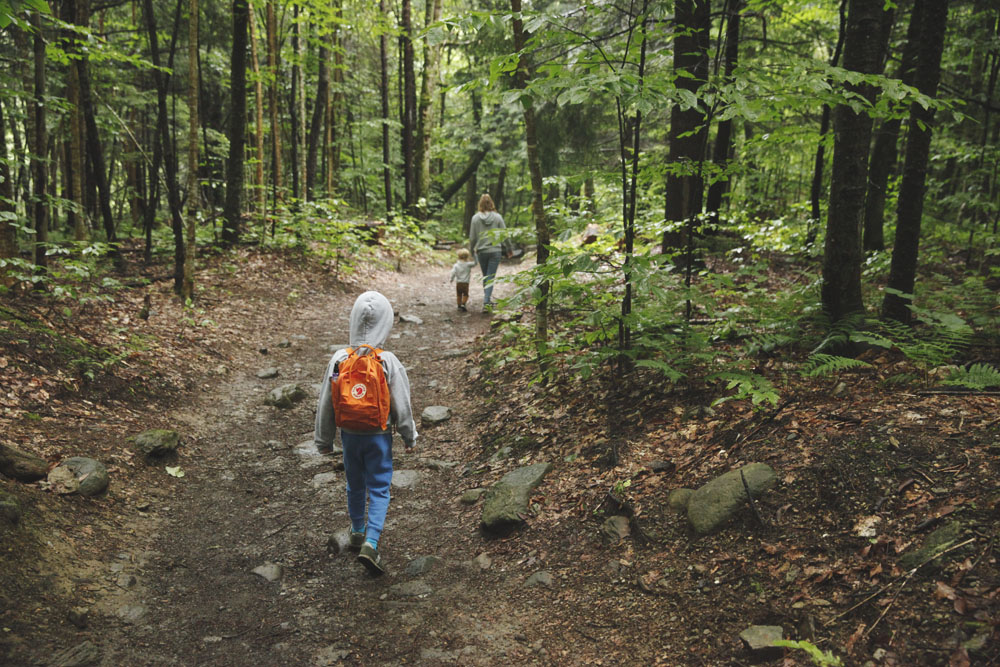 Turn off the road, and take a nice deep breath. The air is cooler and cleaner here, I'm sure of it.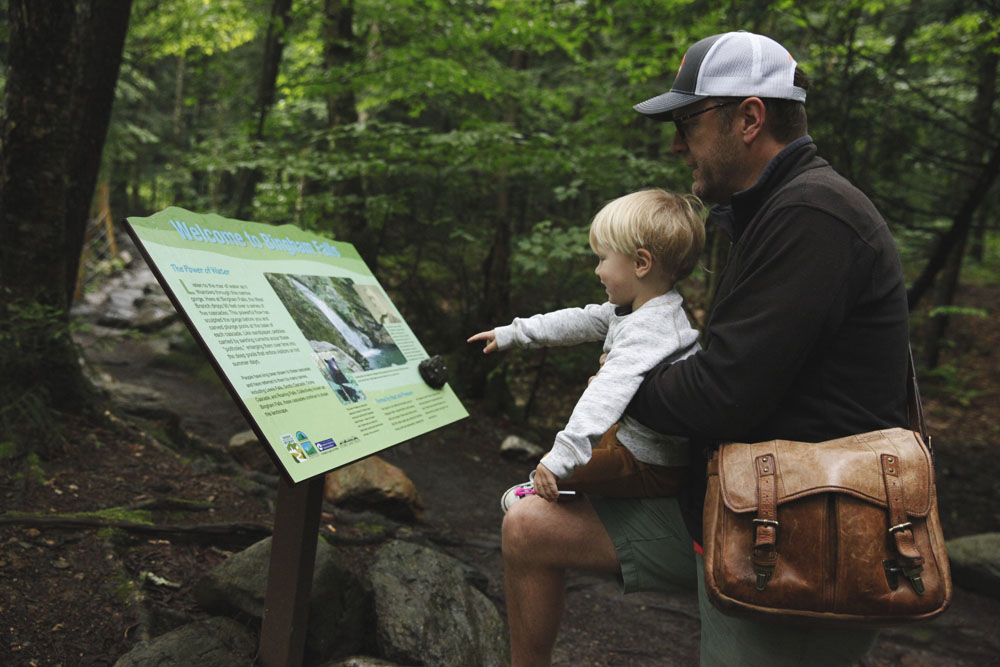 He never misses an opportunity to read a sign, that Dr. Hunt.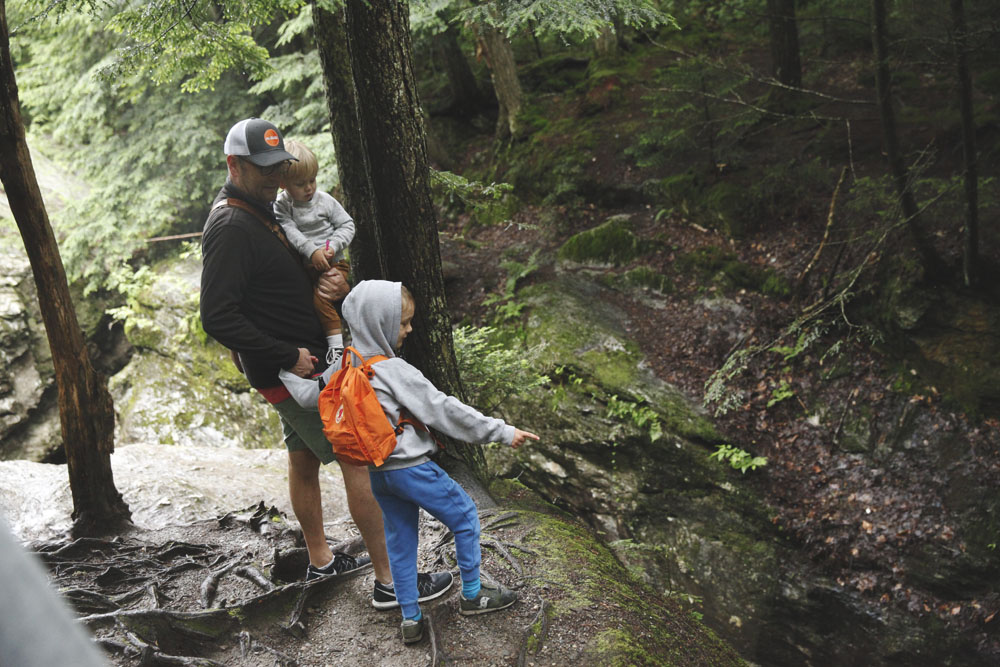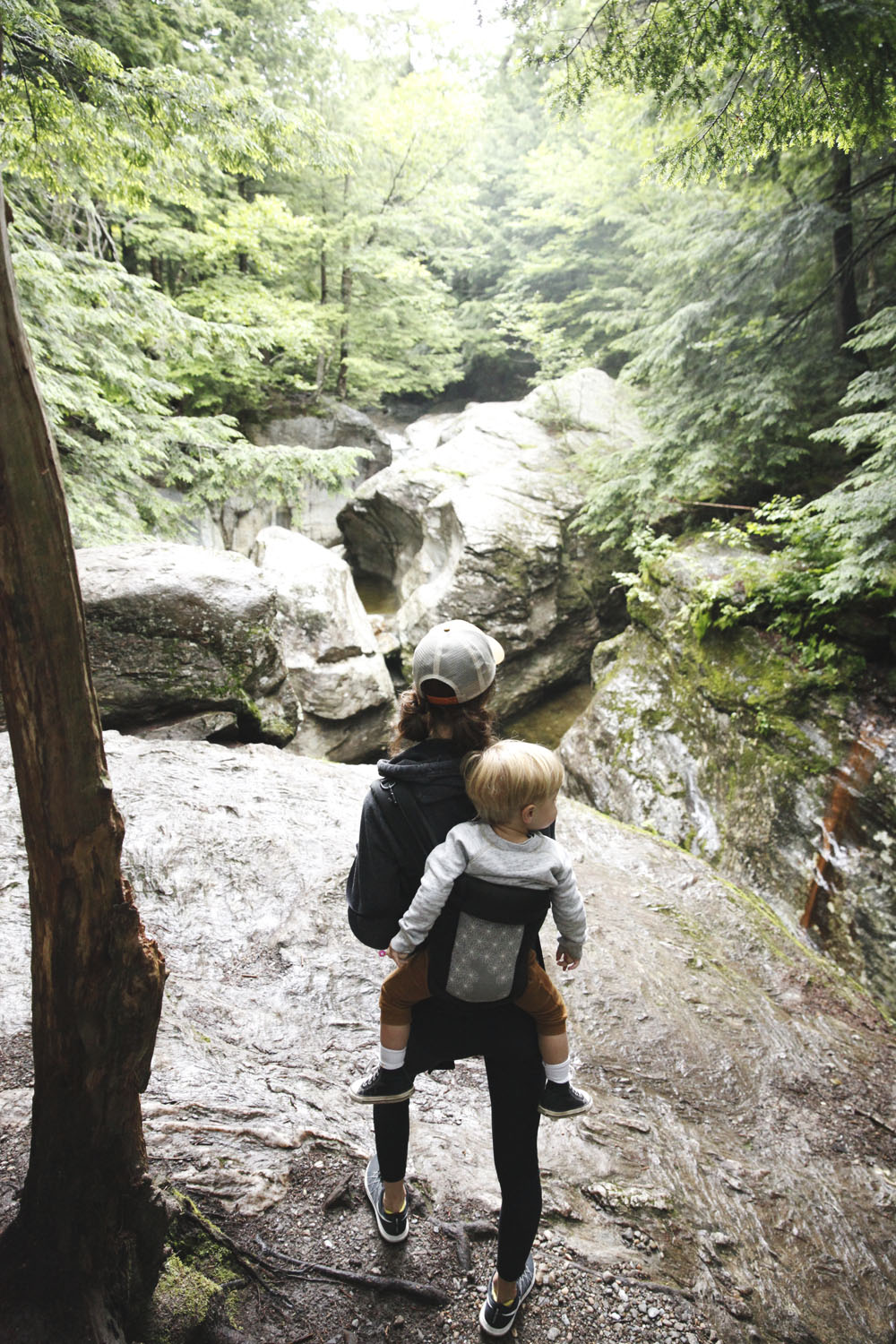 There's always something so cool to me about happening upon a waterfall that's only minutes off a road. They're so spectacular, you'd think they'd have more of a grand entrance. Blinking signs on the road? People shouting, "This way!" Nope, just a few parked cars there when we went. And yet, in less than half mile there she was!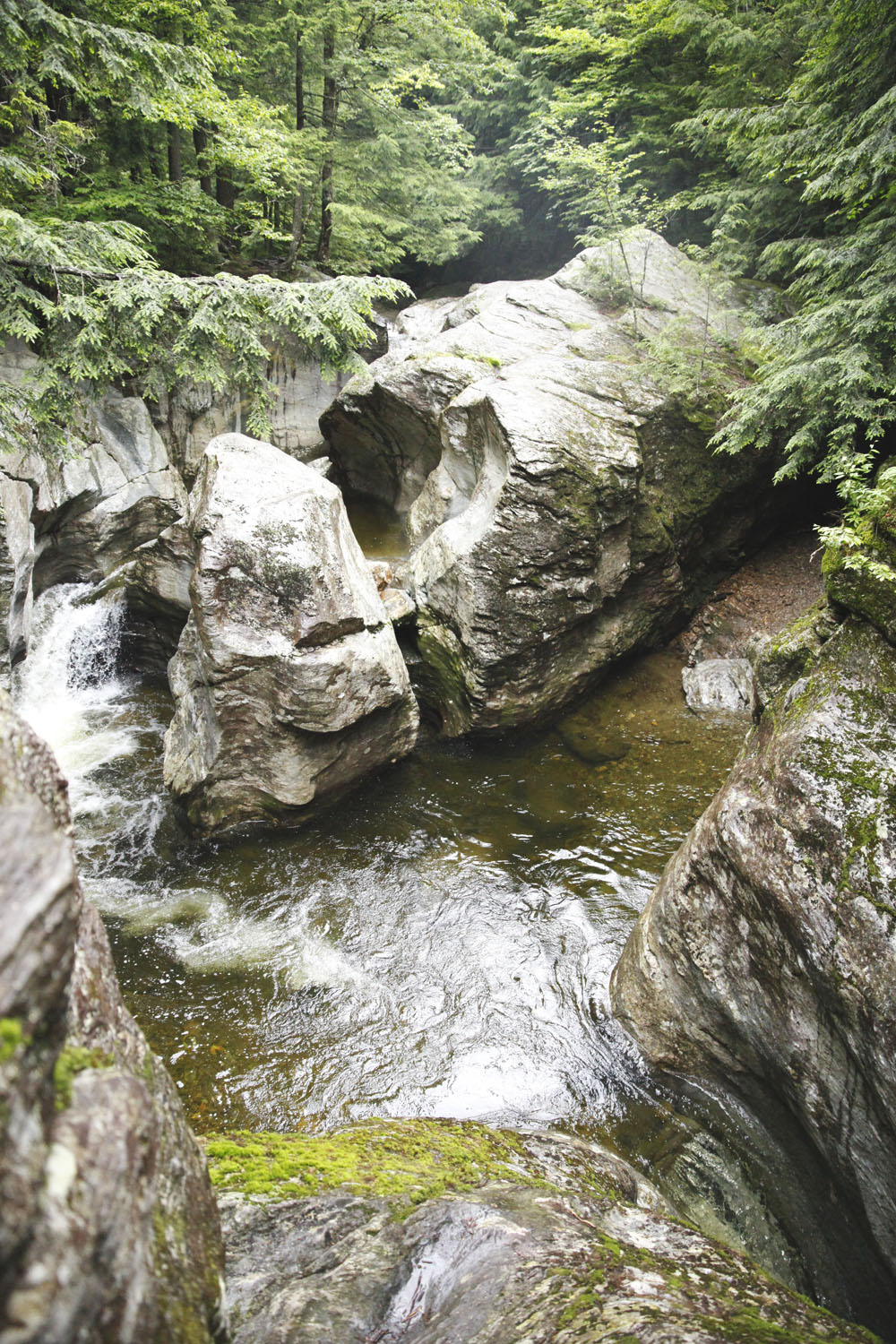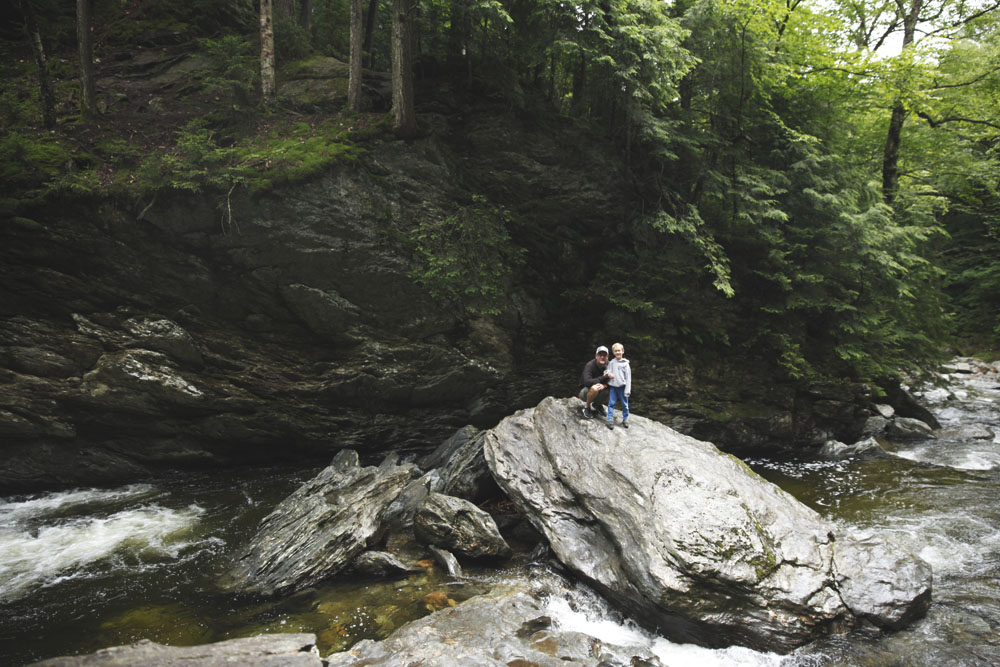 With Anders on my back, I didn't cross the water like these two did. But I got a good picture of them across the way.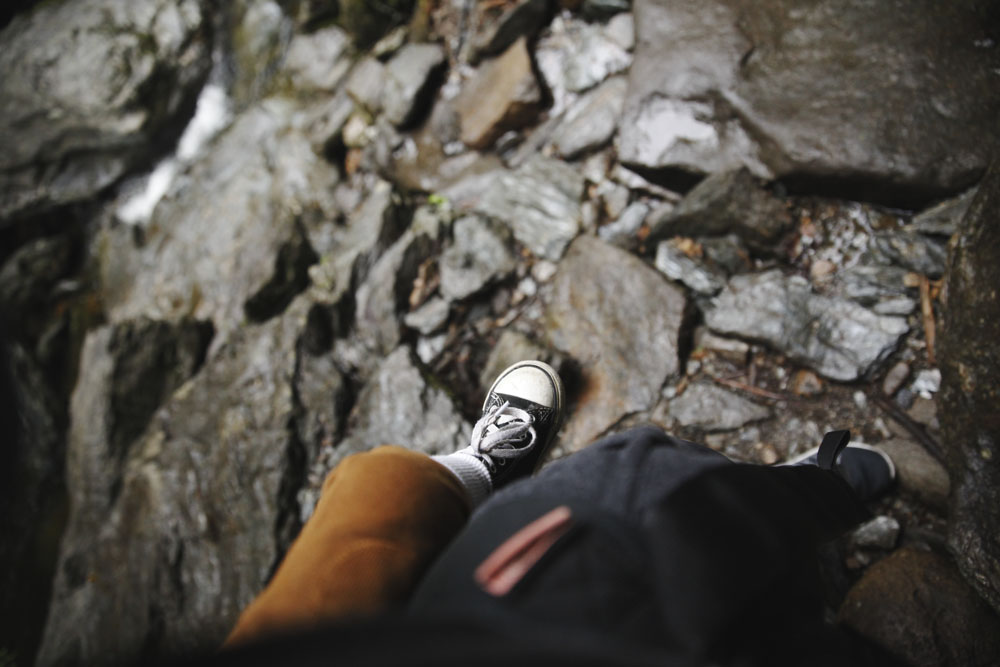 And looking down at the a little foot belonging to a boy hanging out in the carrier. Love that view. He fell fast asleep on me on the walk back, and even transferred to the hotel bed where he kept sleeping. Love those moments that remind me he's still so little.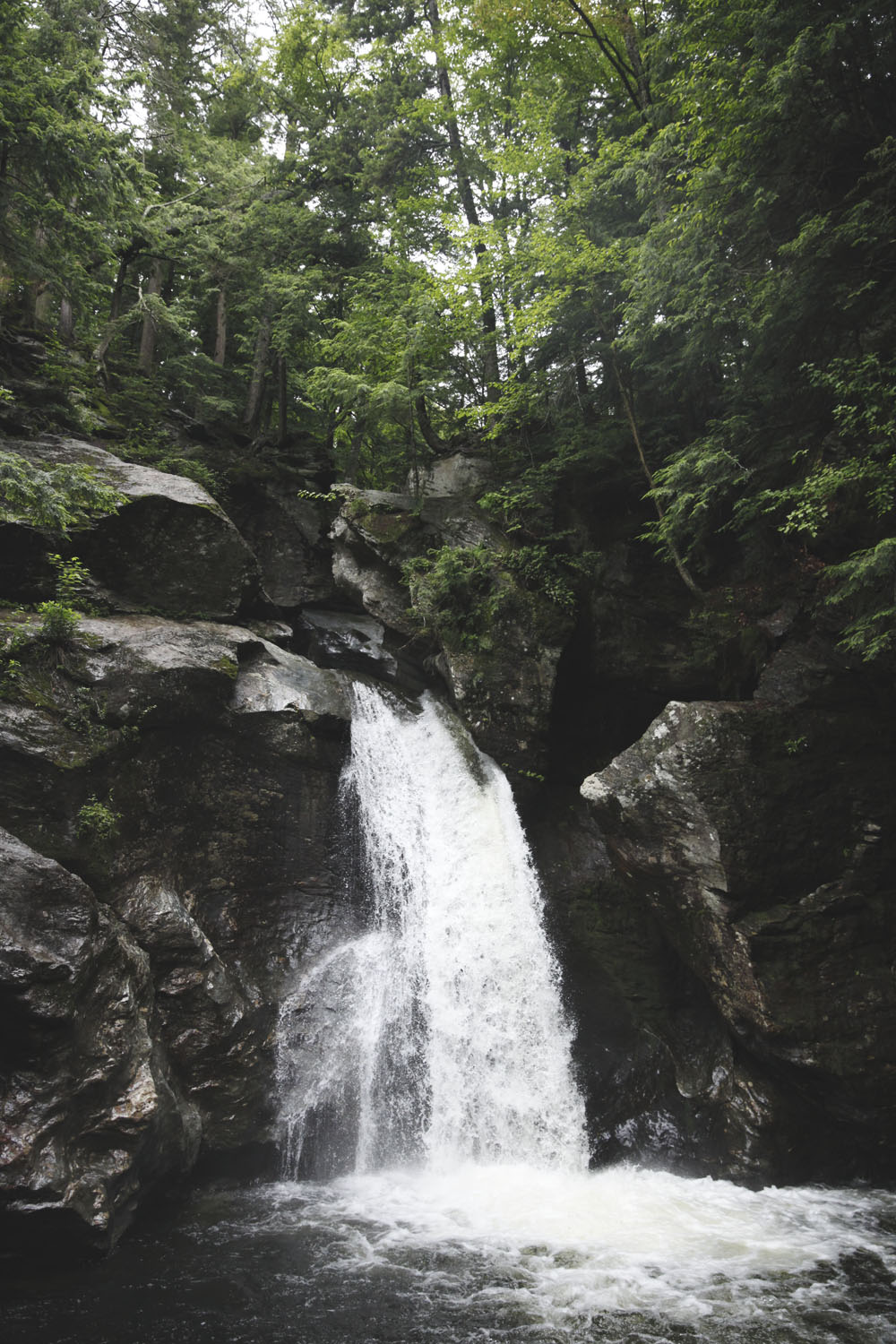 After Bingham Falls, we walked back to the hotel where I was due at the spa about an hour later. The spa?! Yes, the spa. Bear with me! Have I already lost you? I swear, I came back home to scrub toilets the next day within a few minutes of arrival. How the mighty have fallen!
So this is the only picture of my spa experience–and experience it was. I arrived, put all my belongings in a locker, stripped down, and put this lovely robe on. Then, I followed the "river walk" to the room where you wait for your treatment. Now, it's in this "river walk"–a dimly lit hallway that actually curves to and fro like a river, with stones on either side–that I'm certain you enter another dimension. Is it heaven? Is it nirvana? I'm not sure but I wanted to stay there forever. My children? Husband? Who? The spa room has all these chaise lounges, a fireplace, tea, beautiful views, and total quiet. The only thing you hear are the blessed ones who quietly call out your name when it's time for your appointment. Part of this partnership was that I got to try a few spa things. I know, I know! I've had two massages my whole life, zero facials, and maybe ten pedicures. And none were at a true spa where you go and relax in beautiful surroundings before and after your appointment. So this was so much fun for me.
First I had a hydraFacial. When I began, the aesthetician was like, "You've never had a facial?! That's like never riding a horse and entering the Kentucky Derby!" She was right. It was a treatment. I'd be hard pressed to describe everything she did but there were antioxidants, and a peel, and collagen, and peptides, and a vacuum that sucked all the blackheads out….so satisfying. Now to keep them out for good… (seriously, how?).
Then, I went into the Stowe Cider Scrub and massage. My friends. I left the world behind. Was I actually levitating? This was 110 minutes of absolute bliss. From an exfoliating massage with a local cider scrub and Himalayan salt mixture, right into showering off to begin the most amazing massage of my life. It was truly spectacular. Guys, I don't even have words. This masseuse is a miracle worker. And then, afterwards, when I was in the spa relaxation room, a concierge brought me some of the local Stowe Cider to stay and enjoy. What? I nearly slapped him because it was all too much.
(Bonus: the spa uses only the best products, free of all the junk your products should be free of. And like the Lodge itself, the spa's building materials are largely sustainable, local, etc., too. I popped my head into the mineral bath room where there's also a sauna and a steam room, and really regretted not showing up a few hours in advance so I could hang out there as well. It was so peaceful.)
Just writing that out is making me want to repeat this day in the worst way. It was magic! Thank you again, Stowe Mountain Lodge. And guys, for a special occasion (or any occasion), this spa will not disappoint. See their spa menu here! And, if you go, have a moment of silence for me in the spa relaxation room.